Here at Hair Styling Pros, we always talk about how we prefer natural hair products over chemically processed ones.
In fact, most "miracle cures" for your hair that actually work are not only natural, but vegan.
Things like coconut oil, apple cider vinegar, bentonite clay – all of these are vegan. And all of them make excellent tools for you to use on your journey to fabulous hair.
And while we don't necessarily promote vegan hair products just because they're vegan, we have to admit that they usually are pretty good in terms of their ingredients.
In this article, we will go over our top 15 picks for vegan hair products that will give you luscious locks – guilt free.
Authentic Beauty Concept Hydrate Conditioner
This cruelty free conditioner from Authentic Beauty Concept has a long list of things going for it.
It's vegan, cruelty-free, and free from micro plastics, mineral oils, parabens, silicones, gluten, and sulfates.
(Isn't it kind of sad that we desire some products because they lack harmful chemicals. Shouldn't they all be safe?)
The one downside is that it's not for all hair types. But if you have natural or curly hair, this is a great choice.
It's $28, which isn't exactly cheap. But I guess if you hate animals then you don't have to buy it.
Rice Water Hair Growth Spray
This is an interesting product that claims to thicken hair.
In addition to rice water, it also has Vitamin B, Vitamin C, and aloe vera. We've never tried this product, so we can't say whether or not it works.
But a vegan diet does lack critical nutrients, making some vegans prone to hair loss. So it's possible that something like that would appeal to them.
Strangely, it does not say that it is cruelty free. Are there thousands of captive little bunnies being sprayed with rice water against their will? These are the answers we need.
Love Beauty And Planet Hope And Repair Shampoo
Really starting to love the names of these vegan hair products companies. They're so positive and happy.
This product and brand are no exception: who wouldn't want to experience the emotion of hope while shampooing their hair?
With coconut oil and ylang ylang (a Chinese herb, this paraben free vegan shampoo claims to heal flaky scalp and repair damaged hair.
Pureology Color Fanatic Leave-in Conditioner
Next up we have some hair care from a major brand: Pureology.
While this product is not strictly plant based, it is vegan. Not only that, but it doubles as a heat protectant and a detangling spray. Perfect hair maintenance for our curly haired sisters.
Maui Moisture Curl Quench
We've tried a few Maui Moisture haircare products before, and we like them.
With all natural ingredients like coconut oil and shea butter, this quasi-conditioner helps keep hair healthy.
And if you can save your curls with a cruelty-free product in the process? Sounds like a win-win to me.
Daily Dose Miracle Moisture Spray Leave-In
This award-winning leave-in is one of the best-reviewed conditioners on Amazon.
It's cruelty-free and claims to repair damaged hair.
If you're just starting out with vegan hair products, consider giving this one a try.
When you switch up your hair care, it's always good to start with something that many other people have tested before you.
The Honest Company Sweet Orange Vanilla Conditioning Detangler
This is one of those vegan hair products that sounds like it smells amazing. Who doesn't love orange and vanilla?
And with 35,000+ reviews on Amazon, it looks like it's pretty popular too!
With argan oil, shea butter, and jojoba protein, this deep conditioner softens and moisturizes hair – making it perfect for all hair types.
Combine this with a vegan shampoo for a 1-2 punch of vegan hair amazingness.
Andalou Naturals Healthy Shine Styling Gel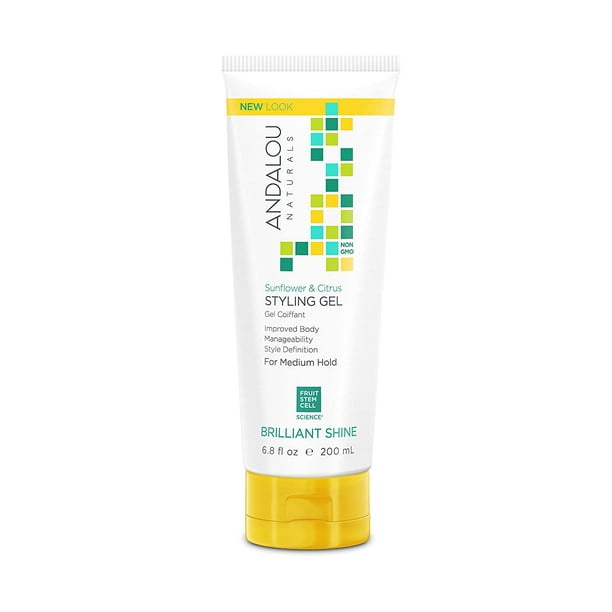 Next up on our list of the best vegan hair products is something for styling.
According to their page on Amazon, Andalou's haircare products tap into the plant based power of sunflower and citrus to unlock your hair's full potential.
As we all know, vitamin C is an amazing product for both skin and hair. Another vegan gem that will work for you, regardless of your hair type.
Pharmacopia Verbena Shampoo
When it comes to vegan hair products, shampoo seems to be the most popular. And no wonder – pretty much everyone uses it, so why wouldn't you want yours to be free of animal products and cruelty free?
Pharmacopia delivers once again with their very well-reviewed cruelty-free shampoo. With Vitamin E, this plant based shampoo will "enhance shine, strength, and softness."
Shapiro MD Hair Loss Shampoo
Love the idea of thickening your hair, but only want to use cruelty free hair products? Well you're in luck! Shapiro MD has something for you.
At $45 it's not cheap, but this shampoo from Shapiro MD claims to reduce hair fall and thicken hair.
If you're experiencing hair fall and haven't tried a hair loss shampoo yet, what are you waiting for?
Acure Ultra Hydrating Shampoo
One of the only haircare products on this list with Omega fatty acids, Acure's Ultra Hydrating Vegan Shampoo has something others don't.
Many vegan products don't use Omega fatty acids because they are usually found in animals.
But leave it to the folks at Acure to find some of those Omegas from plant sources. Your hair will thank you! (And if animals could talk, they'd thank you too for using a cruelty-free shampoo.)
Tea Tree Shaping Cream
When it comes to hair styling products, you need to check 2 boxes: it needs to work and it needs to smell amazing.
Is there a soul alive who doesn't love the smell of tea tree oil?
If there is, we haven't met them yet.
When it comes to styling products, it's rare to find one that has an anti-microbial ingredient like tea tree oil.
But if you're prone to scalp infections or just feel like you could be a little fresher "up there," then give this one a try.
WELLNESS PREMIUM PRODUCTS Organic Hemp Seed Oil Conditioner
Looking for a cruelty free conditioner with hemp seed oil? We got you fam.
In case you weren't aware, this wonder seed works magic on your hair and is definitely worth including in your hair care routine.
Hemp does it all: it repairs, thickens, protects and yes, it can even GROW your hair!
Rahua Voluminous Plant Based Conditioner
Conditioners are a dime a dozen. But how do you know which one to incorporate into your vegan hair care routine?
One way is to check the price. And at $38, this mild hair treatment from Rahua probably delivers.
At Rahua, oil is added to the formula to increase moisture delivery to the hair. Coconut, eucalyptus, and jojoba seed oil all play a part in getting your hair shiny and healthy.
OBIA Naturals Babassu Oil Deep Conditioner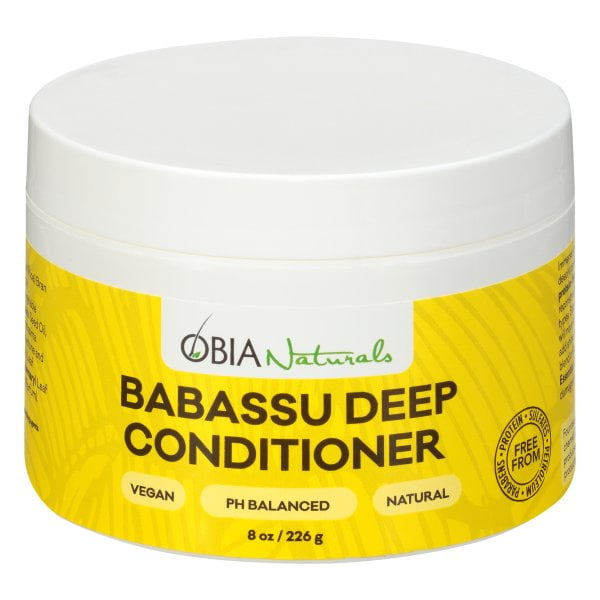 Rounding out our list of vegan hair care is this deep conditioner from Babassu.
A beauty brand known for making amazing products for natural or textured hair, OBIA Naturals delivers once again with one of the best vegan products on this list.
With organic ingredients such as avocado oil and Babassu oil, this one will maintain your hair's natural moisture content while eliminating frizz – permanently.
Authentic Beauty Concept Glow Mask
If you want your hair to be good to you, then you need to be good to it. And what better way to encourage the flow of good vibes from you to your follicles than with a vegan hair treatments?
Maybe your hair has been a bit dry since you tried to go blonde with vegan bleach. Or maybe you wash it too much with non vegan shampoo.
Whatever the reason, this $38 hair mask from Authentic Beauty Concept is one of our top pics for best vegan hair products.
But.. why are so many vegan hair products $38? Is it a special vegan number or something?
BIOLAGE Biolage Deep Treatment Pack
Last on our list we have something from beauty giant Biolage.
Known for their color-friendly hair treatments, Biolage has done it once again – delivering an organic hair mask.
But… why couldn't they use a normal bottle? Why did they have to make it look like a juice box you put in your child's school lunch?
Strange branding notwithstanding, this deep treatment contains apricot seed oil and castor oil, both of which are known to help hair grow in faster.
Final Thoughts
While we won't be giving up meat any time soon, we can't deny that there are some amazing vegan hair products out there.
Whether you're looking for something to keep your curls bouncy, deep clean your scalp, or just want to flex on your friends because you're vegan and they're not, there is a vegan hair product out there that's right for you.
Hopefully, this list has provided you with some good options. If you end up trying any of these, please send us an update and let us know what you think!