In our search for the perfect flat iron, we've kissed a lot of frogs.
And with all the hype we've been hearing about this new brand – whose name in French means "heat" – we definitely had high hopes.
However, we weren't sure if this Soleil (ceramic) hair straightener was the real deal or not. So we decided to dig a little deeper.
Fortunately, we managed to get our hands on this dynamic styling tool and decided to give our 2 cents based on a variety of factors.
In this article, we're going to take a deep dive into the nitty gritty of this peculiar new styling tool, how it worked on our hair, and whether or not it's worth the hefty price tag of $350.
What kind of plates does the Soleil hair straightener have?
The first thing we noticed about this styling tool is that the plates are not made of metal – they are made from what appears to be a solid piece of stone.
After contacting the company, we were told that this stone was in fact 100% ceramic. When pressed, they told us that the stone was actually onyx.
This is the first flat iron we've ever seen where the plates were not made of metal, but with the popularity of their hair styling tools, we figured they must be onto something.
Soleil also makes a titanium flat iron – but we'll talk about that later.
Do Soleil's flat irons use infrared heat?
According to their website, they certainly do.
For those of you who don't now, when used in a flat iron, far infrared technology allows the plates of the straightener to distribute heat evenly throughout the plates.
This ionic heat also seals the cuticle of the hair, causing it to shine brightly and have a smoother texture.
How infrared technology affects the hair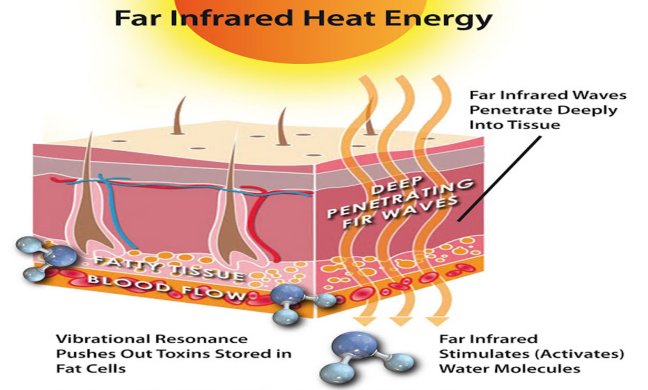 The ionic technology balances out the electrical charge in the hair as well. Once you balance the positive charge of the hair with a negative charge (reducing heat exposure), you remove the risk of damaging hot spots in the hair with the heat of the flat iron.
In other words, Soleil's flat iron is safer for your hair than other flat irons BECAUSE of its infrared heat.
The combination of infrared technology and negative ions
Another cool thing about ionic technology is that it mends broken hair cuticles. When heated evenly, frizzy hair (which can be a result of damaged cuticles), is smoothed out by the negative ions.
As the flat iron dissipates the heat, you'll be left with stunning straight hair.
Contrast this with the other flat iron we use (which shall remain nameless) that uses direct heat – our hair is damaged, the ends are fried, and we're left with that barbequed chicken smell.
Does the Soleil flat iron come in different sizes?
Now we're getting to the "bad" stuff. Unfortunately, Soleil only makes one size – 1.25 inch (unless you count the mini flat iron!).
The brand claims that because the ionic technology, floating plates, and far infrared heat are so effective, that the flat iron doesn't need to be any wider.
This supposedly allows the user to straighten or curl their hair without having to worry about damaging the hair cuticle with excessive heat exposure.
And don't get us wrong – their flagship hair styling tool works great. But we can't help but imagine how much better it would be with a 2 inch model.
Are Soleil flat irons easy to use?
For beginners? Absolutely.
For one thing, the 100% solid ceramic plates provide the perfect combination of smoothness WITHOUT snagging your hair on the edges.
Their flat irons also come with a swivel cord – meaning that if you get turned around for some reason, the swivel mechanism ensures that cord tangles will be a thing of the past. This can extend the life of your flat iron – and at $350 a pop, that's probably something you'd want!
Can I take my styling tool overseas?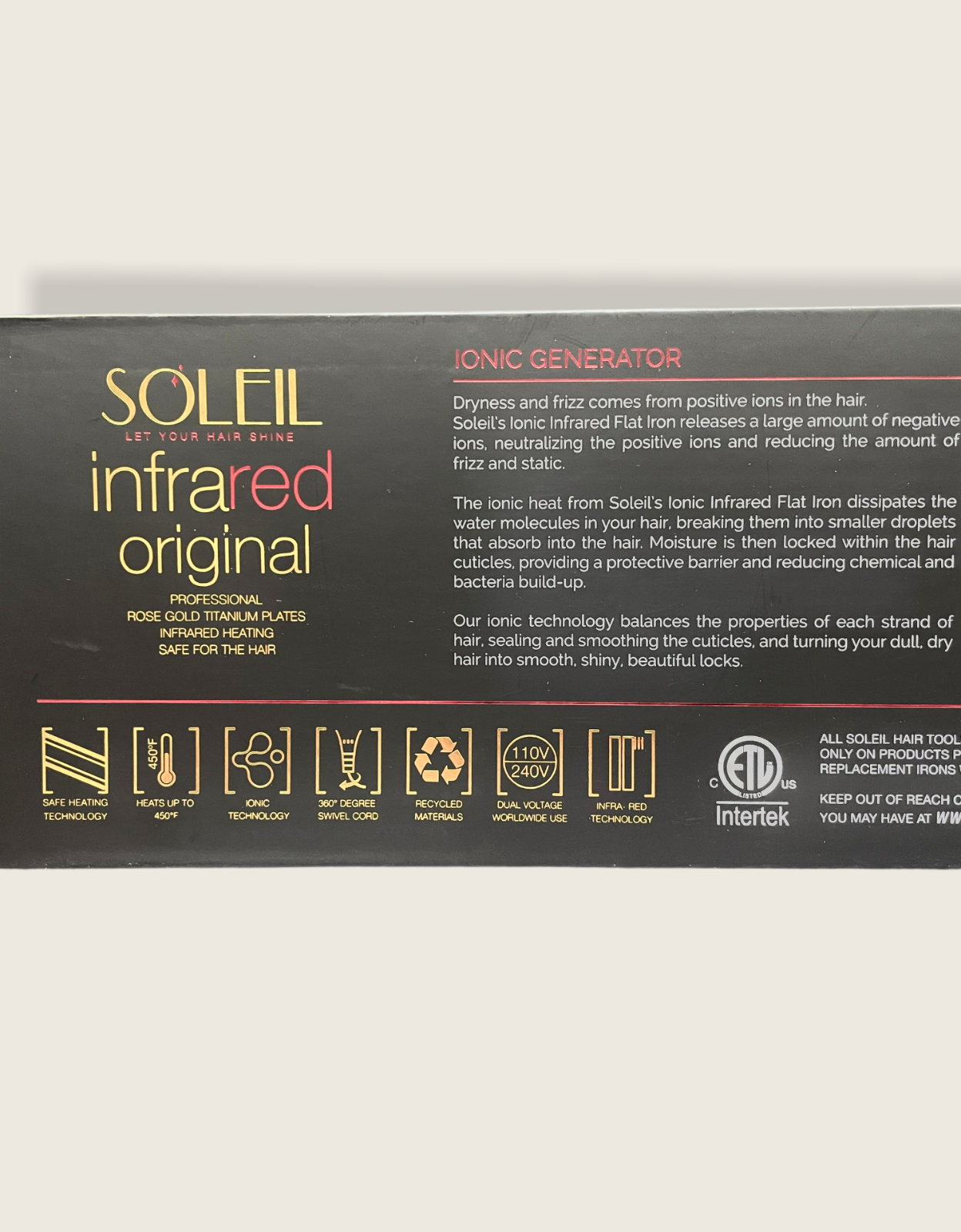 Don't worry, non-Americans – a 100% solid ceramic straightener isn't just for us Yankees. All Soleil flat irons are dual voltage.
For the non-techies, dual voltage just means you can take them anywhere in the world, neutralizing the positive ions in your hair before a night out with the girls on the streets of Paris.
Does Soleil make a titanium flat iron?
They do. And this is where their product line really shines.
Their titanium flat iron actually has a line of infrared lights in the plate itself. This means that as you use the tool, the flat iron releases negative ions directly into the hair cuticle itself.
When used with their Moroccan Oil Serum, it creates a protective barrier on the outer layer of the hair. If you have the heat settings turned all the way up (450 degrees), you can do your hair in half the time it would take you with another flat iron.
The bad news? It only comes in basic black.
Which Soleil hair straightener is better: ceramic or titanium?
If you've read any of our other articles, you know how we feel about titanium flat irons. We don't like them.
However, Soleil's titanium straightener is the one exception. Not only does it glide smoothly, its even heat distribution ensures that you won't sacrifice a large amount of moisture to get the look you want.
This actually makes it much more likely that the titanium flat iron will be effective in preventing heat damage. That combined with the fact that it only takes one single pass to straighten even the frizziest of hair, means your hair will be soft and shiny until you wash it again.
Do you have to use a Soleil hair straightener on dry hair?
According to Soleil, their styling tool can be used on wet or dry hair.
We wouldn't recommend using it on wet hair, but damp hair should be fine.
Though they don't mention this on the website, we also recommend using a heat protectant. Just be sure to rinse your hair once a week with a clarifying shampoo, reducing chemical buildup on the scalp.
Are these flat irons good for all hair types?
We should warn you: this is not your grandmother's flat iron. These tools are VERY powerful.
It's for that reason that we recommend that people who do not have fine hair don't use these tools.
Yes, you can try to use some heat protectant to lock the moisture into your hair, but smaller droplets are going to escape no matter how low you set the temperature control.
And as we all know, dry hair eventually leads to damaged hair.
Still, these flat irons are GREAT for doing curls on fine hair. So if you want it for that purpose, go to the next section.
Can Soleil hair straighteners do curls?
Short answer: Yes.
In fact, Soleil straighteners make some of the best flat iron curls we've ever seen. This is another reason it's great for beginners – you can straighten and curl your hair with one single tool.
And if you have especially unruly hair, it should still only take you one swipe to get it nice and straight. Not a bad deal.
Does the Soleil flat iron have automatic shut off?
The $500 model does, but the $350 model does not.
They both have a temperature control (which is pretty standard these days), but unfortunately only the titanium model has the safety feature.
How much do Soleil flat irons cost?
According to their website, their cheapest hair straightener is $350! And their most expensive rivals the Dyson, clocking in at $500.
Now look – these are amazing flat irons, don't get us wrong. They protect the hair cuticles from heat damage, give you shinier hair, and the infrared technology can even eliminate bacteria build up.
But… $350?!
Are Soleil flat irons worth it?
Soleil makes amazing styling tools.
Their floating plates, infrared output, and neutralization of positive ions in the hair all combine to make the styling process effortless and smooth.
But at $350 – $500, we can't help but think that there are better ways to spend your money.
If you're the type who spares no expense for their glamorous curls, beautiful locks, or natural waves, then we can see you justifying this purchase.
But for the same price you could grab yourself 2-3 other tools (that will give you pretty much the same result) instead of only getting one iron. Just saying.
What about a pre-owned version?
We're not crazy about pre-owned flat irons. The icky factor is a little too much for us.
But if that sort of thing doesn't bother you (similar products are sold all the time on eBay for example), then you can enjoy all the benefits at a fraction of the price.
Just make sure to check that your tool is still covered under warranty if you buy it second-hand.
Final Thoughts
If you're looking for a flat iron that can curl, straighten, and will leave your hair shiny and soft, then Soleil might be the brand you're looking for.
Its negative ion technology and far infrared heat combine to make both the ceramic and titanium flat iron excellent choices – even if its your first flat iron!
Also, it's one of the few dual voltage flat irons around that WON'T explode when you try to plug it in on your vacation to Italy.
Still, if you have a thin or fine hair type, then you might want to pass this time around and look for a safer option.
But keep in mind that even though money isn't everything, the $350 price tag might be out of your budget.