In this new era of technology, it's not enough for brands to simply sell a product that works. These days, people want to know that your heart is in it too. And when it comes to sustainable, cruelty-free, and effective skincare, the Kinship brand checks all three boxes.
Created from the desire to bring effortlessly beautiful skin to all, this skin care brand has leaped onto the scene with massive fanfare.
In this article, we review Kinship Skincare's top 6 best facial products. So now you can have beautiful skin while you achieve peace of mind that you're supporting a brand that wants the best for the world.
What is Kinship Skincare?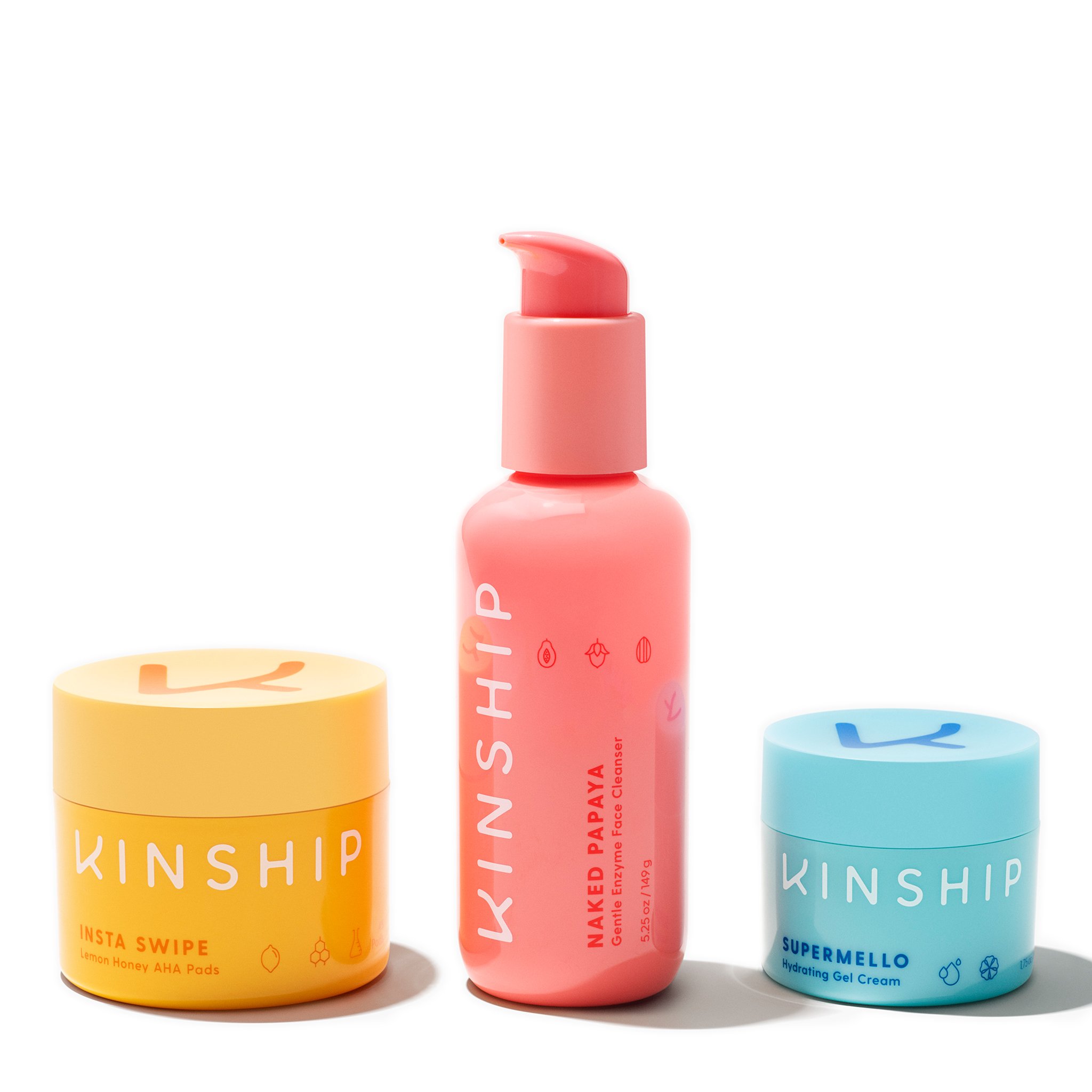 Kinship Skincare is a beauty company that is committed to sustainable and cruelty-free practices. Their products are also vegan, non-toxic, and free from synthetic fragrances.
Kinship was created by scientists and industry experts who were fed up with the harmful ingredients often found in cosmetics. They decided to take matters into their own hands and create a range of products that are good for both you and the planet.
Kinship's core values include sustainability, honesty, positivity, and inclusivity. These values are reflected in their products, which are designed to suit all skin types.
The philosophy of the Kinship brand
When it comes to brand identity, Kinship knows itself. It is not only committed to bringing beautiful skin to everyone, but it chooses to do it with a clear conscience – using only high-quality ingredients and AVOIDING the harmful ones.
Their skincare program is built on 5 pillars:
Kinbiome™ probiotic
Natural fruit enzymes
Antioxidant superfoods
Omega fatty acid oils
Bioavailable vitamins
And as we mentioned earlier, they make it a point to spend just as much time avoiding harmful ingredients as they do sourcing helpful ones. With over 1,300 ingredients on their list that they'll never use, they've built quite the reputation for creating products that are safe for everyone – long term!
Did we mention they make cruelty-free products as well?
Finally, Kinship is committed to removing ocean waste plastic from the sea. At the time of this writing, they've removed over 14 tons of plastic through their efforts and donations!
Our favorite products
Now that we know all about the brand and what they stand for, let's take a look at some of its best products.
SELF REFLECT PROBIOTIC MOISTURIZING SUNSCREEN
Looking for a moisturizing sunscreen that is recognized by industry leaders as the best in the business? Look at the awards that this product has won:
Allure Best of Beauty Award 2021: Best SPF
Cosmopolitan Holy Grail Beauty Awards: Best SPF
Byrdie Eco Beauty Award: Best SPF
Pretty impressive, isn't it. And it's no wonder why, once we take a look at their ingredient list.
Coconut oil, raspberry seed oil, jojoba oil, aloe vera, and vanilla fruit extract – just to name a few. With so many powerful natural ingredients working together prevent sun damage and create a healthy skin barrier, it's no wonder this product has won so many awards.
SUPERMELLO HYDRATING GEL-CREAM MOISTURIZER
When you're looking for a product that will cool and nourish your skin, the Supermello Hydrating Gel-Cream is the perfect choice. It contains natural ingredients like hyaluronic acid and marshmallow root, which help to reduce the appearance of redness. Coconut water provides essential hydration, while kinbiome probiotic helps to restore balance.
The star ingredients in this product are:
Hyaluronic Acid • Keeps skin deeply hydrated, looking plump + dewy.
Marshmallow Root • Plant extract with hydrating, antioxidant + anti-inflammatory traits.
Coconut Water • Amino acids + proteins hydrate, soften + and protect skin.
Kinbiome™ • Plant-based probiotic supports clear skin + a healthy skin barrier.
This gel cream moisturizer is designed for those with normal to oily skin types. It's a lightweight gel-cream that is perfect for hot summer days or when you need to quickly apply makeup over your moisturizer.
NAKED PAPAYA GENTLE ENZYME FACE CLEANSER
This gentle face cleanser is designed for all skin types. It contains papaya enzymes and jojoba beads, which work together to exfoliate and brighten the skin. Probiotics help to restore balance, while aloe vera soothes and hydrates.
The star ingredients in this product are:
Papaya Enzymes • Removes excess oil + deposits skin-loving vitamins
Jojoba Beads • Softens skin, similar consistency to skin barrier's natural oils.
Sunflower Oil • High in vitamin E, a powerful antioxidant
Kinbiome™ • Probiotic support derived from fermented black tea (kombucha)
This product is ideal for those who are looking for a gentle daily cleanser. It's also great for those who have sensitive skin, as it is designed to be non-irritating.
BRIGHTWAVE ENERGIZING + BRIGHTENING EYE CREAM
This illuminating eye cream contains clinically-proven actives that are perfect for those who want to achieve a more youthful appearance around the eyes.
The star ingredients in this product are:
Red Algae • Naturally high source of taurine, an amino acid that reduces inflammation
Chaga Mushroom • Ayurvedic mushroom that increases cell turnover, eliminating wrinkles and fine lines
Vitamin C Ester • Powerful antioxidant that brightens skin and gives it a more youthful appearance
91% of users showed clinical improvement in just four hours when using the Brightwave energizing and brightening eye cream. If you're looking for a FAST solution to the dull skin around your eyes, this is it.
NAKED APPLE OIL-FREE BLEMISH CONTROL GEL CLEANSER
This deep pore-cleansing gel is a powerful, yet gentle, gel cleanser that is perfect for those with oily skin. It contains apple extract, which helps to reduce the production of oil, and probiotics, which help to restore balance.
The star ingredients in this product are:
Apple Extract • Natural astringent, skin toner
Niacinamide • Reduces sebum production, makes pores smaller.
Lactic Acid • Gently removes dead skin cells.
The natural astringent effect of green apple, combined with the gentle exfoliation offered by lactic acid, combine to make short work of any blemishes that may have unknowingly popped up on your skin.
SELF REFLECT ROSE PROBIOTIC MOISTURIZING SUNSCREEN
It's not easy to find a natural, benzene-free sunscreen that is also probiotic-infused, but that's exactly what you'll get with the Self Reflect Probiotic Moisturizing Sunscreen.
This cruelty-free formula contains a unique form of zinc oxide, which provides broad-spectrum sun protection without clogging pores, while Kinship's kombucha-based Kinbiome™ rebalances the skin's natural biome with good bacteria.
Non-Nano Zinc Oxide 22.4% • Non-comedogenic mineral sunscreen that provides UVA/UVB protection
Damask Rose • Uplifting scent brightens mood and creates a feeling of well-being.
Kinbiome™ • Encourages proliferation of good bacteria to balance the skin's natural biome.
Final Thoughts
There you have it! These are six of the best kinship skincare products for sustainability in cosmetics. When it comes to skincare, it's important to choose products that are good for you AND the environment. By using natural and sustainable ingredients, you can feel good about your purchase AND your impact on the planet.
What are your favorite kinship skincare products? Let us know in the comments below!