It happens to almost everyone: you used to have dark hair, but slowly you started to notice silver strands appearing. And after spending thousands on hair dye, you've decided to finally embrace your silver hair.
After all, you've spent so much time and money on hair dye, toners, and color-depositing conditioning over the years that you've forgotten how to keep your natural hair in good shape.
And now that you want to let your hair go gray, you're completely lost!
What products do you use? What should you avoid?
All these questions and more we are going to answer in this article. So buckle up, strap in, and get ready to learn how to make the most out of your brand new head of silver hair!
What causes silver hair?
As we age, our hair changes color. This is because the pigment cells in our hair follicles slowly die off, eventually leaving our hair with little or no color.
This natural process is often accelerated by various factors, such as:
Exposure to the sun
Hormonal changes, such as those that occur during pregnancy or menopause
Smoking
Certain medications, such as chemotherapy drugs
Chronic stress
Poor diet
Lack of circulation to the scalp
Why silver hair color is different
The silver hair color that many of us achieve as we age is different from the colored hair we see in younger people.
That's because, as we get older, our hair shafts become thinner and the natural white of our hair shines through more. The pigment cells that give our hair its color gradually die off, leaving our hair with a translucent appearance.
This pigment is called melanin, which is the same substance that makes our skin darken in the sun. As the melanin concentration in our hair begins to subside, our hair takes on a silver, white, or gray color.
Tips for maintaining silver hair
Now that you know a little more about silver hair, it's time to learn how to maintain its color and luster.
Here are some tips to help you get started:
Embracing your silver hair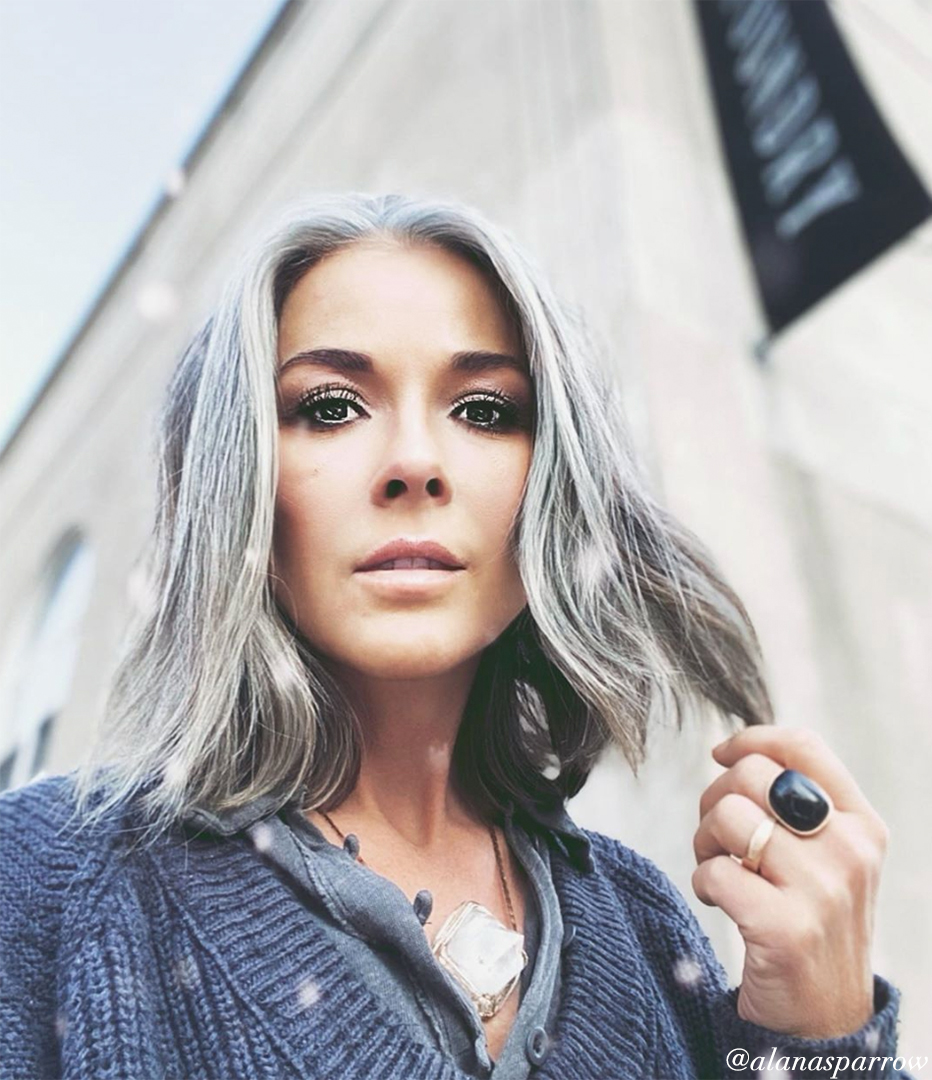 Just because you've begun to go gray doesn't mean you have to give up on color-treated hair altogether. You can still use a toner or color-depositing conditioner every once in a while to keep your hair looking its best.
But you'll need to cut back on the frequency with which you use them, and eventually stop using them altogether as your natural hair color becomes more dominant.
Changing your hair care routine
To maintain gray or silver hair, you'll also need to make a few adjustments to your hair care routine.
Shampoo and condition your hair regularly using a good quality shampoo and conditioner specifically designed for fragile hair. Of course, everybody's hair is different, and it's possible that even though your hair is silver, it is still very thick and lustrous. But more often than not this is the exception, not the rule.
Not only that, but if you have a gray hair color, then your scalp might be more oily. This is because as we age, we tend to pay less attention to hygiene and invest less in high quality hair products.
Heat protectants and styling tools
As we age and our hair becomes more delicate, it becomes more susceptible to heat damage. Use a heat protectant on your hair to help prevent it from becoming dry and brittle in the sun.
Avoid using hot tools on your hair, such as curling irons and hair dryers. The heat can damage your hair and cause it to become brittle and dry.
And if you absolutely have to, use a heat protectant before styling. These protect hair from heat, and many of them can help to moisturize dry hair.
When you do need to style your hair, try using a diffuser to reduce the amount of heat that is applied.
Try purple shampoo
To keep your silver strands looking bright and shiny, try using a purple shampoo every once in a while. This type of shampoo contains small amounts of purple dye, which is designed to help neutralize yellow tones in your hair.
If you don't have any yellow undertones in your hair, then you don't need to worry. But if you're still using heat-styling tools like flat irons, then you might develop some yellow streaks or patches in your hair.
These unsightly streaks can bother some people and are more apparent when the hair is silver, gray, or white. But just by using some purple shampoo here and there, you can get rid of them and maintain the silver hair color you love.
For more information in purple shampoo, read our full guide here.
Avoid color-treated hair products
As we mentioned earlier, one of the best ways to maintain silver hair is by reducing the amount of color-treated hair products you use.
The chemicals in these products can not only dry out your hair, but they can also cause it to become brittle and dull.
If you have a hard time going without these products, then try using them less often or only on the strands of hair that are closest to your scalp. This will help minimize the number of chemicals that are being applied to your hair.
This goes for those of you who have used silver hair dye in the past as well (back when the silver hair trend was a thing).
Avoid heat styling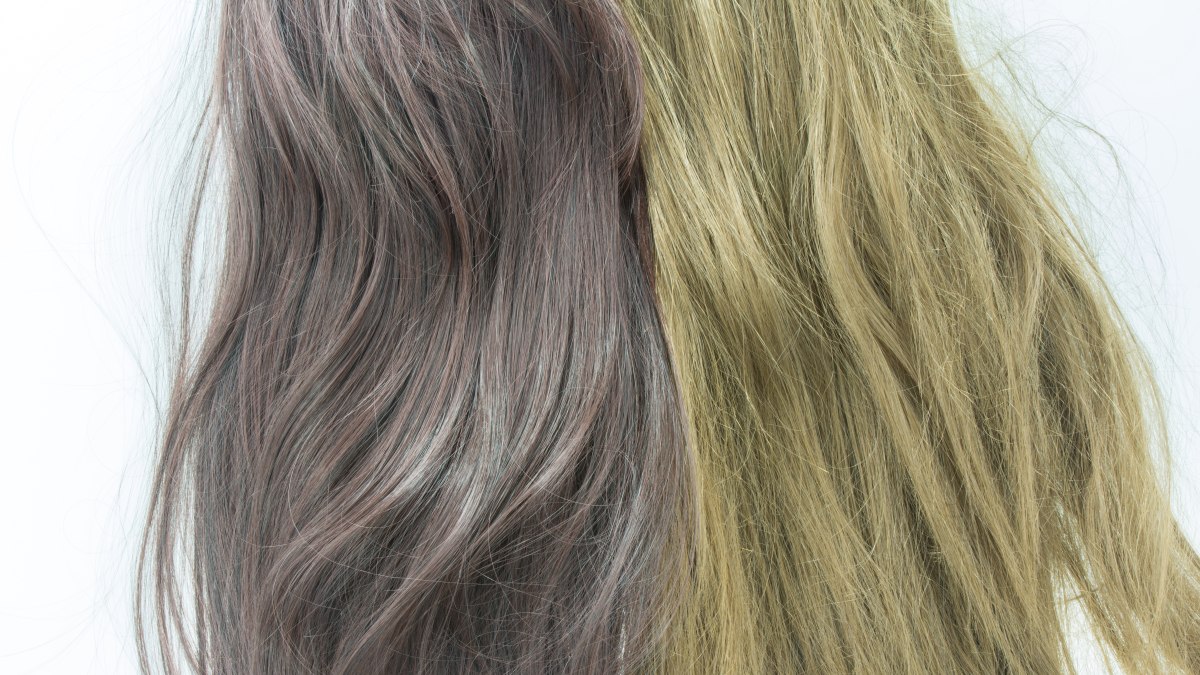 Just like with color-treated hair products, you'll want to avoid using heat styling tools on your silver hair as much as possible.
The high temperatures from these tools can not only cause your hair to become dry and brittle, but they can also damage the cuticles and make your hair more prone to split ends.
If you must use a heat styling tool, try using the lowest possible setting and make sure to use a heat protectant. This will prevent your silver hair from getting damaged or discolored.
And if you can, try to air dry your hair as often as possible.
Experiment with blonde or platinum hair
If you're struggling to maintain your silver hair, then you might want to consider dying it a light blonde or platinum color.
This will help brighten up your hair and make it look more vibrant. Platinum hair especially is very popular right now and can be very flattering on silver hair. Plus, because the colors are so similar, it's an easy transition to make.
Just make sure to use a good quality bleach, dye, or toner that will give you the color you want. And always do a strand test first to make sure the dye doesn't cause any damage or discoloration.
Pick the right shampoo and conditioner
Silver hair maintenance is easier than you think. Keeping silver or grey hair in good condition is 80% about choosing the right shampoo and conditioner.
Oftentimes when people let their hair go gray, they slip on their hair hygiene a little bit. Because they're no longer dyeing their hair, they tend to pay less attention to it and have a more carefree attitude about what's on top of their head.
This is great, but sometimes it can lead to greasy hair that smells funky. So that's why it's important to use a good quality shampoo and conditioner that will help put your fragile silver hair back on track.
Using a quality repairing shampoo is a great way to neutralize frizz, too!
Check with your local hair salon
If you're struggling to maintain your silver hair and don't know where to start, then you might want to consult with a local hair salon.
Most salons offer hair consultations for free, and they can help you come up with a plan to keep your silver hair looking its best. They can also recommend products and treatments that will work best for your specific hair type.
So if you're feeling lost and don't know what to do, then a hair consultation might be the right step for you. See our article here on how to find a good hair stylist.
Use some dry shampoo
In a bind and can't wash your hair? No problem! You can use some dry shampoo to help freshen up your look.
Dry shampoo is a great way to absorb excess oils and sweat, and it can also help give your hair some volume.
Just make sure to choose a dry shampoo made for lighter hair. Fortunately for you, most of them are. Most dry shampoos use a white or translucent powder, so they will not stain your hair like a traditional dry shampoo might.
Try some color depositing shampoos
If you're looking for a way to add some color and life back to your silver hair color, then you might want to try using a color depositing shampoo. These are very popular with those with a gray hair color because they're a simple low-maintenance way to make your hair look a little darker.
Color depositing shampoos are designed to deposit color onto your hair without changing the overall color.
This is a great option if you want to add a little bit of color back into your hair, but don't want to dye it completely. We recommend sticking with lighter colors for silver hair. The one exception to this is if you have more of a salt-and-pepper look to your hair and haven't fully transitioned to silver yet.
Experiment with different conditioner formulas
Not all conditioners are created equal, and sometimes you have to experiment a little bit to find the right one to maintain your silver hair color.
If you're struggling with dry, brittle, or damaged hair, then you might want to try using a conditioner that is specifically designed for those problems.
There are a ton of different conditioners on the market these days, so it shouldn't be too hard to find one that works for you.
We have a full article here on how to find the best conditioner for your hair.
Use a deep conditioner regularly
Another great way to keep your silver or gray hair looking its best is to use a deep conditioner regularly.
Deep conditioners penetrate deep into the hair shaft and help repair any damage that has been done. Most of the time, they contain special ingredients that can help nourish and hydrate your hair, which is essential for keeping gray or silver hair looking healthy.
Most deep conditioners only need to be used once a week, so it's not too hard to fit into your routine.
Rinse with coconut oil
Because silver hair color is lighter, it naturally draws the eye. But this can be a double-edged sword – if your hair is dry and brittle, everyone will notice.
If you're looking for a way to add some shine and moisture back into your hair, then you might want to try rinsing with coconut oil.
Coconut oil is a natural moisturizer that can help hydrate your hair and add some shine. It's also known for its anti-fungal and antibacterial properties, which can help keep your hair healthy.
Just make sure to use a light layer of oil, as too much can make your hair greasy. And be sure to rinse it out completely, as coconut oil can leave a heavy residue if not washed off properly.
Final Thoughts
Deciding to embrace your silver hair is a big decision and not to be taken lightly. And hopefully, this article has shown you a few methods you can use to keep your melanin-free hair in as good a shape as possible.
Keep in mind that maintaining gray or silver hair can be a challenge, but it's not impossible. By using some of these tips and tricks, you can help keep your hair looking its best.
Have any other tips? Let us know in the comments below!