You did it! You finally achieved that beautiful crimson red color that you've been dreaming of ever since you saw Nicole Kidman in her prime in the 90s.
But why does it seem like every time you look in the mirror, the color fades?
If only you could maintain that color of red for more than just a few days. Well, in this article, we're going to teach you everything you need to know to keep your red hair from fading.
Enjoy!
What causes color-treated hair to fade?
There are a number of factors that can cause dyed red hair to fade, including exposure to the sun and heat, harsh shampoos and conditioners, chemical treatments, and other external stresses on the hair.
Fortunately, there are also a number of measures you can take to minimize fading and keep your red hair vibrant for as long as possible.
Why is red hair color so hard to preserve?
Red hair color, especially vibrant shades of red, is notoriously difficult to keep looking fresh.
This is because the pigment that gives the red hair molecule its vividness, called pheomelanin, tends to break down more easily than other pigments in the hair.
With respect to red hair dyes, this means that your red hair will likely fade at a faster rate than other colors, and that you will need to take extra care to keep it looking vibrant.
Tips to keep red hair dye from fading
Here are a few of our favorite tips:
Use a color-safe shampoo and conditioner
Look for products that are specifically designed for color-treated hair, as these will be much gentler on your locks and help to preserve your color. Avoid shampoos and conditioners with sulfates, as these can strip the color from your hair.
As far as brand recommendations go, we happen to be fond of Color Wow products.
Use a treatment or overnight mask at least once a week
Using a hair mask or treatment on your hair at least once a week will help to lock in moisture and make sure your hair stays healthy (and maintains its desired hue!).
Hair masks do a great job of sealing moisture into the hair, which is especially important for color-treated hair, as it can tend to be dry and brittle.
When it comes to hair masks, we prefer to make our own. Sure, there are a lot of commercially-available options, but the good ones are either laden with chemicals or very expensive. Why not just make your own DIY homemade hair mask instead?
Use a color depositing shampoo or conditioner
If you want to go the extra mile in preserving your red hair color, consider using a color depositing shampoo or conditioner.
These products work by adding a small amount of color (in this case, red pigment) back into the hair every time you use them, which helps to keep your color looking fresh and vibrant in between coloring sessions.
To read more about color-depositing shampoo and conditioner, read our full article on the topic.
Avoid heat styling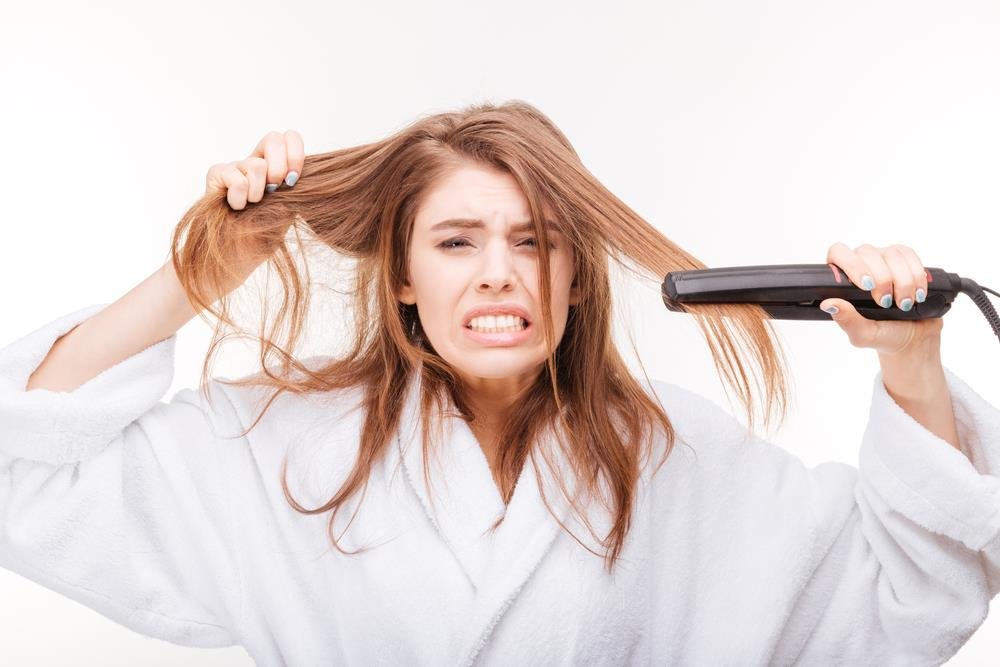 Using styling tools that expose your hair to high heat can speed up your red hair fading away, so try to use as little heat on your hair as possible.
Think about it: if heat can damage your hair and cause it to become dry and brittle, imagine what it can do to previously colored hair.
If you must use heat tools, be sure to use a heat protectant product on your hair beforehand. This will help to minimize the damage caused by the heat.
Use dry shampoo
Dry shampoo is a great way to extend the life of your color and keep your hair looking fresh in between washes.
It helps to absorb oil and build-up on the scalp, which can make hair look greasy and dull. Plus, it gives hair a bit of extra texture and volume, which is always a bonus.
But the main reason dry shampoo is a good choice to use when you've dyed your hair red is that it's much more gentle on your hair color than regular shampoo. So you still get that clean feeling WITHOUT rinsing away your color!
Just be sure that you are using one that is translucent – you don't want any white residue floating around!
Avoid UV rays
Wear a hat or scarf when you know you'll be exposed to UV rays for extended periods of time.
This is especially important if you're spending time outdoors in the summer.
The sun can cause your red hair color to fade, so it's best to protect your hair from its harmful rays whenever possible.
Wash your hair less frequently
Hey, now you have a reason to go for that "third-day look" – beyond just having more luscious locks. It's actually better to maintain your red hair color, too!
Any time you apply a cleansing agent to something that's been dyed, the color will fade. It doesn't matter how strong the dye is or how gentle the soap is, it's going to happen. So if you can stand it, try to wash your hair less frequently.
Instead, try co-washing your hair – washing your hair with conditioner.
Use a heat protectant spray
If you do need to use styling tools like irons or blow dryers, try using a product like argan oil beforehand to help protect your hair from damage. This will help keep your hair color from fading as quickly.
And of course, if you're going to be spending time in the sun, make sure to apply a good sunscreen on all exposed skin to help prevent damage from UV rays.
Wash your hair with cold water
Did you know that washing your hair with cold water can actually help to keep it from fading?
This is because cold water helps seal the cuticle layer of the hair shaft, which in turn keeps color from escaping. It can also help keep your hair looking shinier and healthier overall.
Also, washing with hot water can dry out your hair and exacerbate the fading process, so always choose cool or lukewarm water instead.
Use a natural shampoo and conditioner
Finally, if you really want to keep your red hair color looking vibrant and strong for as long as possible, consider using a natural shampoo and conditioner.
These products don't contain any harsh chemicals that can damage your hair or strip it of color, which means they're much gentler on dyed hair. Plus, they'll leave your hair looking and feeling healthier overall.
Avoid over chlorination
It's also important to avoid over-chlorination, as this can have a damaging effect on your hair.
Chlorine is often found in swimming pools, and exposure to it can cause the color in dyed hair to fade much more quickly.
If you plan on spending time around chlorine-treated water during the summer months, be sure to wear a swimming cap or use leave-in conditioner to help protect your hair. Or just make sure your hair doesn't go underwater!
Avoid styling products that contain alcohol
Styling products like gels, mousses, and sprays often contain strong chemicals, like alcohol, that can have a drying effect on your hair.
This can speed up the fading process of your red hair color and cause it to look duller and less vibrant over time.
To avoid this problem, choose a natural styling product or try using a simple oil like argan or coconut to style your hair instead.
Final Thoughts
In summary, there are a few simple things you can do to keep your red hair from fading: use a color depositing shampoo or conditioner, avoid heat styling tools, wash your hair less frequently, and use cold water when washing your hair
With these tips, you can keep your red hair looking vibrant and beautiful for years to come!​