Do you take good care of your health by exercising regularly? Good for you!
But then why aren't you putting the same level of thought into what you put ON your body as what you put IN your body?
It doesn't have to be this way. It's the 21st century now, the wonders of technology have brought us innovations like the internet, selfie sticks, and sliced bread.
But do you know what else they've brought us? This little gem of a brand called Fre Skincare.
And when it comes to using top-quality skincare products that are specially formulated for active and sweaty skin, Fre Skincare is the way to go.
So if you want to keep your sensitive skin looking magnificent from the outside (as well as inside), then keep reading!
What is Fre Skincare?
Fre Skincare is a brand that's all about making the perfect facial skin care products for women who participate in intense exercise.
They use natural ingredients that have been proven to be effective in skincare, and they've formulated their products to be as gentle and non-irritating as possible.
Not only that, but they're meant to hold up under intense conditions. Crossfit, Tough Mudder, or even just an hour on the stair stepper – you won't have to worry about slimy sunscreen dripping off of you!
This means that whether you have sensitive skin or not, you can use their products without having to worry about them causing any irritation or skin problems.
What sets Fre Skincare apart from other brands is that they don't just rely on the ingredients they use, but they also focus on the quality of those ingredients.
They make sure that every one of their products contains high-quality ingredients that have been sourced from reputable suppliers.
This way, you can be sure that you're getting the best possible skincare products when you use Fre.
The history of FRÉ skincare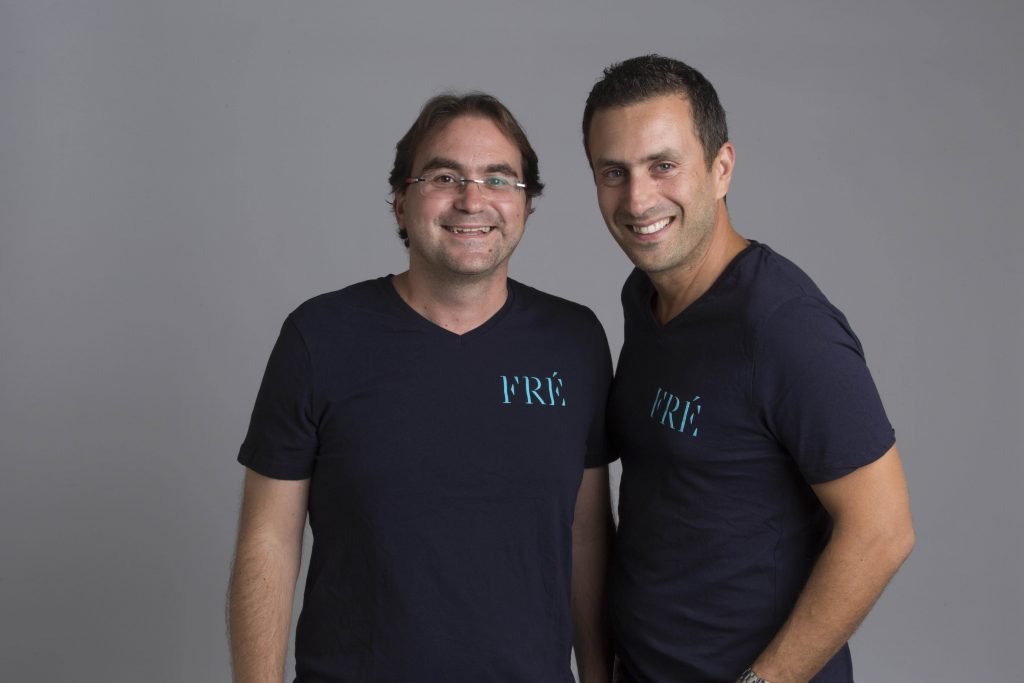 The story of FRÉ skincare starts in Tel Aviv, Israel
Two friends, Michael Azoulay and Mickael Bensadoun, were on the beach and saw a woman jogging.
She was fit, healthy, and beautiful. But one thing was wrong – her skin was covered in a white, oily sunscreen that completely ruined her look. At that moment, FRÉ skincare was born.
What makes FFRÉ skincare different?
According to their website, "FRÉ is the first facial skincare product line created and formulated especially for women who work out."
So if you're a girl who likes to get sweaty regularly (like maybe you're a jogger in Tel Aviv?), then we've probably piqued your interest. Keep reading!
The 7 best Fre products for glowing skin
Now that we've answered the question of what FRÉ skincare is, let's take a look at some of their best products.
The 123FRÉ Set Daily Core Routine
We don't believe in saving the best for last. Around here, we tell you about the best stuff first. And when it comes to Fre Skincare, their best products are contained in this daily core routine.
This set includes 3 products that work together to cleanse, protect, and nourish your skin.
The Purify Me Cleanser is designed to remove makeup, sweat, and environmental pollutants without stripping away your skin's natural oils.
The Revive Me Moisturizer is a light, oil-free serum that hydrates and revitalizes your skin.
The Protect Me Sunscreen is a broad-spectrum SPF 30 sunscreen that will protect your skin from the sun's harmful rays.
This set is perfect for women who are looking for a simple, effective skincare routine that they can use every day.
GLOW ME + Tinted SPF30 Moisturizer
This is a 2-in-1 product that will help you achieve both healthy and beautiful skin.
The Glow Me Tinted Moisturizer is a light, oil-free tinted lotion that contains SPF 30 to protect your skin from the sun. It also has a hint of color to even out your skin tone and give you a natural-looking glow.
The best part? It only takes 60 seconds to apply! So if you're in a rush in the morning, this is the perfect product for you.
The Ready-Set-Glow+ Kit Morning Routine with Coverage
This kit contains everything you need for a complete morning skincare routine, plus it provides some extra coverage to help you look your best.
The kit includes the following products:
The Purify Me Cleanser, The Revive Me Moisturizer, and The Glow Me Sunscreen.
So instead of trying to mix and match yourself an effective skin care routine, you get everything all in one!
The Recover Set Nighttime Skin Essentials
This set includes 3 products that will help your skin recover from a long day.
The Purify Me Cleanser will remove all traces of makeup and environmental pollution from your skin.
The Revive Me Moisturizer is a light, oil-free serum that will hydrate and revitalize your skin as you sleep.
The Recover Me Night Cream is a rich, luxurious cream that will nourish and repair your skin overnight. This night cream uses argan oil – an oil extracted from a nut of the argan tree – to heal dry skin overnight.
This set is perfect for women who want to give their skin some extra love at night.
DETOX ME Post-Sweat Clearing Mask
This mask is designed to help clear your pores and remove any impurities that might be lurking after a sweaty workout.
The Detox Me Mask contains Dead Sea salt and Kaolin clay – both of which are known for their detoxifying properties.
Just apply the mask to your face, leave it on for 10 minutes, and then rinse it off with warm water.
You'll be left with clean, clear skin that feels soft and refreshed.
I Am Set 100% Natural 3-Step Routine
Co-created with Talia Sutra, one of the world's leading natural beauty experts, this FRÉ skincare set contains 3 products that will help you achieve healthy, beautiful skin.
The I Am Set includes the following products:
I Am Pure – purifying dual-purpose facial soap
I Am Joy – balancing rose mist
I Am Love – an illuminating facial oil
None of these products will clog pores, and the unique formula of the face wash will help eliminate sweat-induced breakouts.
The rose mist will make dry skin feel like it's brand new. And the third step utilizes argan oil from the argan tree, making this simple routine a full solution for active skin.
If you're looking for a natural skincare routine that is both effective and gentle on your skin, this is the perfect set for you.
The Age Well Set Anti-Aging Skin Essentials
This 4-step set by Fre is a true powerhouse when it comes to anti-aging.
The set includes the following products:
The Brighten Me dark circles treatment cream
The Revive Me facial serum
The Protect Me lightly-balanced moisturizer with SPF 30
The Recover Me high-powered ultra-moisturizing night cream
If you're looking for one simple solution to all your skincare needs, this set is the way to go. Less thinking, more doing!
Final Thoughts
The FRÉ skincare line has something for everyone – whether you're looking for a complete skincare routine or just a few products to help with specific concerns.
And because all of their products are made with natural ingredients, you can feel good about using them on your skin.
So what are you waiting for? Go check out FRÉ skincare and see for yourself how amazing their products are!