If you want to look your best, then using a hair straightener is a necessary evil. It's not a question of whether or not you'll use one – it's a question of WHICH one will be your go-to.
Dyson Corrale has entered the chat.
If there's one brand that's synonymous with technologically advanced hair styling tools, it's Dyson. From the same geniuses that brought us our beloved Dyson hair dryer (which also set us back a couple hundred bucks), we now have one of the most state-of-the-art hair straighteners ever created.
This flat iron has all the bells and whistles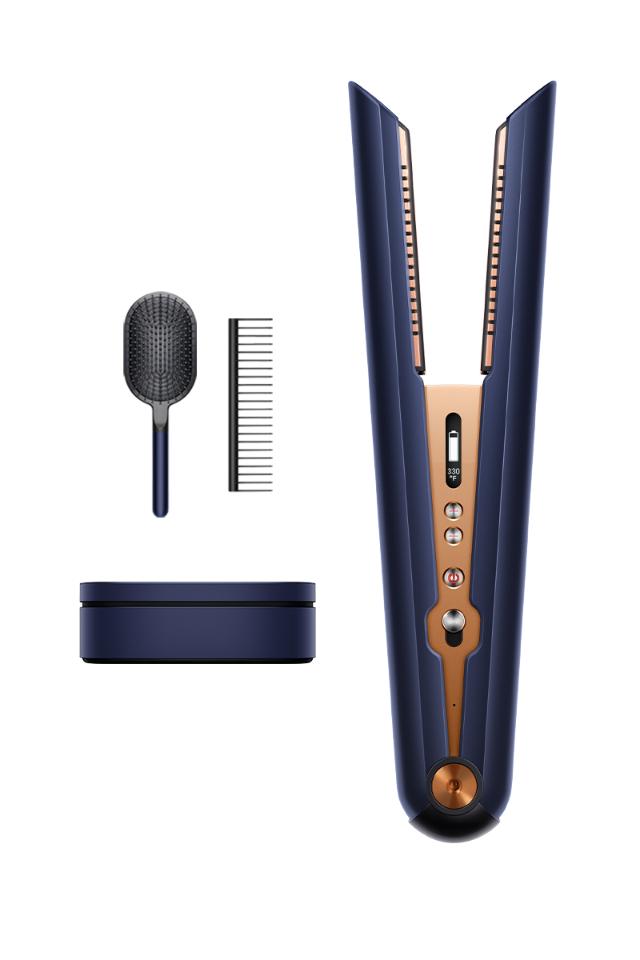 Not your grandmother's flat iron, the Dyson Corrale is a cordless hair straightener with a couple of unique twists.
Boasting intelligent heat control, manganese copper alloy plates, and a super-nifty charging dock, it's hard for other straighteners to measure up (though we do like this flat iron too).
We got our hands on one of these expensive tools and decided to test it ourselves. This Dyson Corrale review will be a deep dive into the inner workings of the Corrale's controls, thermal performance, how it stacks up against traditional flat irons, and whether or not it's worth the hefty $500 price tag (ouch!).
What makes the Dyson Corrale straightener so special?
If price is no concern and you're looking for tool with all the bells and whistles, then the choice is simple: a Dyson straightener is the way to go.
Its three heat settings allow you to change the temperature depending on your hair type. Although this is common practice for flat irons these days, note that not every hair tool on the market has this option.
The Chi 1 Inch Original, for example, still doesn't have this feature! Come on Chi, get with the program!
What's the big deal with flexible plates, anyway?
Flat irons have bragged about having this feature for years. But their definition of flexible plates seems to be different than Dyson's.
These plates actually bend and flex. They're not a solid stick of inflexible metal or a fragile chunk of ceramic. They're made of a special copper alloy that can be heated to several hundred degrees without causing any heat damage to your hair.
Plus, the fact that these plates flex is not to be overlooked. When you put the hair inside the straightener, the flexing plates conform to the hair, creating less drag than your average straightener.
What do the flexing plates actually do?
This allows the hair to get straight with fewer passes. Fewer passes means less time, less heat, and no fried hair smell!
That's not to say that solid plates are bad. If you can't cough up $500 for any of Dyson's other popular tools (looking at you, Dyson Airwrap), don't freak out. You can still use your regular hair straightener.
What is a "flight-ready tag" and how do I use it?
Since the Dyson is a cordless flat iron, FAA regulations require it to be constructed a certain way in order to allow it to be carried on an airplane. In simplest terms, the flight ready tag must be inserted in order for your Dyson Corrale to work.
If the tag (which looks like a USB dongle) is not inserted, then it won't work.
Think of it like a safety feature.
Does the Dyson Corrale come with any extras?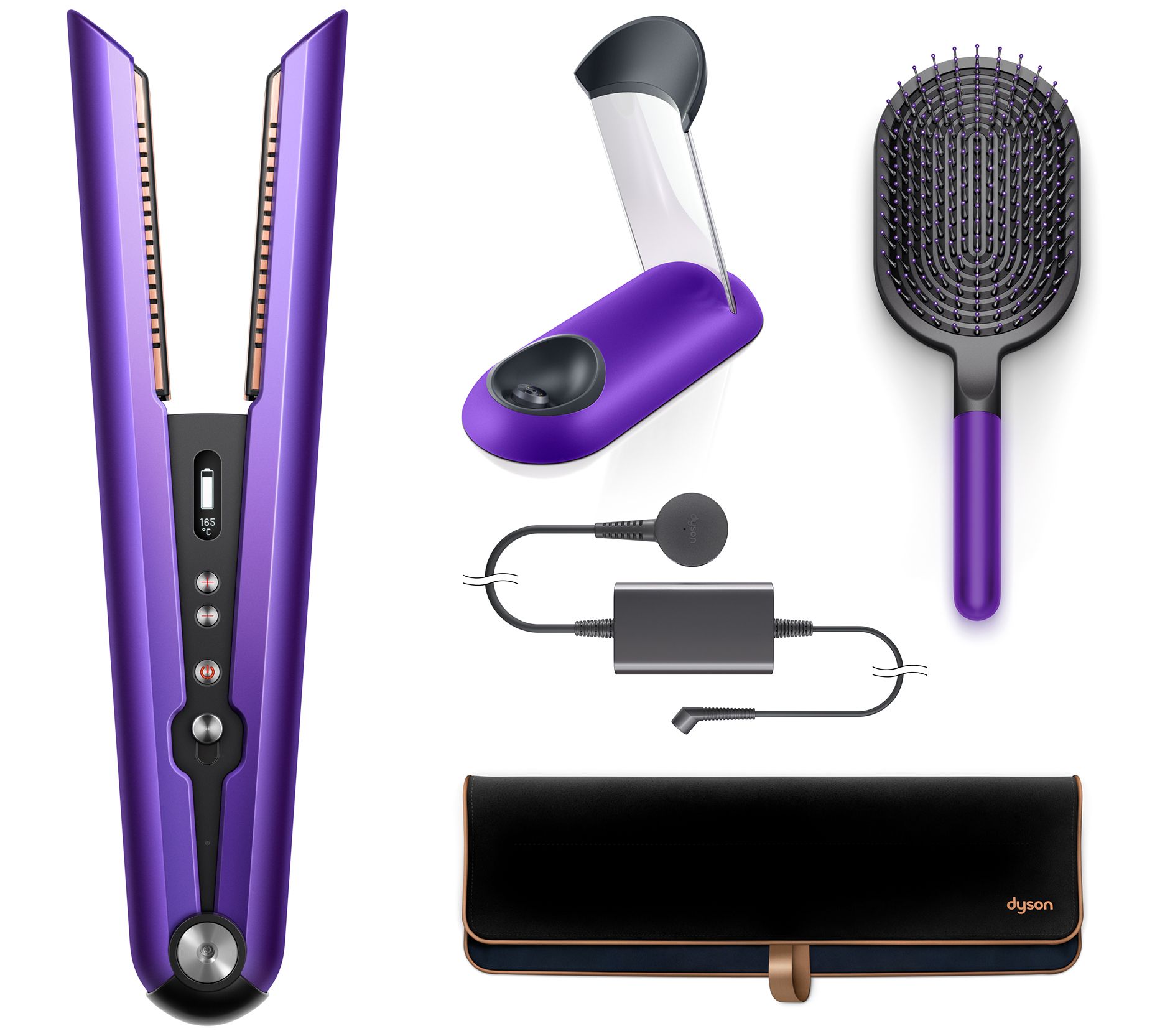 It certainly does. You get:
a charging dock
a heat resistant travel pouch
a comb
a presentation case
We would have liked for it to come with some heat protectant or a serum, but I guess $500 only buys you so much these days.
How does the Dyson Corrale straightener work on curly hair?
Um, amazingly?
Look, one thing you need to understand about this multi-billion dollar company is that they're not going to just pump out a regular flat iron, slap a $500 price tag on it, and call it a day.
If they are going to charge that much for it, it's for one simple reason – because it's the best.
More specifically, the Dyson Corrale works great for curly hair. In fact, it's one of the best hair tools we've ever seen if your goal is to straighten your hair – regardless of your hair type.
And that goes for you girls with natural hair, too.
What temperature should I use with the Dyson Corrale?
As always, when straightening hair, we recommend putting the heat setting on the maximum. This will allow you to finish the hair faster, possibly only requiring one pass to get the hair nice and silky. Just be careful not to leave the hot plates on the hair for too long.
Just remember that when you're using the Dyson Corrale to straighten your hair regularly, lead with a paddle brush or comb in your other hand. This will insure that you REALLY only have to do one pass to get the hair nice and silky.
The Dyson Corrale straightener is a cordless flat iron – but how is the battery life?
What Dyson Corrale review would be complete without a full discussion of the fact that it's also cordless?
One of our favorite features of the Dyson Corrale straightener is how it is a full-sized cordless flat iron.
Usually if you want to get this kind of power, you have to use a corded straightener. But Dyson has once again outdone themselves with this feature.
Does the battery last long enough to do your hair?
First of all, the battery life on the single cell lithium ion battery is amazing.
A full charge will give you about 30 minutes of straightening time at full power. That may not sound like a lot if you're used to using an inferior hair tool, but the Dyson Corrale is no child's toy.
30 minutes is plenty of time to make short work of naturally curly hair, especially with the heat settings turned all the way up. Have yourself a margarita and get ready for a cord-free lifestyle!
Can the Dyson Corrale also curl hair?
Just like a normal hair straightener, the Dyson Corrale straightener can also give you beautiful wavy hair – but without the heat damage!
It doesn't matter what kind of hair type you have, because this straightener can curl even the finest of hair. In fact, Dyson claims that it curls better than any other flat iron on the market.
Whether or not this Dyson hair straightener takes the cake or not is a topic for another article. But we can certainly verify that it does work on all hair types (provided the temperature settings are set to the max).
How do I curl with the Dyson Corrale?
To curl with the Dyson, all you have to do is just twist it a little bit by bending back your wrist.
Do I need to use the Dyson Corrale on dry hair?
Don't throw away your hair dryers just yet, girls – you still need to make sure your hair is nice and dry before getting ready for Girls' Night Out.
We know a lot of people try to cut down their styling time by using their tools on damp hair, but please, resist the urge.
The main reason people do this is because they think they are doing less heat damage to their hair. However, in our experience we've noticed that using a tool like this to straighten hair makes it frizzy and takes many more passes to get right.
Yes, we all want to be able to turn our 2 hour getting ready routine into ten minutes. But trust us when we tell you that straightening your hair while it's damp (even with a futuristic tool like the Dyson Corrale) is going to leave it frizzy and weird.
Does this magical hair straightener replace any of my other hair tools?
Hmm… sort of?
We think it can definitely replace your curling iron, though you might still want to hang onto your curling wand as that's pretty good at giving a wavy look that stays.
While you could use it on wet hair (to dry it off), that would be inefficient when you could just use a blow dryer.
So no, unfortunately it doesn't. Unless you count your old hair straightener.
It can't be all good. What are the negatives of the Dyson Corrale?
You're right, it's not all positive. There are some negatives.
And no, we're not talking about negatives like, "It's just too awesome!"
For one thing, this sucker is HEAVY. Or at least, heavier than most regular flat irons we've used in the past.
And we get it, most of that is probably the battery that allows it to be a cordless straightener. But really, what's the point of using it if it makes our arms tired?
Another negative is obviously the price.
$500 is a lot to spend on a tool for your hair. I guess if you're committed to living a cord free lifestyle and can manage to do curls with a straightener that feels more like a crowbar, you'll manage to make it work.
Is there a learning curve if I'm used to other straighteners?
No, not really. The Dyson Corrale is pretty much like any other flat iron, except for 2 things:
It's cordless.
It is heavier than normal (thanks to the battery inside).
The flexing plates are a cool touch, but don't really flex that much. And the OLED screen is also cool, but it's really just to keep up appearances.
What we really like about it is that it lets us go cord-free. So if you need to learn how to straighten your hair while you sit on the couch watching the latest Jeffree Star video, then I guess so?
But if you've used a straightener before, we think you'll be fine.
Where can I buy the Dyson Corrale?
Those of you looking for the best prices are going to be disappointed. Dyson has a tight grip on the market and doesn't allow retailers to sell their tools for anything less than what they dictate – in this case, $550.
If you have Amazon Prime, why not order through Amazon? You can read all sorts of reviews over there in addition to this one. And honestly, when you're thinking of investing this much into you hair, that's probably not a terrible idea.
Other beauty supply stores also sell them – Sephora and Ulta – but we've had bad experience at in person locations. Sephora is actually pretty good, but when we shop at Ulta we mostly feel like we are being done a favor by being served.
But feel free to order wherever you want!
Final Thoughts
We tried to be as honest as possible in our review of the Dyson Corrale. But as we said in the introduction, when a multi-billion dollar company decides to come out with a state-of-the-art styling tool, the world takes notice.
The best thing about this review? We got to buy a Dyson and mark it off as a business expense.
The worst thing about this Dyson Corrale review? No other straightener will ever feel the same again.