Unless you've been living under a rock for the past 50 years, chances are you've heard of Dior. But you probably know them for their fashion, handbags, and accessories.
However, did you know that Dior also has an incredibly popular line of skincare products?
That's right, the luxury brand offers a range of skincare items that can help you achieve glowing skin.
If you're looking for a new skincare routine, consider incorporating some of these Dior products into your regimen. Trust us, your skin will thank you!
But a quick word of warning: just like their signature fashion, these skincare products aren't cheap.
What is Dior skincare?
Dior is a French luxury fashion, skincare, and perfume house that was founded in 1946 by Christian Dior.
The brand's name is an homage to the designer's surname, and it's one of the most well-known luxury brands in the world.
Dior offers a range of high-end makeup, skincare, and fragrance products. And while the brand is most commonly associated with fashion, its skincare line is actually very popular.
The history of Dior's skincare line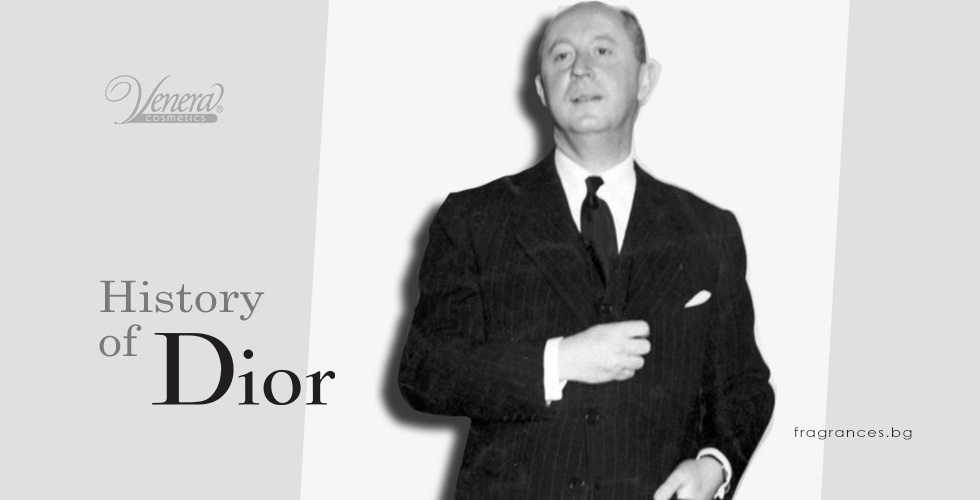 Dior's skincare line was launched in the early 1970s with a focus on anti-aging products.
Since then, the line has expanded to include a variety of different products for all skin types.
The brand's skincare philosophy is centered around the idea of "Capturing Light" – that is, using ingredients and formulations that help the skin reflect light for a radiant complexion.
What makes Dior's skincare different?
Dior's line of skincare is unique in both its philosophy and its formulations.
The brand's "Capturing Light" philosophy sets it apart from other skincare brands that focus on anti-aging or skin perfection.
Instead, Dior's goal is to help the skin look its best by using ingredients and formulations that promote radiance.
Additionally, Dior's skincare products are made with high-quality ingredients and luxurious packaging.
What is Capture Totale?
Capture Totale is Dior's flagship skincare line and it includes a range of products designed to help the skin look its best.
The line includes everything from anti-aging serums to BB creams, and it's one of the brand's most popular lines.
Perhaps the most unique feature of Capture Totale is their addition of Longoza extract to all of their products. This powerful ingredient comes from a small island in Africa, but we'll get into that in some of the sections below.
Dior's top 8 products
These are the 8 best skincare products from Capture Totale that you need to add to your routine:
Super potent serum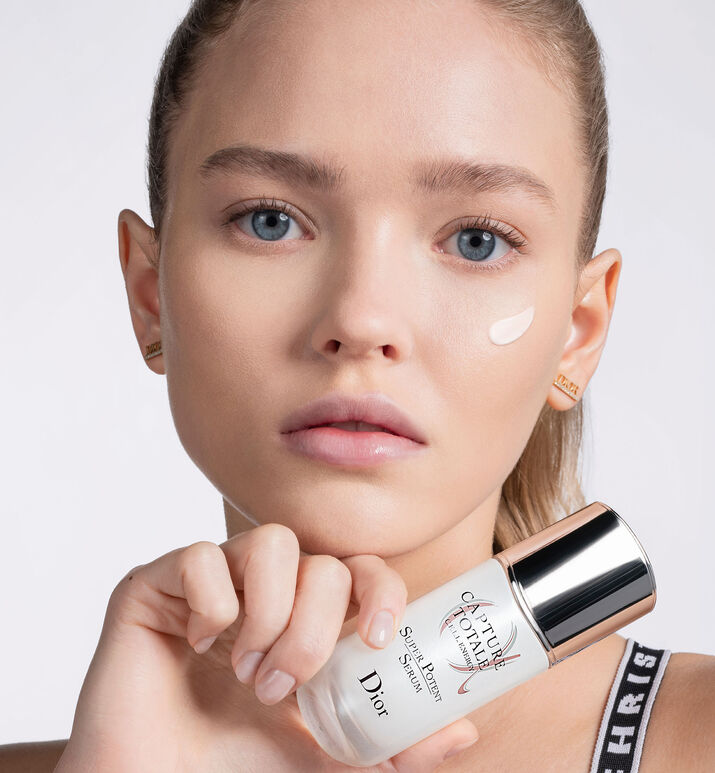 This serum is one of Dior's top-selling products and it's perfect for those looking for an anti-aging solution.
The serum is made with their exclusive " Cellular B-Tox technology" and it's designed to help smooth wrinkles and fine lines.
The serum also contains "Longoza extract" – otherwise known as White Ginger Lily – which is an ingredient that's known for its anti-aging properties. This particular variant comes from the island of Madagascar, and apparently was hand-selected by Dior for its powerful skin-rejuvenating qualities.
Firming & wrinkle-correcting creme
Apparently, Longoza is powerful enough for Dior to use in multiple products because this wrinkle-correcting cream also lists it as one of its key ingredients.
The cream also contains bio-fermented ceramide, which is another ingredient that's known for its anti-aging properties. As stated on their website, these special ceramides help to strengthen the skin barrier while they moisturize.
The bottom line? More supple, younger-looking skin after just a few applications.
Super potent rich creme
The revitalizing texture of Super Potent Rich Creme is that of a rich, emulsified cream: its luxurious formula glides over the skin and immediately melts in, leaving behind a sense of utter comfort.
This enveloping cream is designed for women who are looking for an intensive anti-aging treatment. It targets all visible signs of aging, including wrinkles, loss of firmness, and uneven skin tone.
The cream is made with a French peony oil extract for intense skin revitalization, designed to help smooth wrinkles and fine lines.
Super potent eye serum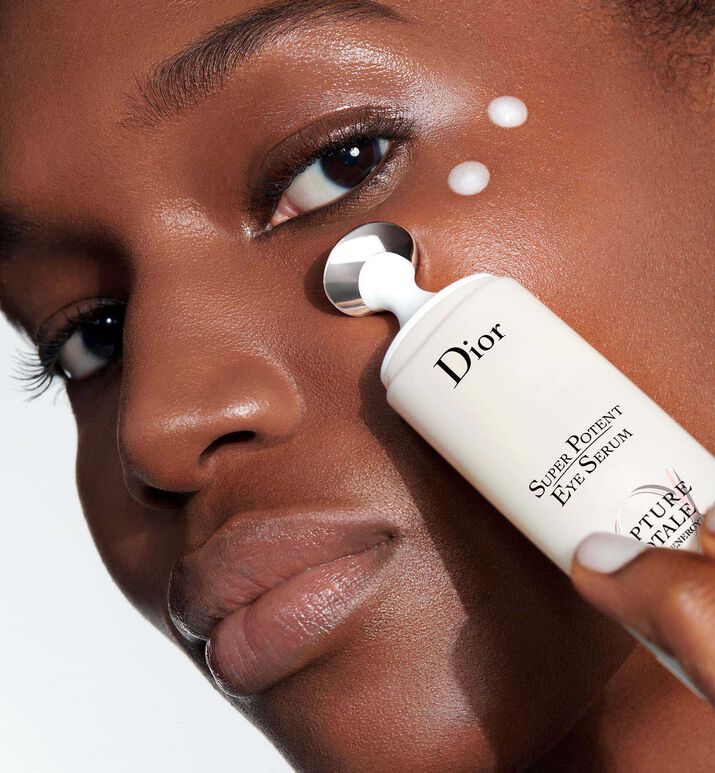 This eye serum is designed to help with several different eye-area concerns, including dark circles, puffiness, and fine lines.
Boasting over 92% naturally-derived ingredients, this vegan eye serum is one of the brand's best-sellers.
The most unique feature of this eye serum is its applicator. It features a wide-massaging head, flexible neck, and 7 ridges into which to put the serum. Thanks to its universal shape, it is designed to fit all different types of eye shapes, enabling you to apply the serum even to the hard-to-reach sensitive areas around the eyes.
Intensive essence lotion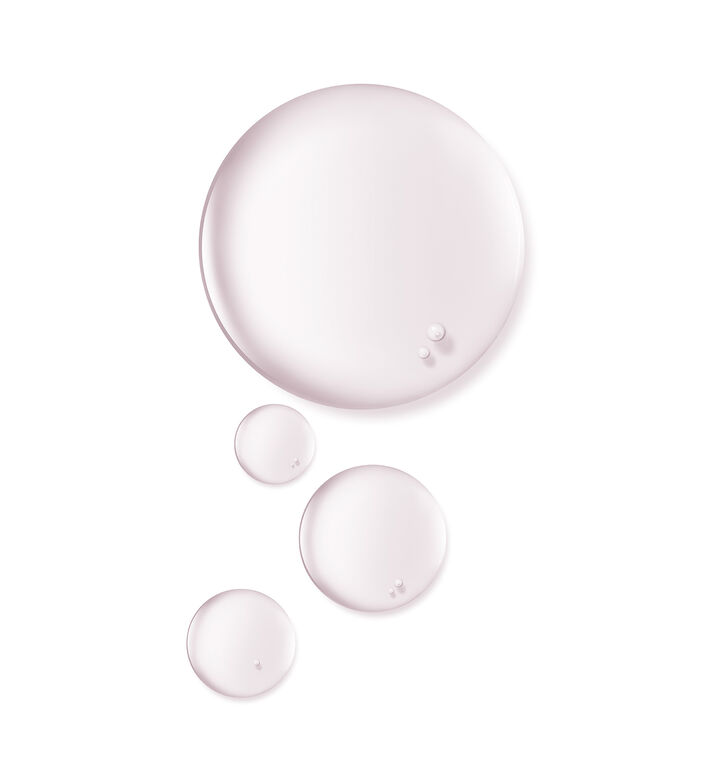 Dior took no chances when it came to this lotion – they wanted something that would fill even the deepest of lines with ample moisture.
Did they succeed? We'd say so.
Capture Totale's Intensive Essence Lotion is enriched with two types of hyaluronic acid for an intense hydration experience. This lotion is designed to hydrate, plump, and smooth the skin.
After as little as one month of use, your skin will look noticeably younger, stronger, and more vibrant than has in years.
Firming & wrinkle-correcting eye cream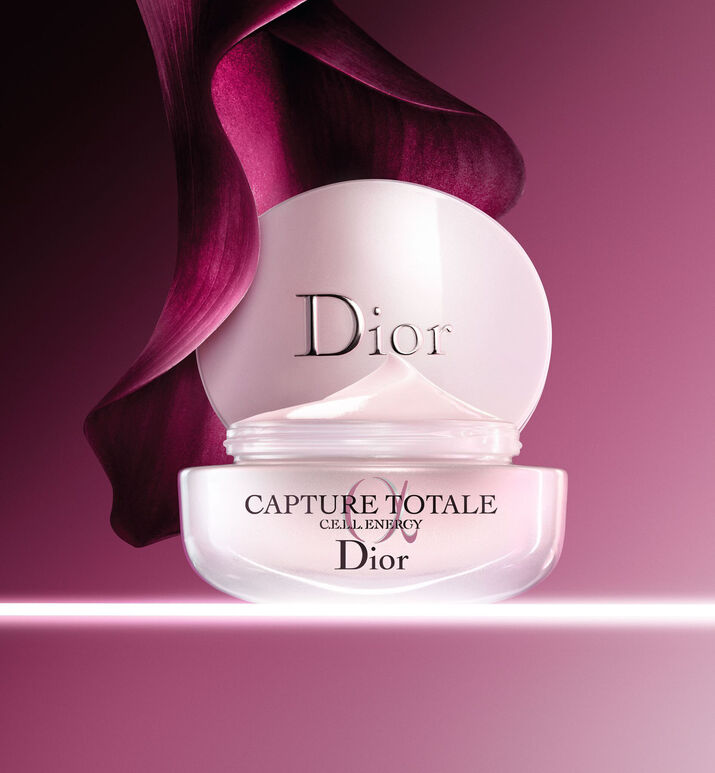 If the eyes are the windows to the soul, then what do your eyes say about you?
Well if you use Dior's wrinkle-correcting eye cream, they'll say you are revitalized, rejuvenated, and free from stress and fatigue.
After just a few applications, this eye cream will help to smooth wrinkles and fine lines while it hydrates and firms the skin around your eyes.
The eye cream is made with Dior's exclusive Longoza extract, as well as a special "acacia micro-peptide complex," both of which work together to help reduce the appearance of wrinkles.
According to their test results, after only 7 days the test subjects' skin looked 79% more radiant and 84% more nourished. And if those were the results after a week, just imagine what they'd be like after a month!
Eye mask Reviver patches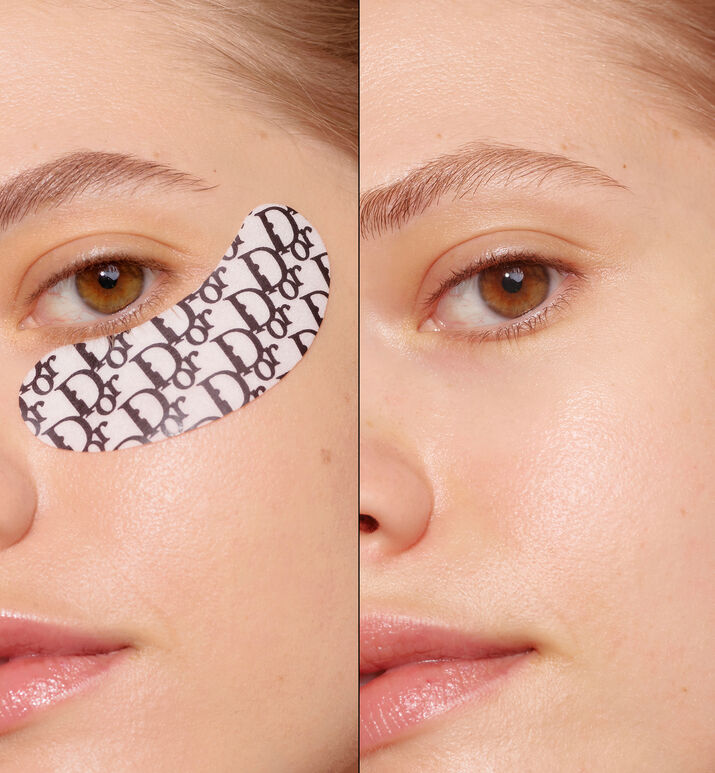 Are your eyes looking tired? Puffy? Dark?
If so, then you need to try Dior's Reviver Patches. These patches are specifically designed to help with all three of those eye-area concerns.
The patches are made with an algae extract that helps to firm and tone the skin around your eyes, while the hyaluronic acid helps to hydrate and plump the skin. And if that wasn't enough, the caffeine in the patches helps to reduce the appearance of dark circles.
After just 20 minutes, your eyes will look brighter, more awake, and less puffy.
TOTAL ANTI-AGING DISCOVERY RITUAL (set)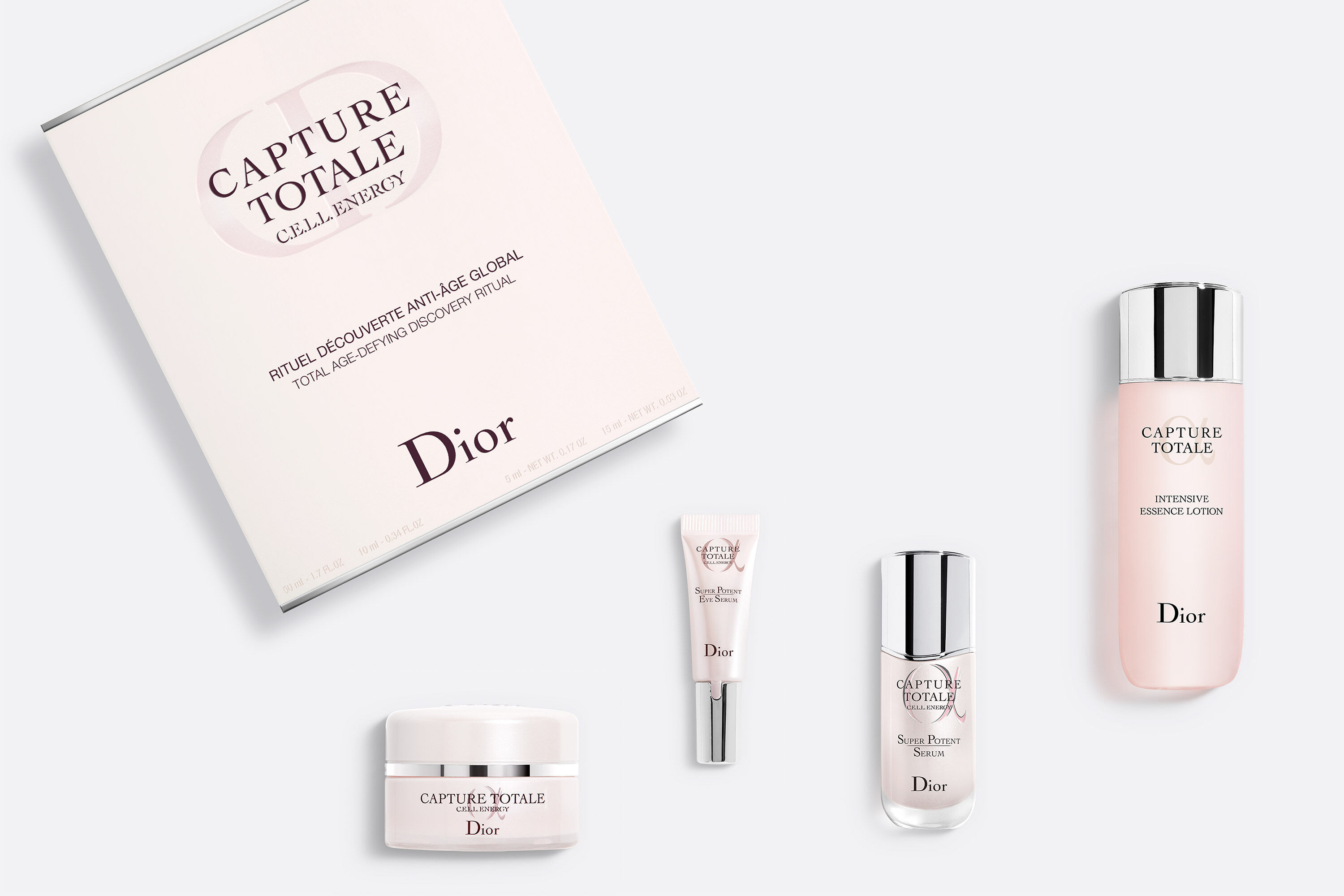 This set includes everything you need for a complete anti-aging skincare routine.
The set includes:
Super Potent Rich Creme
Super Potent Eye Serum
Intensive Essence Lotion
Firming & Wrinkle Correcting Eye Cream
Eye Mask Reviver Patches
Each of these products is designed to help with a different aspect of anti-aging, from wrinkles and fine lines to dark circles and puffiness.
The set also comes with a special "Discovery Ritual" guide that will help you get the most out of your skincare routine.
If you're serious about getting rid of those pesky signs of aging, then this is the set for you.
Final Thoughts
Dior is a French luxury brand that is best known for its fashion and fragrance offerings. However, the brand also has a growing skincare business, and they know a thing or two about how to make their customers look good.
The products featured in this article are just a few of the many excellent skincare offerings from Dior. So if you're looking for some new products to help you achieve glowing, youthful-looking skin, then be sure to check out Dior's skincare line.
Do you have a favorite Dior skincare product? Let us know in the comments below!