What would a skincare routine be without a toner?
Incomplete.
No, that's not a skincare joke – it's the truth. But what if you have dry skin?
In this article, we reveal the secret behind this essential skincare product. Not only that, but we're going to take a deep dive into the 13 best toners for dry skin that you can use to remove dead skin cells and keep your face looking fresh and young forever.
What is a toner?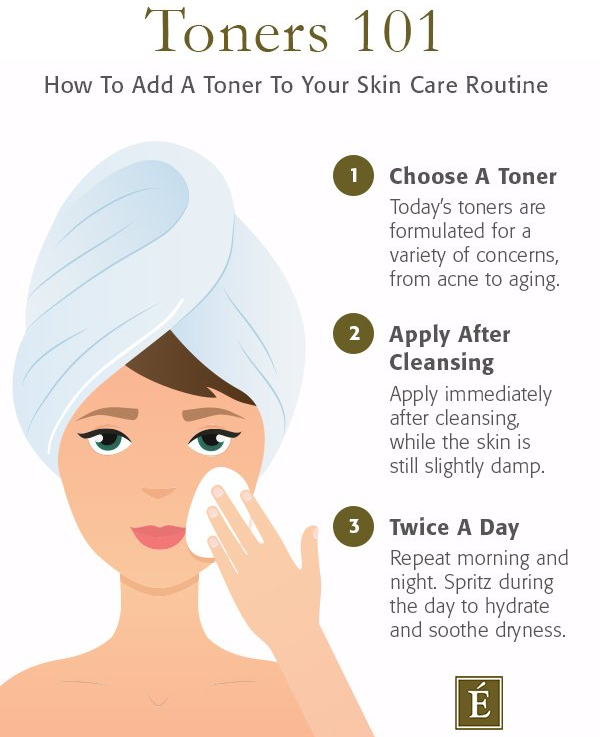 It's a product that comes in a lot of different forms, from liquids to serums and mists.
But in its most basic form, a toner is an essential part of your skincare routine which you use after cleansing to remove any excess oil or makeup. Some of them can be used as a makeup remover.
Toners have been used for centuries by various cultures because they're so effective at balancing the pH of dry skin.
Not only that, but they can restore moisture and oil levels to a healthy equilibrium by controlling the output of the sebum glands on your face. Look for a toning lotion if this is what you want (more on these later).
They also kill bad bacteria on your face, while replenishing your complexion with brightening ingredients such as glycolic acid or vitamin C.
Combined with a powerful serum, toners can work wonders on your face!
What if I have sensitive skin?
You're probably wondering if toners can be used by people who have sensitive and dry skin.
The answer is yes, as long as you use the right product and aren't allergic to any of the ingredients in it.
What we recommend:
A lot of toners contain alcohol, which is usually what irritates dry skin and leaves it feeling tight, cracked, and sometimes even itchy or irritated. Instead, look for a toner that contains witch hazel as its main ingredient instead.
This is because it helps to balance your skin's pH levels without the harsh side effects caused by alcohol.
Can I use a toner with acne-prone skin?
Yes, there are toners out there that can be used with acne-prone skin.
You should never pick or squeeze at a blemish because you might make it much worse – and it could scar your face as well.
This is especially important for people who have dry skin, because dry skin has less moisture flowing to it. That means less blood flow, and blood contains nutrients that heal and soothe skin.
Instead, build your skincare and makeup routine around beauty products made specifically for oily skin.
If you want to treat your acne the natural way, then consider using a toner with natural ingredients (like witch hazel, for example).
Should I use hyaluronic acid with my toner?
You should absolutely use hyaluronic acid with your toner if you have dry skin, because it can absorb 1000x its weight in water – making it a perfect primer for your moisturizer.
If you do decide to use a hyaluronic acid serum after applying your toner, then make sure that you wait at least 5 minutes before applying your moisturizer afterward.
What is toning lotion?
Toners come in different forms, but toning lotions are a type of toner that usually contain more natural ingredients and less alcohol than regular toning bottles.
They're also usually inexpensive, have a creamy consistency, and can be found at most drugstores.
Do toners remove dead skin cells?
Not exactly.
However, most toners contain ingredients that help to dissolve the exfoliated dead skin on your face's surface – which is always a good thing!
Some of these ingredients include glycolic acid, salicylic acid, retinol and vitamin C.
Searching for the best toner for dry skin…
Below, we've compiled a list of our 13 favorite toners for dry skin.
Each of these products are ones that we at Revita have used in the past, and they're suitable for both men and women.
Remember to ask your doctor about any ingredients you're not sure of before using them – especially if you have dry skin.
EDITOR'S NOTE: To fight bad skin from the inside out, start incorporating more of these powerful skin-clearing foods into your diet.
Neutrogena Oil- and Alcohol-Free Facial Toner
Neutrogena is a great skincare brand for people who have oily skin, and the Oil- and Alcohol-Free Facial Toner is one of their best products to reset your skin's pH after cleansing.
This product, like most toners, contains active ingredients to help remove dehydrated skin and close the pores on your face. It also has a refreshing scent thanks to its citrus extracts.
For best results, use this product once or twice daily after cleansing.
THAYERS Alcohol-Free Rose Petal Witch Hazel And Aloe Vera
If you don't like the smell of witch hazel, then try out this fresh rose-scented toner instead.
Made with a blend of different essential oils and extracts including aloe juice and vitamin E, this facial toner is perfect for people who want to hydrate their skin without stripping away its natural oils.
Dickinson's Enhanced Witch Hazel Hydrating Toner with Rosewater
Dickinson's advanced replenishing toner is one of the best toners for dry or parched skin. Why? It is the perfect choice to soothe dry skin while hydrating your skin with its combination of active ingredients and hydrating formula.
It contains grapefruit seed extract as well as rosewater, which helps to soothe and hydrate the skin – all without the use of harsh ingredients like alcohol.
This product can also fend off acne breakouts, thanks to its antibacterial properties found in the witch hazel leaf.
If you find your skin is too dry after using this toner, try applying one of these facial oils made for dry skin.
InstaNatural Vitamin C Facial Toner
This facial toner has a blend of ingredients that are meant to brighten dry skin, making it clear and glowing.
It also includes vitamin C as well as other active ingredients, which makes it perfect for penetrating the skin barrier to give your skin the hydration that it needs.
This toner is also free of parabens, sulfates, and other harmful ingredients, making it perfect for people with sensitive skin.
REN Clean Skincare Glow Tonic
REN's toner is perfect for brightening your complexion and plumping up dry skin – making it look younger in the process.
It contains 5% glycolic acid, which penetrates deeply into your pores to remove dirt and clear them of any acne breakouts.
This product also contains willow bark extract, which is a natural form of salicylic acid that makes it a great way to combat acne.
Hydrating Face Toner for Dry Skin Witch Hazel
If you're looking for an alcohol-free toner, then this is the one for you.
This toner has a blend of hydrating ingredients like aloe vera and vitamin E, which keep your skin feeling hydrated for hours.
This product also works well to hydrate skin, giving you a brighter complexion – perfect for women who want glowing skin.
La Roche-Posay Effaclar Clarifying Solution Acne Toner
La Roche-Posay's acne toner is made from a blend of ingredients that help to clear up dry skin, as well as prevent future breakouts from occurring.
It contains salicylic acid as one of its main ingredients, which penetrates deep into your pores and cleans them out.
This product also has hyaluronic acid and glycerin to help hydrate your skin and prevent future acne breakouts.
PYUNKANG YUL Facial Essence Toner
This facial toner is great for sensitive skin.
Its gentle formula contains natural ingredients like aloe vera, which soften skin on your face and help to combat dryness.
The PYUNKANG YUL toner also has a blend of different herbal extracts in it, which make it perfect for keeping acne at bay.
Clear Collective Balancing Capsule Toner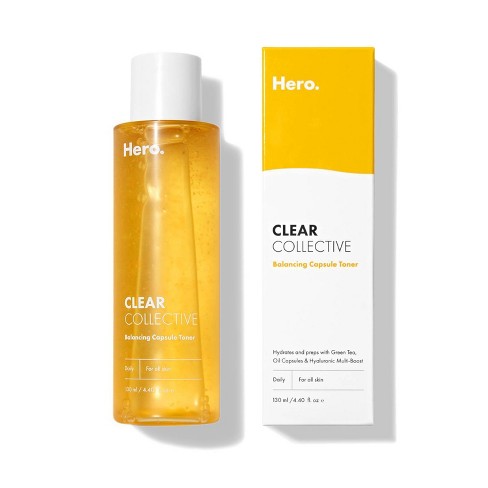 This toner contains tea tree oil, which helps to keep dry skin clear of acne breakouts.
It also includes real rose petals and aloe vera in it, which together make this toner great at cleansing your pores of any dirt that could potentially cause breakouts.
CeraVe Hydrating Toner for Face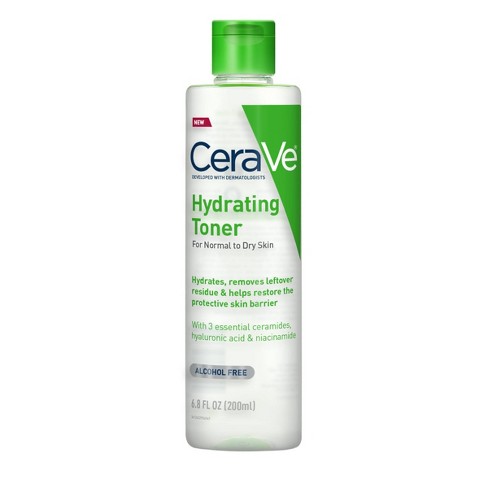 This hydrating toner has a blend of ingredients that keep your skin moisturized for hours, without leaving it feeling greasy. It's so thick, it's almost like a body butter for your face!
It includes ceramides, which are natural ingredients that mirror the skin's structure to lock in moisture and hydrate your face.
This product is also great for fighting acne breakouts, thanks to its antibacterial properties found in willow bark extract.
AHC Toner for Face Aqualauronic
Another hydrating toner, this one is great for all skin types, including sensitive skin.
It contains a blend of ingredients that are gentle on the skin and won't lead to irritated skin, like aloe vera.
This deep hydration facial toner also has hyaluronic acid in it, which helps to keep your complexion hydrated throughout the day.
This product also has a blend of green tea and honeysuckle flower extracts, which are anti-inflammatory.
Klairs Supple Preparation Facial Toner
We all have different skin types – but this toner from Klairs adjusts the skin's pH balance, using its hydrating ingredients to give you a supple complexion.
This face toner is alcohol free and contains extracts of willow bark, which are natural forms of salicylic acid.
It also has green tea extract in it, which helps to cleanse your skin, unclog your pores, and keep you feeling fresh.
ISNTREE Green Tea Fresh Hydrating Face Toner
This toning lotion works great to protect skin from acne breakouts.
It contains green tea extract, which reduces the production of sebum to help you avoid acne on your skin.
ISNTREE's pressure also has witch hazel in it, which tightens your pores and makes it easier to fight off blackheads.
[I'm From] Rice Toner
If you're looking for an organic face toner, then you need to check out this one.
This moisture-packed product is great for keeping your skin hydrated all day long thanks to its blend of rice extract and hyaluronic acid.
It also contains rice extract in it, which can reduce redness by providing intense hydration.
Final Thoughts
These are the best toners we could find to help to keep your skin feeling hydrated and smooth.
It's perfect for keeping your complexion looking fresh, regardless of how dry it is.
Toners are also great at removing any dirt that could potentially cause breakouts on your face.
Now you know the best toners for dry skin!
PS. Know what works great with a toner? A beauty balm!