There are two types of people in the world: those who know what it's like to have bleached hair, and those who don't.
For the first group, caring for your hair can be a struggle. Yes, you've gotten that perfect platinum color you've always wanted, but now your hair is fried and feels like straw.
If only there was a way to keep bleached hair healthy…
As you probably know, picking the right hair products is crucial to maintaining chemically treated hair. And like with any hair care routine, picking the right shampoo should be at the top of your list.
Well good news, my blonde friends: in this article, we will reveal to you our top 17 picks for the best shampoo for bleached hair.
So get ready to say goodbye to that mound of rough hair on your head because you're about to find a new shampoo to fix it.
Oribe Bright Blonde Shampoo
At the top of our list, we have one of the best shampoos for bleached hair on the market right now.
In fact, if you are looking for a quick fix for your damaged hair and just want to grab something without spending 10 minutes reading an article, the Oribe Bright Blonde Shampoo is a great choice.
This product is actually a pretty good purple shampoo in and of itself.
The way purple shampoo works is by balancing out the brassiness in hair that's sometimes found after bleaching.
Since purple is across from yellow on the color wheel, adding purple shampoo will help to change the color of the hair, often called "toning shampoo."
This shampoo from Oribe has excellent reviews on Amazon. And no wonder, it helps to balance out color-treated hair without stripping the hair of it's natural oils.
L'Oreal Paris EverPure Brass Toning Purple Shampoo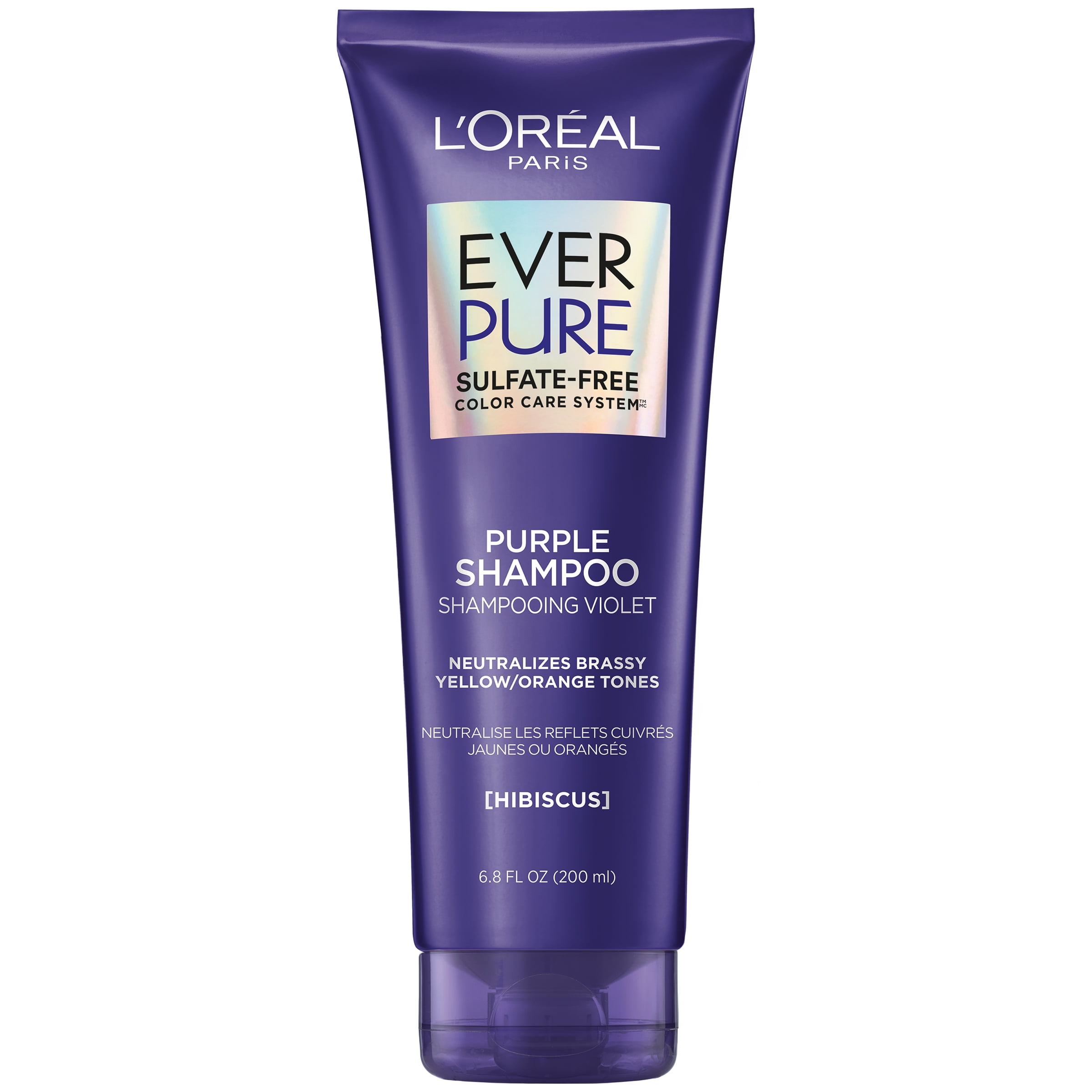 Formulated for color-treated hair, L'Oreal's purple shampoo is perfect for bleached hair.
One unique ingredient that makes this one of the best shampoos for bleached hair is Hibiscus.
A natural source of Vitamin E, Hibiscus helps to moisturize hair while toning it.
This allows the hair color to change slightly without affecting the hair's porosity. If you have damaged hair, this is going to mean a lot to you.
Because what's the problem usually with products like this? They're great for the hair color, but wreak havoc on your hair.
And if you're bleaching your hair, you don't want to wreck your hair any further than it has to be! You want your hair soft.
Redken Extreme Bleach Recovery Shampoo
Next up on the list we have a product from Redken.
This product is not a purple shampoo like the previous ones – this shampoo is strictly formulated to get the hair healthy, soft, and silky again.
The main active ingredient in this shampoo is an herb called Gotu Kola. A Chinese medicinal herb, Gotu Kola has been used for thousands of years in both food and Chinese medicine, mainly to improve blood flow.
As you know, your hair fiber is made up of keratin protein. This keratin grows from your hair follicle into the hair shafts.
In order to make the hair shaft healthy, adequate blood flow needs to be supplied to the follicle. So by choosing a shampoo for bleached hair (which is obviously damaged) that improves blood flow, you're strengthening the hair from the inside out!
Davines NOUNOU Shampoo
Our next shampoo for bleached hair comes from Brindisi, Italy.
This shampoo is infused with Fiaschetto Tomato extract, a unique ingredient that we don't see in a lot of hair care these days.
However, we know that the Italians love their tomatoes, so they must be onto something.
When you bleach your hair, you are drying it out. Tomato extract actually helps to hydrate the hair.
So if you have dry hair and are looking for something to give you smooth and strong strands, give the NOUNOU shampoo a try.
Luseta Purple Shampoo And Conditioner Set
If you have bleached hair, it's no secret: you're a slave to purple shampoo.
And if you want to avoid damaged hair while still maintaining the blonde hair of your dreams, you need to use a gentle toning formula to get the best of both worlds.
That not only means you need to pick specially-formulated shampoos for bleached hair, but you need to pair them with a matching conditioner.
Luseta's set has some interesting ingredients:
Coconut oil, to infuse the hair with fatty acids, vitamins and antioxidants
Quinoa seed extract, to strengthen and protect the hair with 9 amino acids
Biotin (vitamin B7), to help stimulate the generation of new hair from the hair follicle
Not only is it literally made for color-treated hair, but its ingredients are designed to tone AND treat your heat or chemical-damaged hair.
Bust Your Brass Cool Blonde Shampoo (By Amika)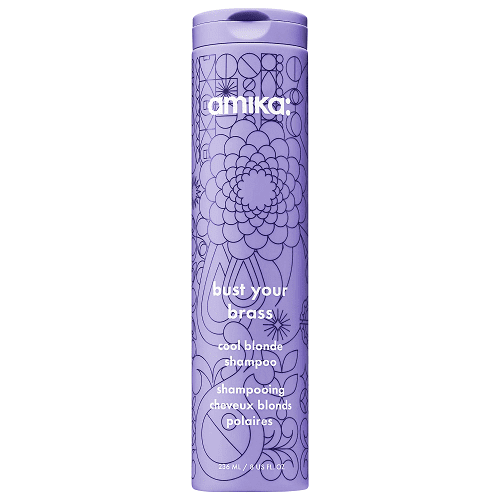 When it comes to hair care, Amika is no slouch. Their distinctive line has been shown to work wonders on all hair types, and their purple shampoo is no exception.
Designed to temper the brassiness that sometimes comes with bleached hair, the Bust Your Brass Cool Blonde Shampoo will get your hair soft and tone the color at the same time.
Their unique formula (made with Cherry Bark Extract) will take your damaged hair and bring it back to life.
This, plus the addition of Sea Buckthorn Berry (a powerful antioxidant), will keep your hair healthy even through consistent bleaching.
So get ready to say bye-bye to those brassy tones in your hair once and for all!
Renpure Originals Biotin & Collagen Thickening Shampoo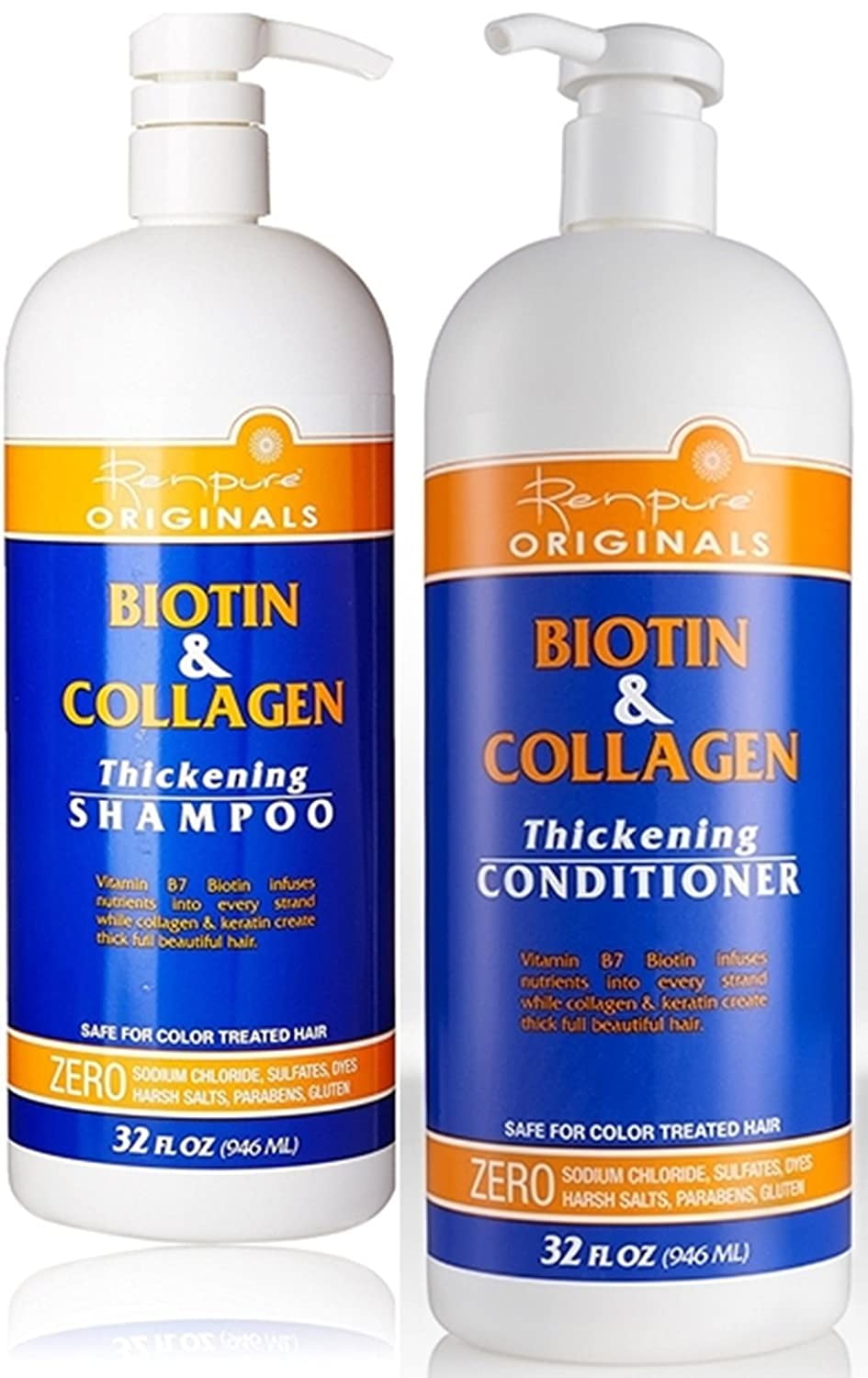 One of the biggest problems with bleached hair (aside from making your hair feel like straw) is how it can damage the hair shaft, making your hair appear thinner than it really is.
This happens mainly with finer hair types, as they have less room for error when it comes to damaging your hair.
But not only is Renpure's Thickening shampoo one of the best shampoos to correct this problem, but their unique formula protects hair from future damage.
Made with a laundry list of powerful ingredients, this shampoo is great to use with whatever toning shampoo you're using to keep your color treated hair looking great.
With coconut oil, argan oil, hydrolyzed pea protein, cocoa, and horse chestnut, Renpure's shampoo is one of the most ingredient-rich shampoos for bleached hair on this list!
OGX Extra Strength Damage Remedy
Sometimes, bleached hair means damaged hair.
And sometimes, "damaged hair" doesn't even begin to describe what's left of your once-beautiful locks.
That's when it's time to bring out the big guns.
When having juuuust the right blonde hair color takes a backseat to bringing your hair back to life again, OGX has a solution.
Their Extra Strength Damage Remedy is so powerful, it's almost like using a hair mask. It won't do anything to remove annoying yellow tones, but if you're using this, then it's likely your main concern is getting your hair healthy again
With coconut oil, shea butter, and vanilla bean extract, OGX powerful hair care is ready to rescue you yet again from your irresponsible use of hydrogen peroxide.
artnaturals Purple Shampoo
ArtNaturals continues our list with one of the more affordable purple shampoos we've seen.
If the reviews on Amazon are true, your bleached hair will feel like a different color after just a few washes.
And at the low-low price of $7 bucks, it's almost worth buying just to see if all the hype is true. Is it one of the best shampoos money can buy?
Probably not (that one's next on this list), but it will get your hair color looking the way you want it without further frying it like many toning shampoos can do. And if it gets the brassy tones out half as well as it claims, it seems like a pretty dang good deal.
Olaplex No.4 Bond Maintenance Shampoo
$28 for 250ml of shampoo? What are you, Paul Mitchell?
Just kidding, Olaplex. We love you.
(NOTE: If you're looking for a cheaper option, check out our list of the best drugstore shampoos for under $20!)
And if you have bleached hair, you'll love them too. Or at least, you'll love this product.
Olaplex is one of the most reputable brands for hair products on the market, and their Bond Maintenance Shampoo for blonde hair is no exception.
With banana fruit extract, argan oil, and rosemary extract, Olaplex's unique formula will smooth the integrity of the hair shaft while hydrating the hair, leading to a silkier hair and a softer finish.
As with all shampoos, be sure to apply it to wet hair to ensure an even absorption across all of your hair.
Fanola No Orange Shampoo For Color Treated Hair
If you don't have bleached hair and saw this product, you'd think it was actually orange shampoo. Or that it contained oranges.
But in reality, Fanola's "No Orange" Shampoo means that you will have NO ORANGE TONES in your hair when you use it.
They're also apparently Game Of Thrones fans, according to their Amazon page:
If you're looking for icy blonde Khaleesi vibes or rich brunette tones sans brass and orange the No Orange Blue Shampoo is what you need. It's formulated with a rich blue pigment that cancels out unwanted orange, red and copper tones of the hair. Whether you have a brunette balayage, just went brunette or are naturally brunette, using this toning shampoo once every 3 washes will keep your brunette tresses on point, cue hair flip.
Cute!
Hair Food White Nectarine Shampoo and Conditioner
The powerful Hair Food White Nectarine set of shampoo and conditioner works wonders for bleached hair.
Actually, it's made for colored hair. But word on the street is that it works great to protect hair from additional wear and tear after undergoing chemical treatments.
Infused with kiwi extract, we understand why! Kiwi extract is one of the most powerful natural ingredients for hydrating hair.
And as you know, dry hair is sad hair.
So give your bleached locks a break and make them happy. They deserve it.
BIOLAGE ColorLast Purple Shampoo
There are 3 problems with having bleached hair:
You need to use powerful hair care to repair the damage
You need to use a good toning shampoo to tone the color
You need to do it over again every 6-8 weeks
Big problems require big solutions. But fortunately, the folks at BIOLAGE have stepped in to strengthen your hair with this reparative shampoo.
By removing violet and pearl pigments from the hair, this powerful toning shampoo is commonly used to strengthen the hair's natural keratin.
Verb Ghost Shampoo
Regardless of whether or not this is one of the best shampoos for bleached hair, it definitely wins the award for the coolest product name.
And while it's not a toning shampoo per se, it does strengthen hair with natural ingredients.
Speaking of which, it's addition of Moringa Oil had us doing some Googling.
Moringa oil is derived from the seeds of Moringa oleifera, a small tree native to the Himalayan mountains. Virtually all parts of the moringa tree, including its seeds, roots, bark, flowers, and leaves, can be used for nutritional, industrial, or medicinal purposes.
For this reason, it's sometimes referred to as "the miracle tree." It's also called the drumstick tree, in reference to the shape of its seed pods.
Pretty neat!
MATRIX Total Results So Silver
If you've got silver hair, you're going to want to read this.
According to their marketing material, this silver shampoo, "removes brassy tones in 1 wash" by adding purple pigments to the hair immediately.
In addition to this, MATRIX claims that its highly moisturizing formula prevents brittle strands from breaking due to its intense moisture-infusing properties (sounds a lot like hyaluronic acid!).
At this very reasonable price, that not only means you can cut down on frequent salon visits, but color fading from harsh chemicals will also be a thing of the past!
If true, that's pretty impressive all for $9.
MATRIX Unbreak My Blonde
If you've bleached your hair, then you know all about broken hair. But this final entry on our list, also from MATRIX, claims to have the solution.
Their vitamin-packed formulas contain vitamin C, otherwise known as citric acid. This gently cleanses the hair without further frying it.
And while it doesn't do anything for your split ends, by allowing the vitamin C to gently cleanse your hair, you're preventing further hair loss from broken hair.
Final Thoughts
If you're new to lightening or bleaching your hair, then I have news for you: you're going to damage your hair in the process.
Using the right hair care is crucial to making sure that not even a single hair strand is damaged.
In this list, we've provided 16 incredible options for picking the best shampoo for bleached hair that you can find.
So whether you're trying to add a purple hue to your hair to get that perfect platinum blonde or just trying to fix your split ends, there's a solution on this list for you.