Clients ask me all the time about the best heat protectant sprays available. But the answer isn't always so simple.
In all my years as a stylist, I have talked to quite a few clients about using a heat protectant spray. Most of them swear up and down that they have one, they use it, but their hair just gets damaged anyway.
But remember, ladies. I am a hair stylist. And hair stylists have a unique ability of knowing when their clients are lying to them.
And look, I get it. You're a busy woman. You just want to flatten your hair in as little time as possible.
You don't have an extra 30 seconds to spray some heat protectant on your hair before using your heat styling tools, do you?
Jokes aside, if you are using hot tools, you should absolutely be using some heat protection as well. In this article, I've made it as easy as possible for you to pick one that you could actually see yourself using.
Hair Food Coconut & Argan Oil Heat Protectant Spray
If it's from Hair Food, it's got to be good.
If you're looking to add a protective barrier to your hair, this heat protectant may be right up your alley.
This blend of coconut oil and argan oil combine to prevent heat damage, protect hair, and add a glossy finish to your hair.
Designed for all hair types, the nourishing ingredients inside Hair Food's heat protectant spray are sure to keep your hair looking like a million bucks.
Third Wheel Heat Protectant Hair Spray
If you're looking for a heat protectant spray that will leave your hair super shiny, look no further.
The problem with some products like this is that they only provide surface-level protection.
Third Wheel's AminoKeratin special formula not only smells amazing, but has been proven to reduce hair damage from heat styling tools.
HSI PROFESSIONAL Argan Oil Heat Protector
Leave it to HSI to come up with one of the best heat protectants on the market (if not the best heat protectant spray).
Their Argan Oil-based heat protection spray protects hair up to 450 degrees.
This lightweight spray can be used on dry or wet hair, perfect for before you blow dry or straighten your hair.
CHI 44 Iron Guard Thermal Protection Spray
Chi's flat irons may not be the gold standard in the industry anymore, but they do have one of the best heat protectant sprays in the industry.
Infused with vitamins and proteins, Chi's Iron Guard can be used on damp or dry hair. The unique heat protection formula creates a heat shield around the hair shaft, preventing heat damage from the inside out.
Simply hold the bottle six inches from your hair and spray away!
L'Oréal Paris Advanced Hairstyle Sleek It Iron Straight Heat Spray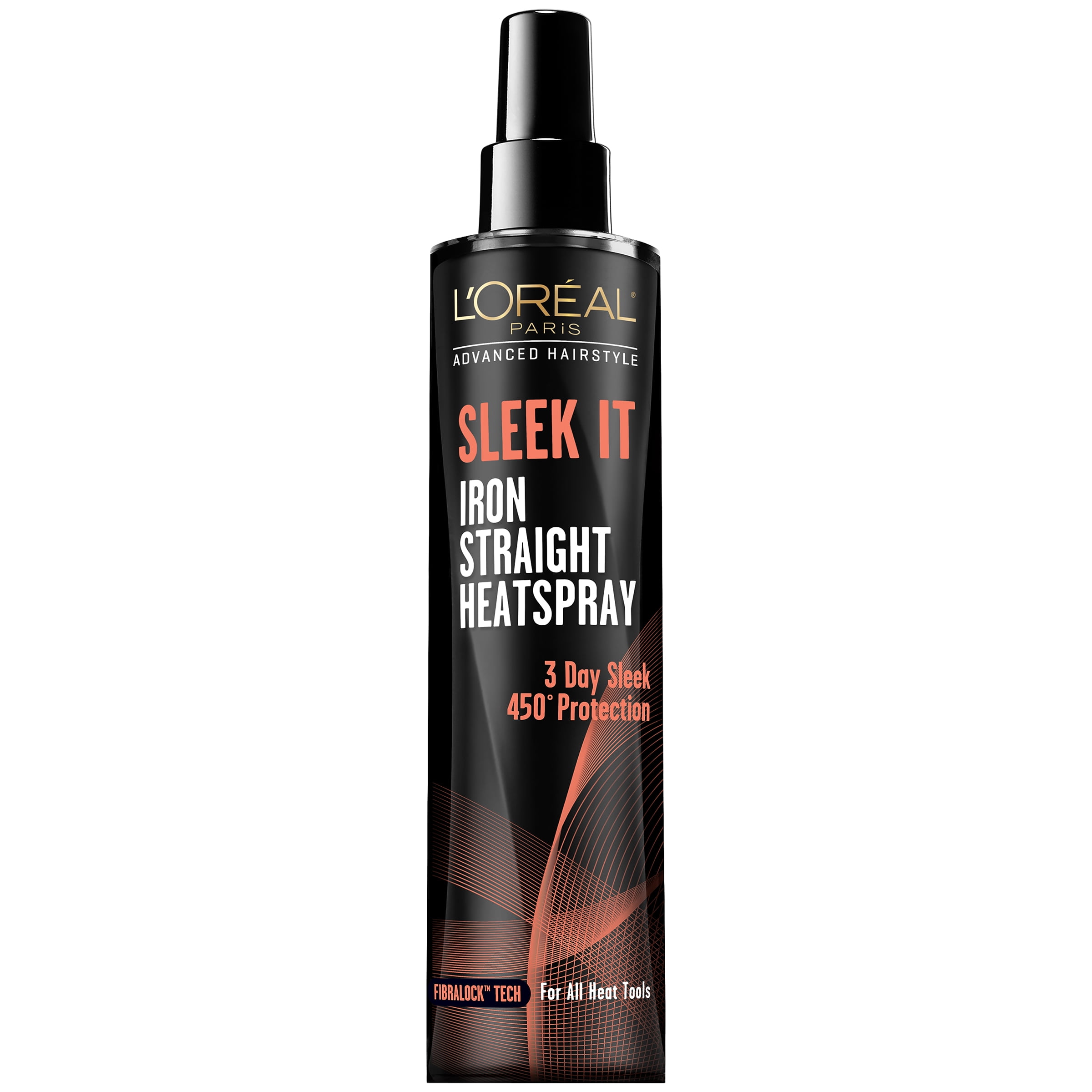 After being in the beauty game for over 100 years, you'd think L'Oréal would know a thing or two about how to make an amazing heat protectant spray.
And if you thought that, you'd be right.
Their Sleek It Heatspray is made specifically to work with hot tools, although it would likely work when blow drying your hair as well.
This makes it an excellent choice for people with fine hair since that type of hair is more susceptible to heat damage.
BIOLAGE Styling Thermal Active Spray
This lightweight spray from BIOLAGE not only works as an excellent heat protectant, but it has an added benefit that the other sprays on this list do not.
This product actually provides a hold to the hair, too! Pretty neat for what feels like a weightless formula.
Since this heat protection spray will seal the hair cuticle, locking in moisture, we recommend you use it any time you use your new Babyliss straightener or silk press your hair (which can lead to loss of moisture).
L'Oreal Paris Elvive Dream Lengths Heat Slayer
It's not a heat protection spray, it's a heat slayer.
To us, that sounds way cooler.
With an entire line of complementary hair care products, this heat protectant works as part of an integrated system for hair care.
Yes, you can mix and match products and create a Frankenstein monster of fabulous hair.
But L'Oreal is a multi-billion dollar company that tests all their products together to get the best result (and we LOVE our Steampod 3.0). Kinda makes sense to trust them, don't you think?
OGX Protecting + Silk Blowout Quick Drying Thermal Spray
If you haven't heard, hydrolyzed silk is making a comeback.
And OGX is bringing it back full force.
This thermal spray doubles as a serum, making it a great choice before blow drying your hair.
And if you have thick hair, you'll love the smooth consistency of this quick-drying product. Now you can use a heat protectant spray without worrying about having greasy hair!
TRESemme Thermal Creations Heat Tamer Protective Spray
One of the more affordable heat protectant sprays on the market, TRESemme is bringing heat styling protection to the masses.
At $19 for a 3 pack (wow!), this is enough heat protectant for the whole family.
And even though this isn't from a fancy brand, we still think it's one of the best heat protectant sprays on the market!
Simply apply to damp hair, grab your curling iron, and start styling!
L'Oreal Paris Advanced Hairstyle BLOW DRY IT Quick Dry Primer Spray
If you have dry and damaged hair, then you know the struggle: you have somewhere to go and you need to look cute, but you KNOW that using heat styling tools on your hair is just going to wreck it even more.
Thanks to L'Oreal, this doesn't have to be the case any more.
Unlike traditional heat protectants, this one actually reacts WITH the heat, causing the hair to dry faster while helping it hold volume.
Truly a unique product.
Moroccanoil Perfect Defense
Even though this is currently an Amazon's Choice product, we decided to put it down on the list because of it's one major disadvantage: it's $28!
We love our hair. We love Moroccanoil products. And we love using our Dyson.
But we understand that not everyone can afford to spend $28 on a heat protectant. If you're really looking for something amazing and money is no object, then consider grabbing it.
SheaMoisture Anti-Breakage Spray (With Jamaican Black Castor Oil)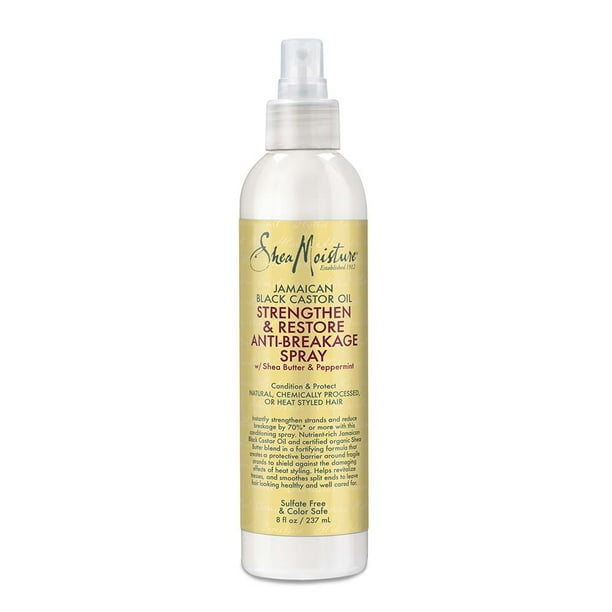 Jamaican black castor oil is AMAZING for hair growth, but did you know it can also protect textured hair from heat as well?
Made for specific hair types (curly, natural), this heat protectant doesn't offer just protection – it's a shine boosting miracle.
the wizard detangling hair primer (By amika)
The folks over at Amika are so cool, they don't even need to use capital letters.
Their "wizard" detangling hair primer is an incredibly popular product on Amazon, claiming to weightlessly detangle, cut blow dry time, and even offers UV protection thanks to its vitamin E and avocado oil ingredients.
At $25, it's not cheap. But when you buy quality, you only buy once!
NOW Solutions 100% Pure Sweet Almond Oil
Did you know that sweet almond oil can be used as a heat protectant all by itself?
All oils have something called a smoke point – a point at which the oil begins to burn. Almond oil's smoke point is very high, making it a great choice for an all natural hair heat spray.
Since it's natural, it's also safe for color-treated hair. Use it as you would a leave-in conditioner.
Just make sure to add less than you think you need (to damp hair, not dry hair) because a little goes a long way.
Mielle Organics Mongongo Oil Thermal & Heat Protectant Spray
The last item on our list is from a line of hair care called Mongongo Oil. This was a new one for us, but apparently they are an Editor's Choice pick from Cosmopolitan Magazine.
A woman-owned company, their sales page claims say that it works well for types 3A to 4C hair types and that it should be used before you blow dry the hair.
We can't recommend this one personally because we've never tried it.
But they may know a thing or two over at Cosmo, and at $13 bucks it may be worth a shot.
Final Thoughts
If you want to take good care of your hair, then using some heat protection before you style it with hot tools is non-negotiable.
Yes, we know it takes it a little extra time to spray or rub it into your hair.
But that's only 30-60 seconds of extra work for a benefit that you'll enjoy all day. And if you want to keep your hair (or hair extensions) in tip-top shape, then it's worth the effort!
Just imagine: shinier, thicker, healthier hair. All with just a few simple sprays.