Everybody knows that curly hair is unique. And the curlier the texture, the more TLC it requires.
While we're big proponents of letting your natural texture shine through, there are occasions when curly girls need to amp up their look by straightening their curls with a flat iron. But the downside to such styling? Heat damage!
More often than not, curly-haired girls will opt for a flat iron to quickly and easily get the look they desire. While this method works (and we love it!), it can leave curls limp and lifeless if you're not careful — and depending on the temperature, even start to break down your curl pattern!
Thankfully there's something that curly girls can do to protect their curl pattern while straightening: snag a heat protectant product.
So which products work best? We tapped the brains of some of our curl experts for their go-to, can't-live-without heat protectants for curly hair! And we've rounded up their suggestions below.
EDITOR'S NOTE: Want to fix your fried hair? Read up on the best heat protectants for damaged hair.
What is a heat protectant spray?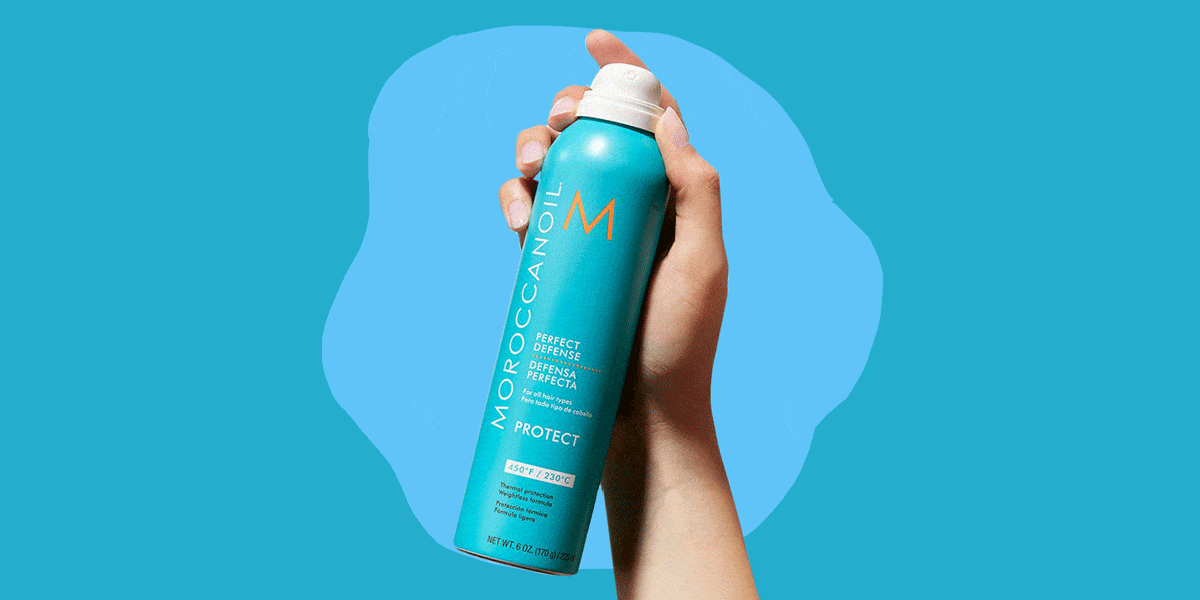 A heat protectant spray is a product that's applied to wet or damp hair before blow drying, straightening, curling, etc. The products contain heat-protecting ingredients that work to shield against damage caused by hot appliances.
What are the benefits of using a heat protectant?
Using a protectant spray can help your curls stay hydrated and healthy after (and even during!) heat styling. A good heat protectant spray will also prevent your curls from being fried and going limp.
How do I choose a hair protectant?
There are a variety of different types of hair protectants out there — some designed for daily or regular use, while others are formulated specifically for intense heat styles.
When choosing a product to use as a heat protectant, always be sure to read the ingredient label. This brings us to our next point…
What are some good ingredients for a heat protectant?
Heat protectant sprays usually contain Dimethicone, Cyclomethicone, or other high molecular weight silicones to form a protective coating. These ingredients work to create an invisible shield that works to block heated tools from coming in direct contact with your hair.
(There is conflicting info on whether or not silicones are bad for your hair. Read our article on the topic to get the final word.)
There are some conflicting opinions about the safety of using silicones in your hair, as some say they can cause hair fall.
But if they do, they do it by clogging the pores in the scalp – not by affecting the actual hair shaft itself.
You'll probably be alright if you use a heat protectant with silicones, but there are plenty of silicone-free heat protectants available in case you want to be on the safe side.
Do I always need to use a heat protectant before heat styling?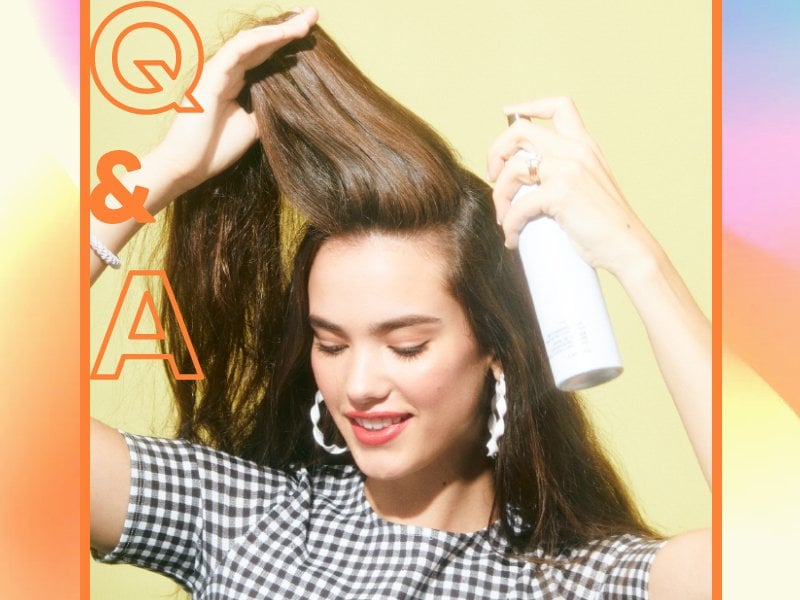 Good question! The answer is no.
If you're using a flat iron like the Steampod 3.0 (which uses steam technology) then you won't need to use heat-protecting sprays before usage because there's no direct contact to the hair.
That said, it is always a good idea to add a little heat protection to your hair before blow drying it.
However, many heat protectants also make the hair shiny and soft. So you may want to use them even though you don't need them for their heat-protecting purposes.
Should I use heat protection on wet or dry hair?
Use it on wet hair.
While you will get better absorption using your heat protection of choice on dry hair, it's better to use it on wet hair. This will allow you to get a much more even spread of the product on wet hair.
Why is using heat protectants a good idea for curly hair?
Curly and textured hair is more dry, generally speaking, than straight hair. Therefore, it requires special care when it comes to styling. This is especially true with fine hair.
Because curly or textured hair naturally lacks moisture, it's more prone to getting damaged or dehydrated because the heat isn't being evenly distributed throughout the strand. And in some cases, the hair gets overheated and burns.
While they won't affect the hair cuticle itself, heat protectant sprays are a great way to repair damaged hair you may have gotten from using your flat iron.
Choosing The Best Heat Protectant For Curly Hair: 21 Options You'll Love
Drybar Hot Toddy Heat Protectant Mist
This heat protectant mist from Drybar is one of our favorite options for heat protection. It has a subtle orange blossom fragrance, and it helps to smooth frizz before using any kind of flat iron.
It can be used on dry hair too, and it works to protect against not only heat, but humidity as well.
As for what's in the formula? This product contains a blend of mongongo oil and Wheat Protein for intense conditioning, while also providing a strong barrier from hot styling tools.
HSI PROFESSIONAL Heat Hair Protector & Conditioner
HSI PROFESSIONAL is a celebrity favorite, and for good reason! This is one of the best heat protectant sprays to repair, restore, and protect the hair from all types of damage.
It's safe to use on all hair types — even color-treated or natural hair — and it contains ingredients like Grapeseed Oil and Avocado Oil to keep your curls hydrated and shiny.
This serum locks in moisture while creating a barrier against intense heat, so it's ideal for use on coarse, curly, or textured hair types.
Hair Food Coconut & Argan Oil Heat Protectant Spray
If you're looking for a product to keep your hair nourished and hydrated, look no further than this heat protectant spray from Hair Food.
It contains several different oils — including Coconut Oil, Shea Butter, and Argan Oil — as well as Keratin to strengthen and reinforce natural hair.
It also protects against frizz and creates a lightweight barrier against heat appliances.
SheaMoisture Anti-Breakage Spray With Castor Oil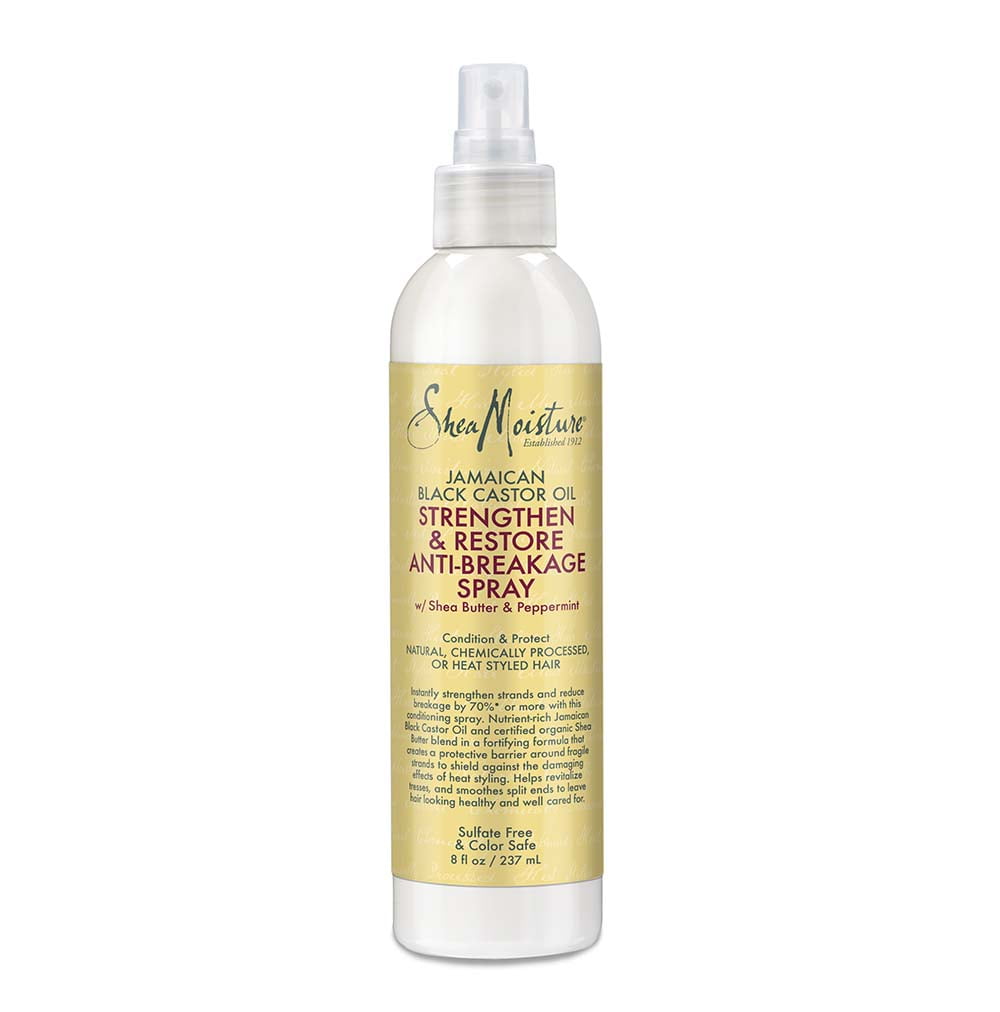 If you use minimal heat styling products, this might be the option for you!
This spray contains Coconut Oil as well as Aloe to create a nourishing formula that's able to condition your hair while protecting it from damaging tools like curling irons or straighteners.
CHI 44 Iron Guard Thermal Protection Spray
CHI is another brand that's been around forever, and their products are a cult favorite for good reason!
This spray protects against heat damage while also nourishing the strands with ingredients like Green Tea and Bamboo.
It smells great and doesn't weigh down your hair at all, adding much needed volume if you have fine hair. 
If you're concerned about using silicones, this product uses olive oil to strengthen and smooth your strands – a great choice for natural hair types.
L'Oréal Paris Advanced Hairstyle Sleek It Iron Straight Heat Spray
If you use high heat appliances on your hair, look no further than L'Oréal's product for ultimate protection!
This cream–serum hybrid locks in moisture while protecting against heat tools like straighteners and curling irons.
It contains Shea Butter, Argan Oil, and Vitamin E to nourish the hair as well.
amika Blockade Heat Defense Serum
It's no secret that we love amika hair products.
If you want to use one of best heat protectant sprays on the market right now, this one from amika is a safe choice. This spray boasts that it's able to hold curls without being stiff or flaky.
It's great for all curl types — even tight coils — and it protects the hair from damage without weighing strands down.
What makes this product unique is that it uses a blend of Murumuru Butter, Quinoa Protein, and Vitamin E to improve elasticity as well as nourish the hair.
Be warned, however, that if you have thick hair, you will need to use a lot of this serum to get an even coat. It could get expensive!
Aussie Prime & Proper Hair Primer Treatment Spray
If you want to protect your hair before using heat appliances, Aussie's primer spray is a great option.
Not only does it work to strengthen the strands with Keratin Protein, but it also protects them from damage with gentle UV filters.
Hot Tools Hair Heat Protectant Leave-in Treatment Spray
If you're a hair junkie, then you know about Hot Tools. They make great flat irons, but their heat protectants are pretty good too.
This product contains Cactus Flower Extract, an ingredient that's been shown to help protect against damage from the sun. It also contains a blend of Aloe Vera and Vitamin E to condition and soften the hair.
Protecting + Silk Blowout Quick Drying Thermal Spray
This heat protectant spray from OGX is perfect for those that have pin-straight hair that needs a little humidity help.
What makes this product unique is that it uses silk protein to coat the hair, creating a lightweight barrier against heat damage by sealing off the cuticle.
The lightweight formula also contains Argan Oil and Coconut Oil to moisturize each strand.
Moroccanoil Protect & Prevent Spray (use on damp hair)
If you want a product that contains similar ingredients to the HSI Professional, but with one major difference, this Moroccanoil spray is perfect for you.
Both products contain Argan Oil and Rosemary Extract, but the MORO spray also has Hydrolyzed Keratin — another strand strengthening element — as well as UV filters to protect your hair from sun damage.
L'Oreal Paris Elvive Dream Lengths Heat Slayer Pre-Iron Spray Leave-In
This leave-in spray from L'Oreal contains a blend of nourishing oils including Coconut Oil, Olive Fruit Oil, and JBCO to create a lightweight formula that protects the hair while also improving elasticity.
This product works great for all different curl types, and it's very cost-efficient! It contains UV filters to protect your hair from the sun while also strengthening each strand with Keratin Protein.
Sun Bum Heat Protector Spray
If you're looking for a spray that goes on light and doesn't leave your hair feeling crunch like other hair sprays, this one from Sun Bum is perfect.
Not only does it contain UV filters to protect the hair from sun damage, but also it's very lightweight.
It's perfect for those who want to protect their color-treated locks!
Aussie Prime & Proper Hair Primer Treatment
One of the most important things you can do for your hair is deep condition it.
Oribe's mask makes your color look brighter and helps to prevent damage from chemical treatments, weather exposure, and hot tools like curling irons and flat irons.
Not only does this product protect your hair, but it also makes it super shiny and soft!
Vegan & Cruelty-Free Thank Me Later Hair Primer Spray
If you want a 100% vegan hair product that works to prevent damage and nourish your hair, this is the one for you.
This primer spray from Thank Me Later is infused with Rosehip and Argan Oils to seal in the cuticle and lock in moisture.
It has a fresh light scent that disappears quickly, leaving your hair smelling amazing!
artnaturals Thermal Hair Protector Spray
This spray will protect your strands against heat damage while keeping them soft and shiny. It contains Argan Oil, Mango Butter, and Panthenol — a Vitamin B derivative that moisturizes and softens the hair.
This product is ideal for those who like to use hot tools regularly since it doesn't make your hair feel heavy or greasy!
It also uses a blend of Sunflower Seed, Avocado, and Olive Oil to hydrate each strand.
Biosilk Hot thermal protectant mist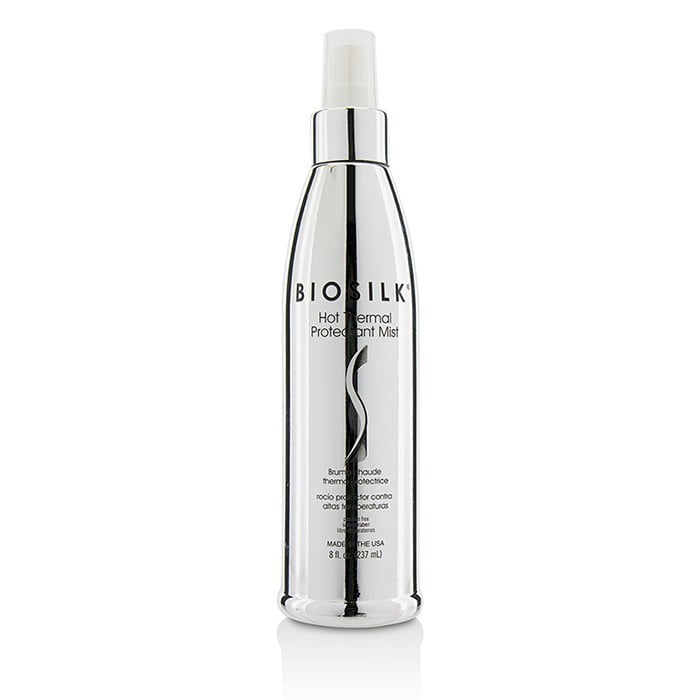 Looking for the best heat protectant spray to use before blow drying? This one from Biosilk might be the one you need.
This thermal protectant spray uses a combination of Ceramide 3, Silk Protein, and Ginseng Root Extract to strengthen the hair while also protecting it from heat damage.
It's lightweight so it won't weigh your hair down, but it will keep each strand silky smooth.
Oribe Balm D'Or Heat Styling Shield Spray
One of the best thermal protectant sprays for curly or textured hair is this one from Oribe.
It uses a blend of Avocado Oil, Almond Milk, and Shea Butter to keep your curls hydrated.
This product will not only lock in moisture but also strengthen each strand with Keratin Protein!
RUSK Designer Collection Thermal Serum with Argan Oil
If you're on a budget but still want to protect your locks from heat damage, this serum is for you.
It's made with Argan Oil, Shea Butter, Aloe Vera Extract, and Silk Protein that will strengthen the strand while also locking in moisture.
Plus it's very lightweight so it won't weigh your hair down.
Kenra Platinum Hot Spray
The Kenra Platinum Hot Spray is a great thermal protectant spray to use if you're going to be using hot tools on your hair.
It uses protective technology that seals the hair cuticle while locking in moisture, giving the hair a healthy shine, and making it feel super soft.
This product is ideal for those who want a high-end brand at an affordable price!
Final Thoughts
All in all, whether you're looking for a heat protectant that's vegan-friendly or super lightweight, there's one out there for you!
It doesn't matter what type of curly hair you have (wavy, kinky, coily) because these products will help to protect each strand from heat damage.
Not only does heat damage look super frizzy and dry, but it can also cause breakage if you're not careful.
So make sure you protect your curls today!
What thermal products do you use to prevent heat damage? Leave your answer in the comments below!