Over here at Hair Styling Pros, we know that styling your hair is not as simple as it sounds. Getting your naturally curly hair to do what you want requires a regular brush, a flat iron, a blow dryer, and probably some hair product as well.
Fortunately, some genius has gone ahead and solved our problems for us by inventing something that should have been invented a long time ago: a hair straightener brush.
Hair straightener brushes have taken the market by storm, appearing roughly back in 2015 in their most primitive form. And when they came out, straightening your hair was never the same.
The fact that you probably haven't added a straightening brush to your arsenal is forgivable, however, because you are lucky enough to be reading this article.
We've decided to set our sights on this oft-neglected category of styling tools. And in this article, we're going to tell you a little bit about how hair straightening brushes work and show you our top picks across a wide variety of categories.
So whether you have thick hair, wavy hair, fine hair, or something else, put your learning cap on because we're about to get serious.
Best Of The Bunch: Drybar "The Brush Crush" Heated Straightening Brush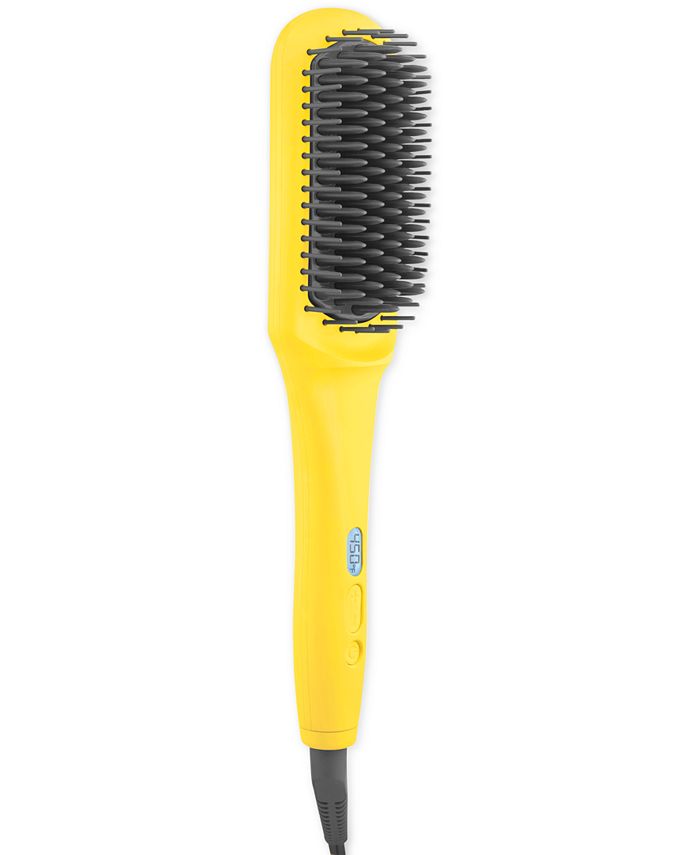 Say whatever you want about Drybar, these guys know how to make amazing styling tools.
And this hair straightening brush is no exception.
What we liked best about this brush is how smooth it felt gliding through our hair. This author has extremely tight natural curls, so when I try to brush it through before using a flat iron, it always gets frizzy.
But with Drybar's Brush Crush heated straightening brush, I was able to get the style I wanted even with damp hair! I probably won't be throwing away my blow dryer any time soon, but it's very likely I'll be passing my hair straightener down to my little sister this year.
If you can get over the bright yellow branding of Drybar's tools, this is an excellent little addition to your hair styilng tool arsenal. And if you have natural curly hair like I do, you'll be happy to know that the ceramic bristles on this one don't get caught in my hair.
That was one of the biggest problems I had with some of the other hair straightening brushes on this list – because of my hair type, it was difficult for me to use them. Maybe they work for other hair textures, but I wasn't having any luck.
It's not the cheapest tool out of the bunch with its $150 price tag – but hey, you get what you pay for, right?
Best For Naturally Curly Hair – TYMO Ionic Hair Straightener Brush
Lucky for the girls out there with hard-to-handle hair texture, one of the best ceramic straightener brushes on the market right now for naturally curly hair is also one of the most economical.
At under $60, this bad boy doesn't compromise on features despite its lower price point. What we liked best about this model was how it handled my difficult hair type. One of the other stylists here has smoother hair, and she was able to use any of these tools with no problem.
Also, this brush heats up in under a minute. This is pretty nifty too, because this tool heats all the way to 450 degrees. It didn't quite give me the polished perfection I was looking for, but it was close enough to pin straight that I was satisfied with the results.
Best For Damaged Hair – MiroPure Enhanced Hair Straightener Brush
If your poor hair has taken a beating lately, then listen up:
This isn't just any old hair straightener brush – this one is ENHANCED.
What exactly that means we're not sure, but we can say that this tool was extremely gentle on our hair. This styling comb uses double negative ion technology, which helps to balance out the electrical charge in your hair.
When this happens, less moisture is lost via the straightening process, keeping the hair in good condition longer.
Also, we found this brush had widely spaced bristles compared to the competition. More space in between the bristles means your hair can comfortably fit inside the tool, making it easier to brush through.
This won't do anything for the heat damage, but this allows you to brush through the hair much more easily when you are straightening it.
Best For Fine Hair – Tymo Hair Straightener Comb
You probably noticed that this hot tool is shaped differently than the rest of the hair straightener brushes on our list.
That's because this isn't actually a brush – it's a comb. Think of it like a Straightening Brush 2.0.
You'll notice that compared to the rest of the straightening brushes, this one has long bristles.
These bristles are also spaced further apart. While it would be more time consuming to use one of these in most cases, if you have fine hair it's a different story.
Because fine hair is so fragile compared to thick hair, you want to be extra careful how much heat you use. If you use too much then you'll burn your hair – and nobody likes that.
We found that the beveled edges of this straightener comb also had an added effect: it allowed us to curl the hair.
This deserves an article of its own, but suffice to say that this tool doesn't just straighten your hair. It's more like a flat iron that won't burn your hair, yet can still give you a silky finish like the other straightening brushes.
Best For Girls On A Budget – CONAIR INFINITI PRO Hair Straightener Brush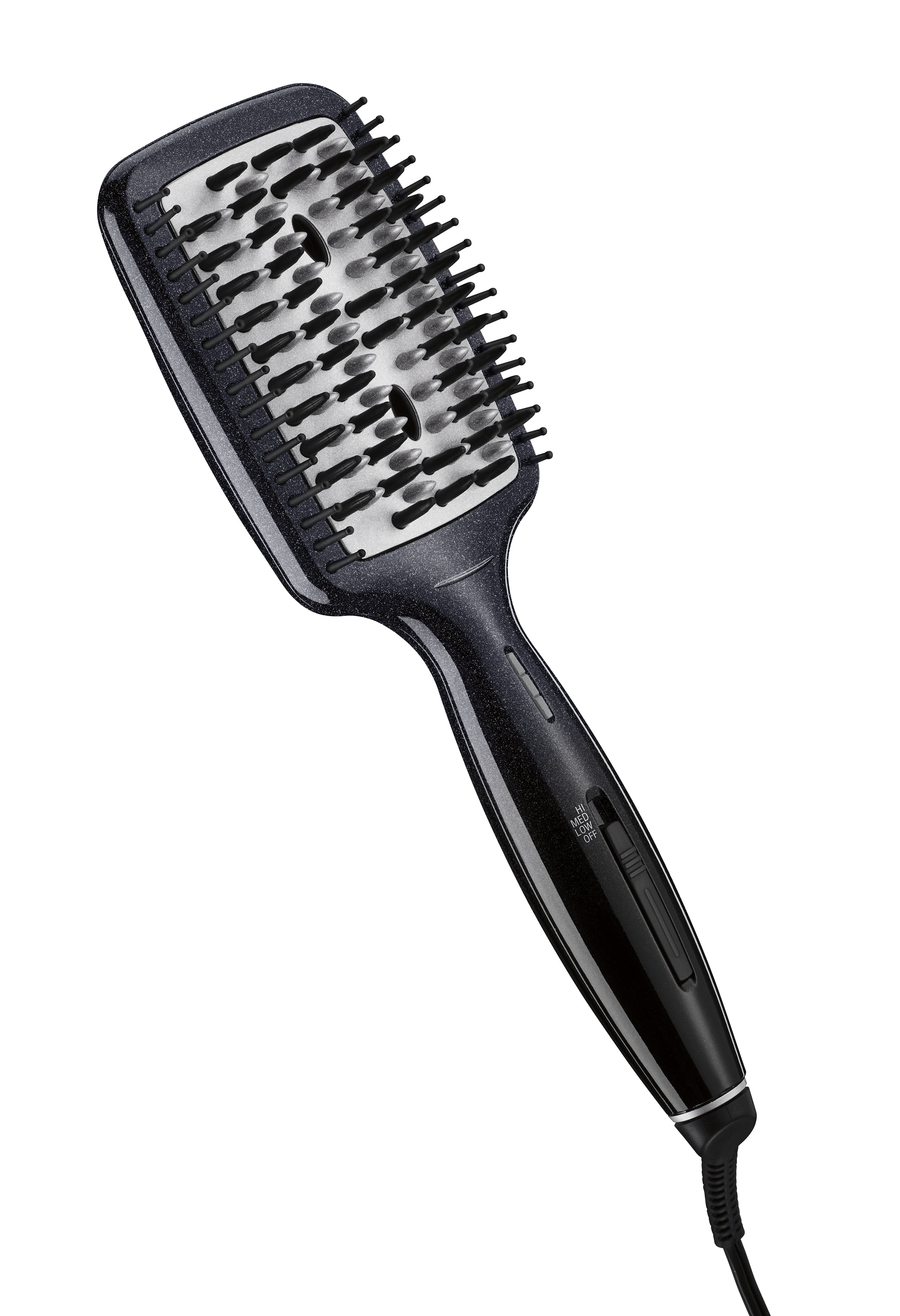 Hair straightening brushes come in all shapes, sizes, and price points. This is one of the cheaper ones.
Let's face it: not everyone needs to buy the best hair styling tool for every purpose. The Conair hair straightening brush is a great first exposure to the world of hair straightener brushes.
Its price point not only makes it great for girls on a budget, but for teenagers as well. While your daughter might balk at getting anything other than a Dyson Airwrap (we feel bad for you), we find it totally acceptable that a girl's first ceramic straightening brush not cost over fifty bucks.
This straightening brush works perfectly well and is great value for the price point. It straightens hair, gives it a silky finish, and the brush heats up in well under a minute.
That said, we personally believe the mantra, "when you buy cheap, you buy twice," but do what works best for you.
Most Extravagant – Dyson Airwrap Hair Straightening Brush (Sort Of)
Okay, so technically this tool (AKA "The Dyson") isn't just a hair straightening brush. It's 6 tools in 1.
However, since one of those six tools is, in fact, a brush that can kind of straighten your hair, we decided to include it on the list.
If you are the type of person who takes their hair seriously (and money is no object), then you can't go wrong with the Dyson. Its ionic technology helps to minimize damage while you use it and its far infrared heat allows you to straighten your hair pretty well – for us, it only took one pass to get our locks completely straight.
It has all the bells and whistles – adjustable heat settings, automatic shut off, and makes your hair smooth at butter.
A better question is why WOULDN'T you want to buy the Dyson?
That's an article for another time, but if you have money to burn and want to flex on your friends by casually dropping, "I have a DYSON" comments on them, this is the thermal straightening brush for you.
Best For Thick Hair – GHD Glide And Rise Hot Brush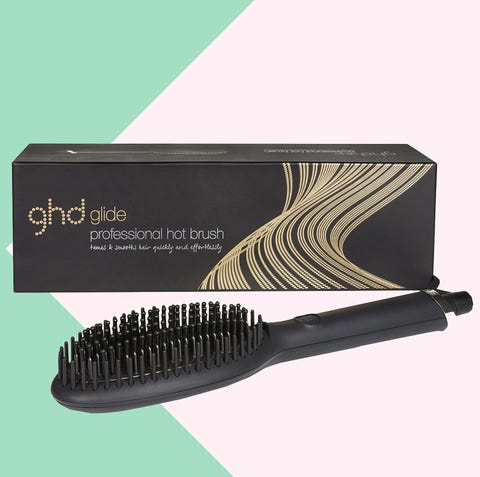 We have a special place in our heart for GHD. They were Dyson before Dyson was Dyson, if you get what I'm saying.
GHD is a great brand with incredible products – and their ceramic straightening brush is no exception.
Used properly, this can potentially replace your hair straightener. Yes, it's that good.
It get wavy hair perfectly straight in a way that the other tools are hard to compete with. Inch for inch, it has more bristles than the other tools, and if you have thick hair, it's gonna be exactly what you want.
So gather up your flat irons and get ready to drop them off at Goodwill, because once you go GHD, you'll never use a regular flat iron (or straightening brush) ever again.
Best Lightweight For Travel – Revlon Hair Straightening Brush
Let's face it – these hair straightener brushes are big, heavy tools. They're not exactly practical to throw in your purse and take with you somewhere.
Fortunately, Revlon has created a solution.
Their entry into the straightening brush market has been swift, coming onto the scene with their extremely affordable styling tool.
Not only does it have automatic shut off, but this thing is so small and light, it almost looks like a straightening comb! It also has detangling bristles on the side, making it a little easier to get through hard-to-brush hair.
You probably won't be replacing your straightening iron with this one, but it's a great tool to have on the go when you're in a pinch and need a touch up.
Best For Second Day Hair – L'Ange Hair Le Vite Hair Straightening Brush
If you're looking to get straight, shiny hair for under $100, then this might be the tool for you.
This tool didn't make our hair look quite like polished perfection, but it did a great job super quick. It straightened our hair, gave it a smooth texture, and the heat didn't feel like it was damaging to our hair.
Not only is it a great tool for straightening your hair, but this hair straightener brush works great on all hair types. The ceramic bristles allow the hair to glide easily through even frizzy hair, making it a solid choice if you've got a funky hair cuticle.
When using a tool like this on second day hair, you're going to want to do more strands at once. Some stylists recommend to turn the heat settings down, but unless you're a beginner we don't think that's necessary.
Hair Straightening Brushes Buying Guide: What To Look For
Find a tool with ceramic bristles
Before you buy any of these hair straightening brushes, you're going to want to filter for ones that have ceramic bristles.
Compared to other materials, ceramic glides much more smoothly when applied to the hair shaft. This is why your flat iron is also likely made from ceramic.
Ceramic also prevents drag on the hair, which can damage the hair shaft by stripping it of its natural oils. Less damage to the hair means you can use your tool more often – worry free.
The same technology has been applied to hair straightening brushes. This means you're going to want to avoid a titanium heating element when you make your purchase.
Try to potentially replace your flat iron
Not all of the tools listed here will replace your hair straightener, but for some hair types, this may be possible.
Our official stance on the hair straightener brush as a tool is that it will do your hair faster than a straightener. It's also safer for your poor strands.
But it won't do it quite as well. In other words, it will get your hair more straight (or more curly, in the case of a styling comb), but there are trade offs.
Pick a hair straightener brush that suits your hair texture
If you have fine hair, there's no sense blasting it with 450 of heat from several dozen ceramic bristles.
Just because it's common these days for your straightening brush to use ionic technology (to lessen damage to the hair) doesn't mean that you can disregard your hair's health.
If your hair is less curly, less thick, and overall easier to manage, consider using a straightening comb instead. This will give you peace of mind, knowing that you can achieve the best hair imaginable without damaging your precious strands.
Final Thoughts
With the advent of the thermal straightening brush, the hair game is changed for good. You don't need to rely on taking tiny sections that your hair straightener can handle.
Now you can grab more hair, even if it's super thick, and brush through your face framing layers with just with a little infrared heat.
To read about our favorite straightening brush 2.0, click here.