Let's face it: sometimes, you don't feel like putting any effort into styling your hair. And that's where hair mousse comes into play.
If you're busy and don't have the time or inclination to do your hair, one of the fastest ways to make it look presentable is to add a little hair mousse.
Hair mousse is like the swiss army knife of styling products: it's versatile, can be used on all hair types, and is great for taming frizz and flyaways.
You can use it on thick hair to keep it controlled. It accentuates the bounce of curly hair. And if you have limp hair, it can add life and body faster than any other product on the market.
In this article, we review 20 of the top-selling hair mousses on the market right now.
So if you're looking for a new volumizing mousse to get your hair looking presentable, read on.
Best overall – Maui Moisture Flexible Hold + Coconut Milk Curl Foam Mousse
Who said you need to save the best for last?
First up on our list we have our top pick for this hair mousse list – Maui Moisture.
At $7, this thickening hair mousse is not only great for all hair types, but it also won't leave your hair crunchy.
This product shines (no pun intended) most with fine hair. With aloe vera, mango butter, and coconut milk, this product will keep your hair fully moisturized and styled all day long WITHOUT drying it out.
So if you're looking to scrunch without the crunch, this thickening mousse is the way to go.
Best for curly hair – OGX Locking + Coconut Curls Decadent Creamy Mousse
Next up on our list we have OGX's signature hair mousse. And at just over $6 for a can, it's not only affordable, but very effective for curly hair.
If you have curly hair, your biggest enemy is frizz. Not only does this mousse tame the frizz, but it keeps your curls shiny and bouncy without weighing them down with a heavy product.
Utilizing shea butter and coconut oil, OGX is keeping it simple with two proven ingredients, giving you that wet hair look without the headache.
Best for wavy hair – SheaMoisture Mousse
Obviously, there is no best hair mousse. There is only the best hair mousse FOR YOU.
And if you have wavy hair, then you might want to consider this hair mousse from SheaMoisture.
This product has one of our favorite ingredients: tea tree oil. As a natural anti-microbial agent, tea tree oil will help to keep your scalp healthy and sanitized throughout the day.
When you use a volumizing mousse, the "stickiness" of your hair can make it more likely to attract dirt, bacteria, dead skin, etc. So not only does tea tree oil smell great, but it also keeps your scalp germ-free while it styles your hair!
Best for natural hair – Cantu Natural Hair Wave Whip
My natural girls out there with their curly hair have special needs.
No, I'm not saying they ride the short bus to school. I'm talking about their hair.
They can't just use any old volumizing product – they need to use a quality hair mousse that's made specifically for textured hair.
Cantu's Wave Whip takes advantage of two powerhouse natural ingredients: castor oil and shea butter.
Both products help to moisturize the hair – very important for girls with natural hair, as having textured hair means it will be more dry (on average) than non-textured hair.
Best for dry hair – Headstrong Volume Mousse by Aussie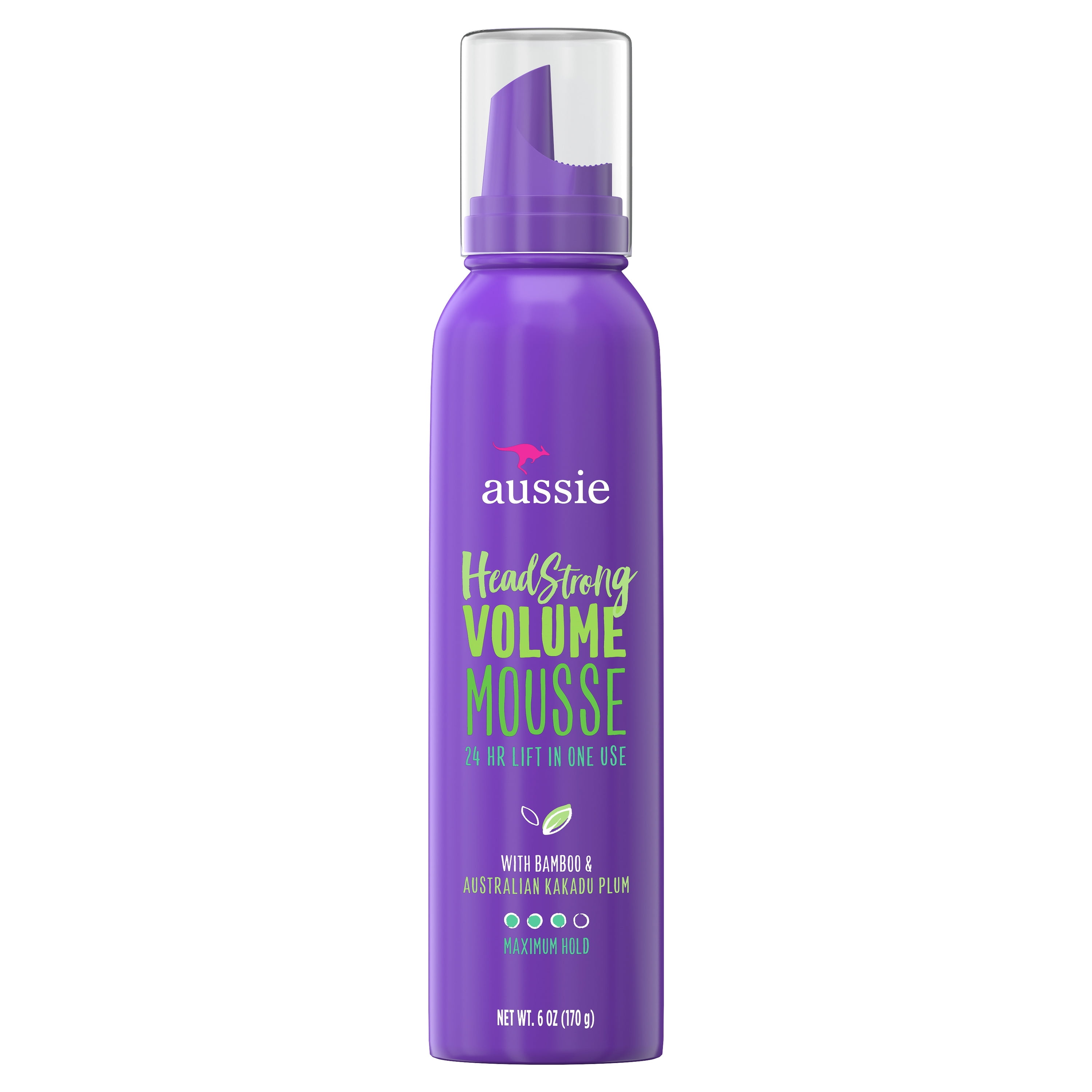 Speaking of dry hair, our next item on this list is a styling mousse designed for just that very thing.
What makes Aussie's mousse the best hair mousse for dry hair?
The secret lies in their Australian Kakadu Plum Extract. If you've ever eaten a plum before, you know those things hold a lot of moisture.
The folks at Aussie have used this extract along with Bamboo to create a special nourishing mousse, eliminating dryness by helping the hair lock in moisture.
Best for thick hair – Kenra Volume Mousse Extra 17
Do you take your hair mousses seriously? If so, you're going to want to use Kenra's product for extra hold.
This hair mousse works excellent on thick hair – the extra hold provides enough support to prop up that thick, heavy hair.
Simply spray some in your hands and apply to damp hair. But be warned: this volumizing mousse will keep your hair shape very firm, so it's best used for messy or non-perfect hairstyles.
Best for thin hair – Paul Mitchell Extra Body Sculpting Foam
Leave it to the folks at Paul Mitchell to come up with an incredible volumizing mousse for fine hair!
This hair mousse charges a premium for its amazing results – costing about double ($12) what the more inexpensive products on this list cost.
But if you have fine hair, you might want to consider spending that extra six bucks. Of all the hair types, fine hair requires the most care. The last thing you want is to use an inferior product on your hair and make it even thinner!
Paul Mitchell's unique formula works to thicken hair as it styles, leaving it shiny and firm without any flaking throughout the day.
Best splurge – Kerastase Mousse Curl Ideal
I'd bet you didn't even know that $121 hair mousse existed, did you?
And if price is any indication, then it's likely that this is the best hair mousse on the list so far.
But does this extravagant styling mousse from Kerastase really do that much of a better job than some of the other hair mousse products on our list?
According to the reviews on Amazon, it certainly does.
However, be warned: this product can define curls, but it will make the hair stiff, almost like a gel. So unless you want crunchy hair, use sparingly!
Best all-natural – Design Essentials Curl Enhancing Mousse
While we couldn't find any hair mousses that were completely free of chemicals, we did find this one.
What caught our eye were its two main ingredients: avocado oil and almond oil.
As you know, avocado oil contains hair-healthy omega 3 fatty acids. And almond oil contains high amounts of natural vitamin E, a key nutrient in the production of a strong hair shaft.
Their whipped formula is good for all hair types, providing a healthy shine and creamy texture without weighing the hair down or making it greasy.
Best for color-treated hair – John Frieda Volume Lift Air Whipped Foam
If you have color-treated hair, you want to be careful what kind of volumizing mousses you use on your hair.
Hair dye can create dry or damaged hair thanks to the ammonia in hair dye. And on top of that, using the wrong mousse can affect the hair texture over time, making it rough and porous.
That's why our #1 choice for color treated hair is this product by John Frieda.
John Freida is known for making hair products using a lightweight alcohol-free formula. This will keep the hair color safe and attached to the hair, where it's supposed to be.
Best to tame frizzy hair – Pureology | Style + Protect On The Rise RootMousse
If one of your New Years Resolutions is to control frizz, then we have the product for you.
This full thickening mousse works to pump the hair full of moisture, eradicating frizz and flyaways in seconds.
It's hard to not feel like we're getting our morning coffee at Starbucks when we talk about using this spray mousse, because the key ingredient in Pureology's lightweight formula is none other than almond milk.
We're not sure how pouring coffee on your head would affect your defined curls, but if you're looking for a quality hair mousse, you can't go wrong with Pureology.
Best for damaged hair – Cake Beauty Curl Whipped Volumizing Mousse
If you have damaged hair, you want to be especially careful what hair products you use.
Cake Beauty's Volumizing Mousse product contains aloe vera and vitamin E, two ingredients that are commonly used in beauty products to add moisture.
So if your locks looking like a basket of fried chicken and you want to get your hair soft again, give it a shot.
Best for all hair types – Moroccanoil Curl Control
Just getting started with hair mousse and not sure what your stick-straight hair can tolerate?
Moroccanoil hair products are a great intermediate brand to try, and their hair mousse is no exception.
Using the time-tested power of argan oil to help saturate hair with moisture, this bottle of Curl Control will get you that wet hair look in no time..
Best organic -Yarok Feed Your Roots Organic Mousse
We never knew there was such a thing as organic hair mousse.
But the folks at Yarok surprised us today when we realized it was a thing.
This styling mousse contains a laundry list of powerful ingredients: coconut oil, blackcurrant, beet root, and blueberries.
Kinda sounds delicious actually. And your hair will probably think so too.
Best Overall (runner up) – Oribe Grandiose Hair Plumping Mousse
This volumizing mousse almost took our Best Overall spot, but it came in a close second for one reason: the $38 price tag.
However, it has 3 ingredients that we love:
Watermelon extract
Lychee extract
Edelweiss extract
All three of these are powerful moisturizers in their own right, but when you combine all of them together into one product, their powers combine to become… Captain Planet!
Oh, sorry, had a childhood flashback there for a second. These ingredients combine to become a powerful moisturizer.
Final Thoughts
With so many different choices of volumizing mousses to choose from, it can be overwhelming picking the right one for your hair type.
We hope you've gotten some ideas for which hair mousse to buy after reading this article.
Just remember that no matter what your hair is like, there's a styling product out there that you'll love! You just need to find it.