Exfoliating is an essential part of any skincare routine. But it's especially important for those with oily skin that tends to look shiny around midday.
Get rid of the excess oil by adding one of these 22 exfoliators into your daily regimen, which are all geared toward people who have oily skin.
What causes oily skin?
Oily skin is caused by an overproduction of sebum.
This can be due to genetics, lack of adequate exfoliation or dryness, an increase in hormones (such as during puberty), birth control pills, certain medications like corticosteroids, stress and some health conditions like diabetes and PCOS.
Your skin tone can also affect whether you have oily or dry skin as well, but we'll save that for another article.
Why is exfoliating oily skin important?
Exfoliating removes dead skin cells and sebum, which is the oil your body produces to protect itself. If you don't exfoliate — or do it regularly — dead skin cells will accumulate on your face, making your skin feel dull, look flaky and appear uneven.
In order for the new cells to rise up and replace the dead cells, they have to push through the upper layers of skin. This is why exfoliating can help with other skin conditions like acne. Not only will it help clear your clogged pores, but it can remove acne scars and fix an uneven skin tone.
Also, exfoliating will help balance your skin tone by stimulating blood flow to the dermis in your face.
Tips for removing dead skin cells if you have oily skin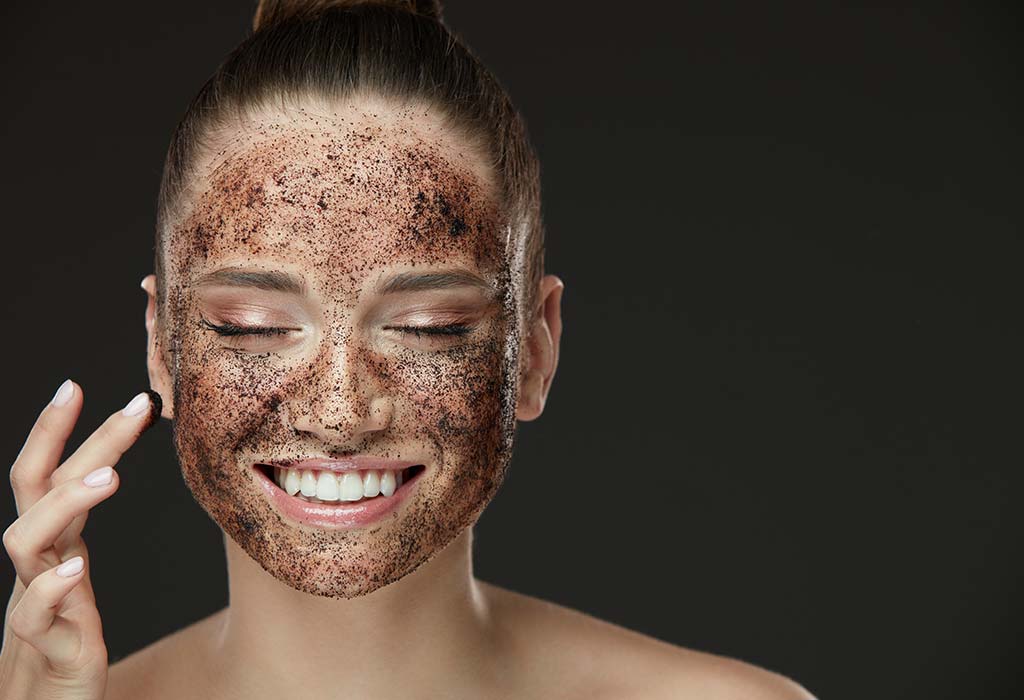 Exfoliation is important for everyone. But people with oily skin need it even more because of the excess shine their skin produces during the day.
After all, how do you expect your makeup to stay in place if you are applying it on top of a layer of oil?
Here are a few tips to remove dead skin cells and getting rid of excess shine if you have oily skin:
Make sure to cleanse your face thoroughly before using an exfoliator
If you leave oils, sweat or makeup on your face, it can prevent the exfoliator from effectively removing dead skin cells
Find an exfoliator that's right for your skin tone.
This might take some trial and error since everyone's skin is different. You don't want to use a scrub or exfoliator that isn't suited for your skin tone because it might irritate it further.
Always moisturize after using an exfoliator, even if you have oily skin
Exfoliating can leave your skin feeling dry and tight due to the removal of oils that are meant to protect your face against dehydration.
The Best Exfoliator For Oily Skin: 22 Top Picks
We know choosing the right beauty products can be confusing: so we've put together a list of the 22 best exfoliating products for oily skin we could find.
If you don't like anything on this list, then maybe you should just use a wash cloth.
Best overall: Paula's Choice–SKIN PERFECTING 2% BHA Liquid Salicylic Acid Exfoliant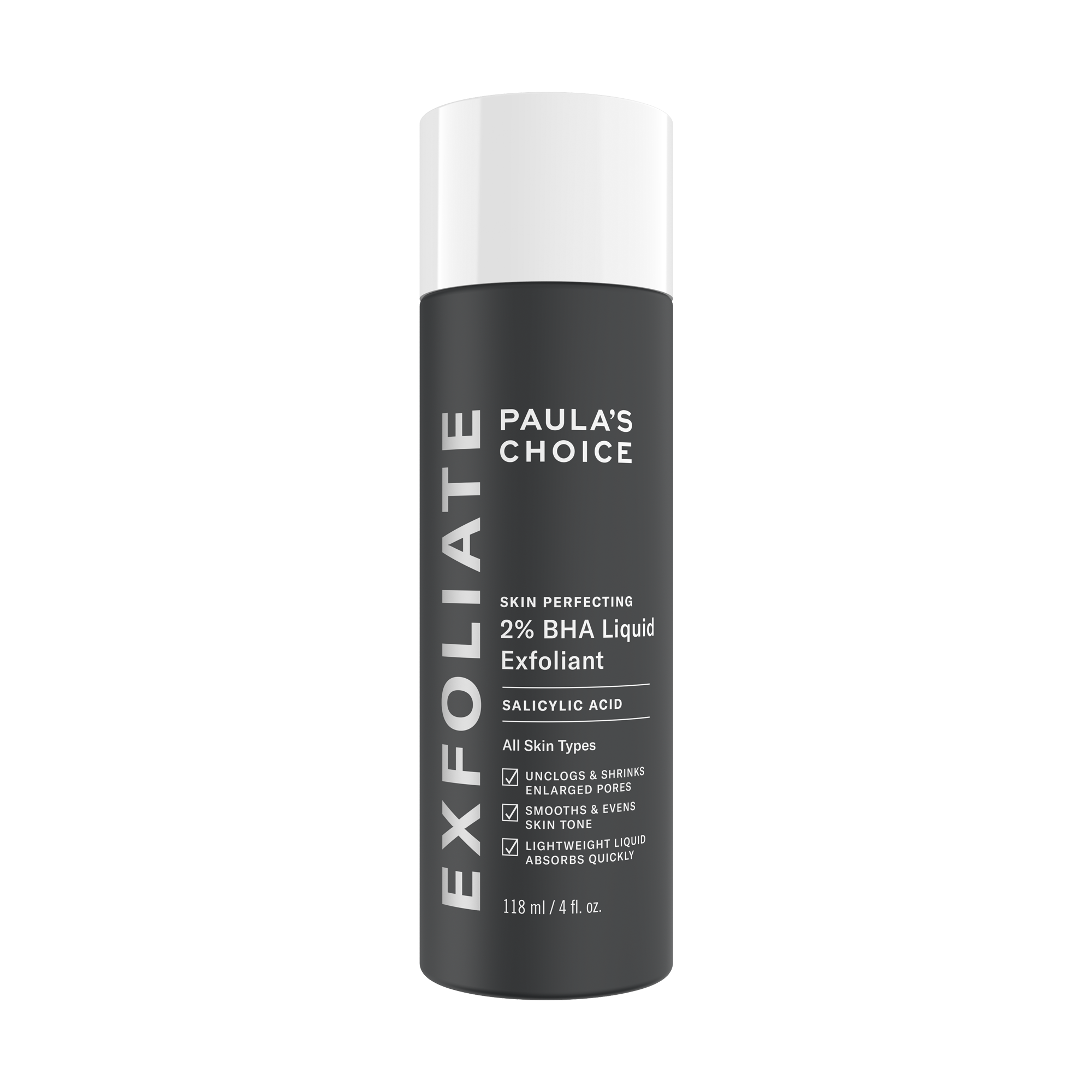 If you can only buy one exfoliant for your face, get this one from Paula's Choice. It contains 2% salicylic acid, which is gentle enough for daily use. It's an effective exfoliator that will leave your oily skin noticeably softer and smoother without causing irritation or redness.
If anything, it feels almost like a powerful serum for dry skin.
We love this one because it works well on most skin types, including dry or sensitive skin. It's also gentle enough for people who struggle with conditions like eczema and psoriasis.
Best for sensitive skin: Aveeno Positively Radiant Skin Brightening Exfoliating Daily Facial Scrub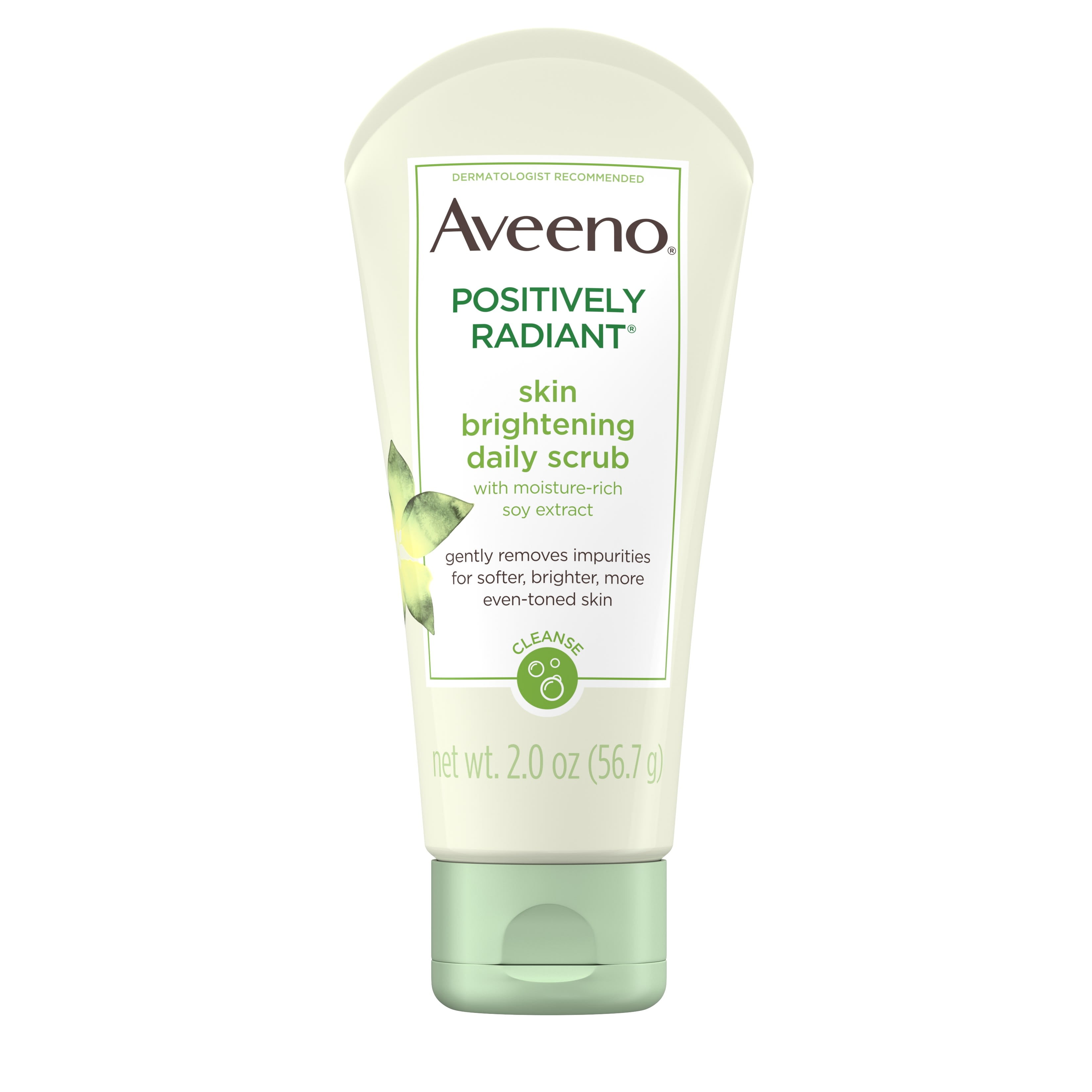 If you have sensitive skin, you might not be able to use a scrub that contains beads. This Aveeno exfoliator is gentle enough for even the most sensitive skin. It has tiny, round beads that work well for removing dead cells from dry skin and reducing oil without causing any irritation or redness.
It's also good for anti-aging thanks to the glycolic acid, which helps lift away dull skin that sits on the top layers of your face.
Best for acne-prone skin: Era Organics Microdermabrasion Facial Scrub & Face Exfoliator

Era Organics is another skincare brand that's certified by the USDA. This exfoliator contains baking soda and magnesium, which help purify your skin and reduce acne breakouts. It also doubles as a gentle face peel for treating hyperpigmentation.
Best for clogged pores: Brightening Vitamin C Face Scrub – Natural Cleansing Exfoliator
If you have sensitive, oily or combination skin but your main concern is clogged pores, this scrub from Aveeno will work well for you. It contains 2% salicylic acid, which is gentle enough for daily use.
It's not the most effective scrub for removing dead skin cells (and you can get better results with higher concentrations of salicylic acid like the one from Paula's Choice). But it works well enough if your main concern is oily or acne-prone skin.
Best for combination skin: Dermalogica Daily Microfoliant – Exfoliator Face Scrub Powder
If you have oily skin but your t-zone tends to get dry, this powder exfoliator from Dermalogica is ideal for you. It contains rice powder instead of microbeads, which are gentler and better suited for sensitive and combination skin types.
Exfoliating with this before a BB cream will make your face look 10 years younger.
The formula also helps brighten your skin thanks to the addition of antioxidants like green tea (best for light to medium skin tone).
Best drugstore exfoliator: Palmer's Coconut Sugar Facial Scrub
The best drugstore exfoliator is one that won't cost you an arm and a leg. We love this scrub from Palmer's because it contains coconut sugar, which is gentler than salt or beads. It also smells great thanks to the addition of coconut oil.
This scrub isn't as gentle as Aveeno's, but it will give you results that are comparable to higher-end exfoliators without breaking the bank.
Best splurge: Toyo – Cure Aqua Gel – Facial Peeling Gel
This facial peeling gel is our pick for splurge-worthy skincare. It comes with a special dispenser that allows you to dispense just enough product for one use, which makes it ideal if you're on the go.
The formula contains AHA and will leave your skin smooth and brighter after just one application.
For $40, it better work wonders!
Best exfoliating scrub: Kopari Coconut Crush Scrub
This exfoliating scrub is the best of the bunch thanks to its organic formula. It's made with coconut oil, which helps brighten your skin and keep it hydrated.
We love this one because it smells great thanks to the addition of coconut extract and lime essential oils. It also isn't too harsh or abrasive, making it suitable for all skin types.
Best physical exfoliator: Vanity Planet Essia Ultrasonic Lifting & Exfoliating Wand
This is the best manual exfoliator for removing dead skin cells. It's not as gentle as chemical peels, but it will give you better results if you're dealing with hyperpigmentation or acne scars.
It has a tiny brush head that works well for gently massaging your face without causing irritation. You also get two speeds to choose from for customizing the intensity according to your preferences.
Given enough time, it can improve skin texture and fix an uneven skin tone.
Best with naturally-derived ingredients: Lemon Face Scrub with Lemon Essential Oil and Jojoba Beads
If you have oily skin but still want an effective exfoliator, opt for one that's made with naturally-derived ingredients. This lemon face scrub from Earth Tu Face is a good choice because it uses natural materials like jojoba beads and lemon essential oil.
Fun fact: lemon and jojoba are two of the most powerful ingredients for clear skin!
It takes some time to see results, but it's a gentle scrub with a citrus scent that doesn't irritate your skin.
Runners Up
Dermalogica Daily Superfoliant – Deep Pore Face Scrub
This is the best chemical exfoliant that you can get at an affordable price point. It contains 6% beta-hydroxy acid, which gives it a stronger concentration than other chemical exfoliants that we've seen.
The formula contains antioxidants and botanical extracts, but it's still too harsh for sensitive skin types who will only be able to use this product every other day.
Bliss Jelly Glow Peel™ Gentle Non-Abrasive Exfoliator
This is the best chemical exfoliant for sensitive skin types. It's made with jelly-like particles that increase skin cell turnover which leads to smooth skin.
It has a unique texture because it contains jojoba beads, which work to gently exfoliate while moisturizing at the same time.
Vegan and Cruelty-Free Brightening Vitamin C Face Scrub
Get ready to say goodbye to enlarged pores with this cruelty-free face scrub!
If you've given up on chemical exfoliators, then you need to exfoliate oily skin with a vegan formula. This scrub from 100% Pure does an amazing job of giving you glowing skin thanks to its 5% vitamin C formula.
It's not as gritty as other face scrubs, but it's still effective to clear away dead skin cells so you can see a noticeable difference after just one use. But it's strong enough to improve texture – even if your face is plagued with excess oil.
To attack oily skin from the inside out, try one of these powerful supplements for oily skin. 
Glycolic Acid Face Wash, Exfoliating Facial Cleanser For Facial Skin Care
As we've mentioned in our guide to glycolic acid skincare, the best product made with this ingredient is a face wash that you can use daily. This one from Botanic Tree fits the bill because it has 10% glycolic acid. It's gentle and suitable for sensitive skin types.
If all of your makeup products are for oily skin and you want an exfoliating scrub to match, we recommend this mask from Botanic Tree. It has 20% glycolic acid and comes in the form of a clay mask that doesn't drip off when you apply it to your face.
This one isn't great for dry skin though, seeing as it contains so much glycolic acid.
La Roche-Posay Ultra-Fine Scrub for Sensitive Skin
You can use this scrub daily because it's so gentle. This is the best exfoliant for sensitive skin because it contains 0.5% microbeads that are softer than jojoba beads or apricot seeds.
Nevertheless, there are some downsides to using scrubs made with microbeads . For one thing, they can get stuck in your drain and cause a clog if you're not careful. For another, the microbeads can irritate your skin if you have a sensitive skin type.
Pharmagel Enzyme Ex-Cell – Gentle Papaya Face Exfoliator
This face scrub contains fruit enzymes that are gentle enough for all skin types. The best enzyme exfoliator is one that contains papaya, which is rich in the natural enzymes you need to improve skin texture even if you have a sensitive skin type.
Enzyme-based products can be expensive, but this one isn't as pricey as others because it's made with a gentle formula that's suitable for daily use.
It even comes with a mini facial sponge so you don't have to buy one separately, which is a nice touch because it makes the product more convenient for travel.
Teami Matcha Green Tea Facial Scrub
If you need an exfoliator for oily skin that has a cooling effect, consider this green tea gel-to-foam cleanser from Teami.
It's made with matcha green tea extract, which is a superfood ingredient that has potent antioxidant properties. It also contains aloe vera and activated charcoal to help eliminate oil and detoxify your pores.
Both ingredients are gentle on the skin so you can use it every day without causing dryness or irritation.
Beauty By Earth Exfoliating Face Scrub
This face scrub contains charcoal powder to help detoxify your pores and keep them clear of dirt and oil.
It's infused with apple cider vinegar, which is a natural ingredient recommended by skincare experts for oily skin. This product is much weaker than a chemical exfoliator, yet is strong enough to gently exfoliate away dead skin.
HoneySkin Face Microdermabrasion Scrub
If you're looking for something to ruthlessly wipe away dead skin from your face, then you need look no further than this microdermabrasion scrub from HoneySkin.
Microdermabrasion is great for removing excess oil, but the ingredients in this one also work to gently exfoliate your dermis – leading to an improved skin texture and increased skin cell turnover.
It's packed with sweet honey extract, which is good for the skin because it contains antioxidants that fade dark spots. It also has jojoba beads to give you that freshly hydrated look and feel without using chemicals.
Dermalogica Multivitamin Thermafoliant
If you've ever used Dermalogica products, then you know how awesome they are for keeping your skin in great condition. And their new heat-powered exfoliant (aka "thermafoliant") is no exception!
Its powerful formula uses heat to remove dead skin cells, so it's super effective for revealing a radiant complexion.
Rokkiss Tea Tree Peeling Gel
The best face peel for acne is one that contains salicylic acid. This face peel from Rokkis is an effective exfoliator because it contains 2% salicylic acid and tea tree oil.
You only need to leave it on for five minutes before rinsing your face with lukewarm water, so you won't need to worry about irritation or other side effects.
boscia Exfoliating Peel Gel
This scrub is made with pumpkin enzymes that are known for their anti-inflammatory properties. You can use it daily to keep oiliness at bay because it will soften the appearance of your pores and keep breakouts at bay.
The best part about this face peel is that it gets rid of dead skin cells without causing dryness. The combination of fruit enzymes and plant extracts is gentle enough for daily use.
NeedCrystals Microdermabrasion Crystals
If you're looking for a face exfoliator that's kind on your skin but still gets the job done, then try this gentle gel scrub.
Its formula is made with 100% natural crystals and is infused with walnut oil and aloe vera. It has a milky consistency and won't leave any residue behind like some scrubs do.
Lancer Exfoliating Face Polish
This luxurious face polish is made with apricot seed powder, which gently buffs away dead skin cells and tightens your pores. It also contains jade spheres to give you a natural glow.
It's not an everyday exfoliator for oily skin because it can be too harsh on certain skin types, but if you have normal or dry skin it will leave you looking radiant.
Final Thoughts
Oil control is no easy task, and while we can't help you control the natural oils in your skin, we can recommend these face exfoliators from our list.
Whether you're looking for a gentle scrub to use every other day, or something stronger like a face peel, we've got something for you.
We hope these oily skin exfoliators help you reduce the appearance of your pores and keep your skin fresh and clean!