Why should blondes have all the fun? Dry shampoo is for brunettes, too.
This little-known fact has led to overwashing for millions of dark-haired beauties across the world. But it doesn't need to be this way.
The hair industry has finally delivered what we've been asking for all these years: dry shampoo for dark hair.
But how do you know which one to use? In this article, we cover the 15 best dry shampoos for dark hair that are available right now.
So if your spin class ran late and you only have time for a quick spritz before heading off to work, be sure to read this article and get the right dry shampoo for your dark hair!
What to look for in a dry shampoo (for dark or black hair)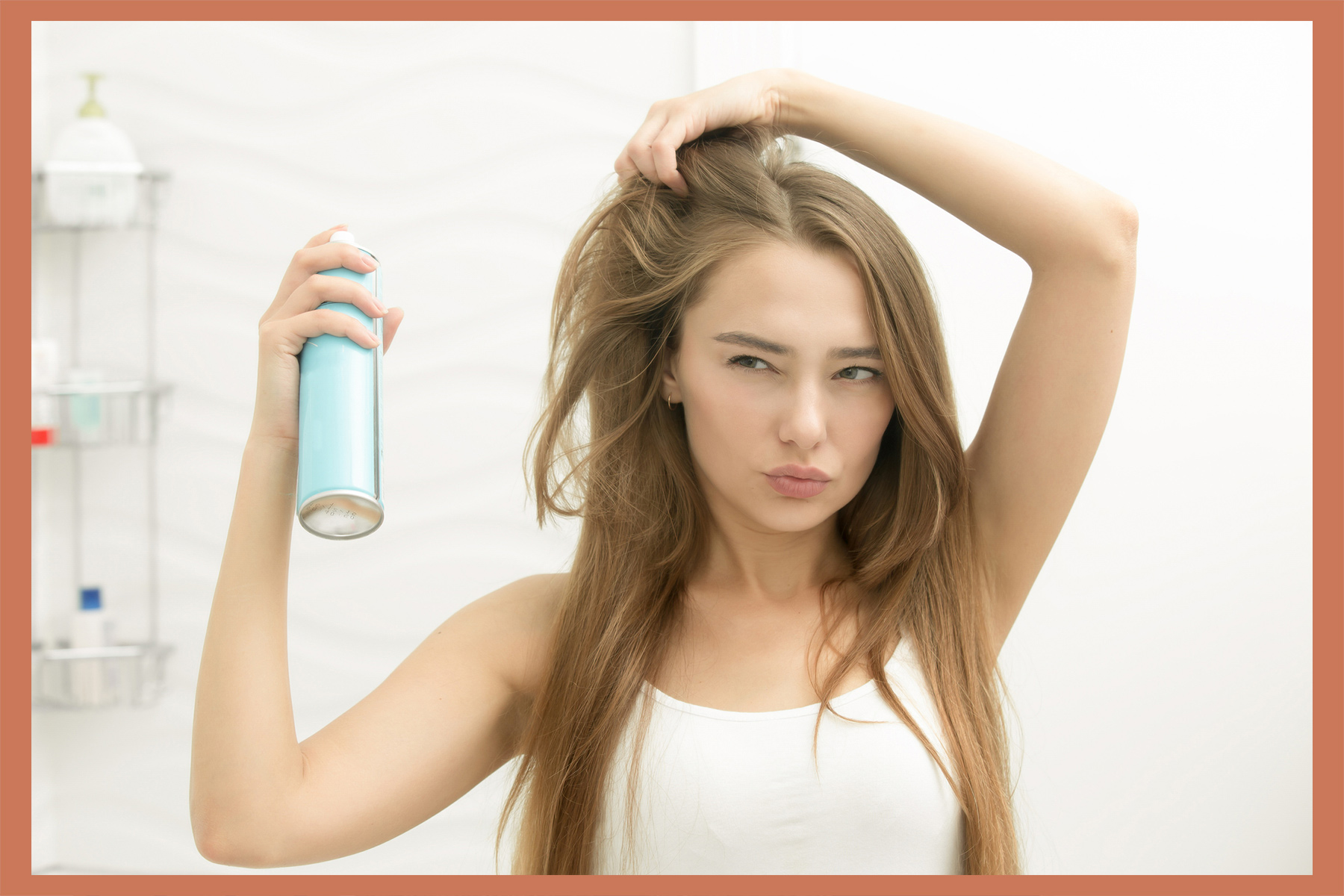 There are a few things you want to look for, in no particular order:
It can't leave residue on your scalp! – invisible dry shampoo is best!
Darker hair color needs a darker dry shampoo (duh)
Your hair type matters! Fine hair wants a lighter formula
Tinted powders are not created equal – make sure to color match!
Must work on the oiliest areas of your scalp
Spray formulas are best
Batiste Hint Of Color Dry Shampoo
When it comes to dry shampoo for dark hair, this product is a customer favorite and for good reason.
Not only does it work well, but the price point is fantastic (you can get a 3 pack for $15!)
The Batiste Hint Of Color dry shampoo is known for having an amazing scent as well – something other dry shampoos could learn from!
It's also made with natural tapioca starch which will absorb oil from your scalp while making your hair look thicker, making it an excellent choice for those of you with fine hair.
As an added bonus, you can use it as a quick fix to camouflage grays!
All Natural, Vegan Dry Shampoo Powder (Medium/Dark Hair) By Handmade Heroes
If you're a dark-haired girl who doesn't like the idea of using a hair product that uses chemicals, this is the dry shampoo for you.
It's all-natural and vegan so it will keep your dark hair chemical-free without sacrificing quality or performance. What better way to neutralize the excess oil coming from your scalp?
And, lucky for you, it's very reasonably priced at only $13!
Hair Dance Dry Shampoo Volume Powder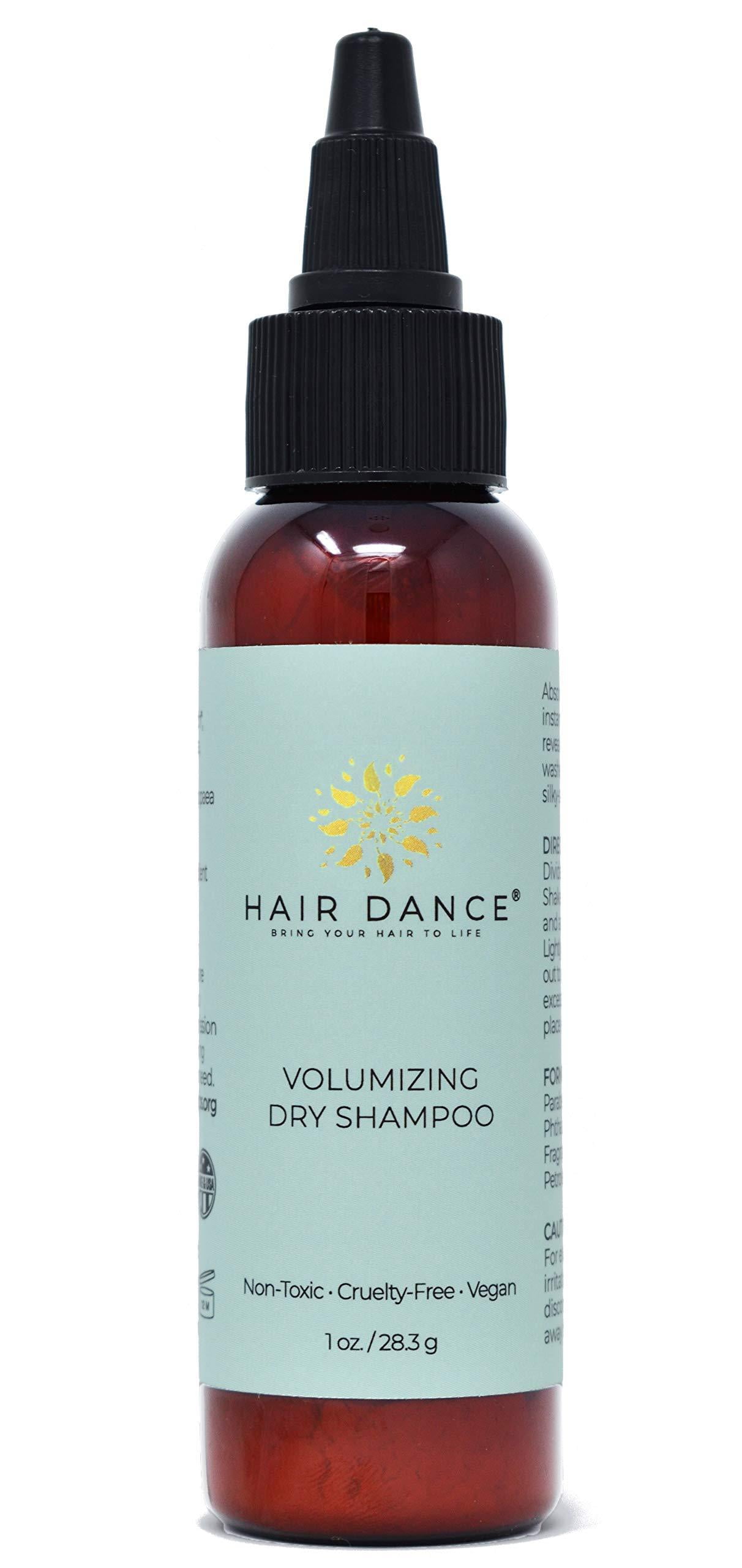 This is a luxurious dry shampoo for dark hair that adds volume AND it can absorb excess oil.
Perfect, you say?
It's a little bit pricier than many of the other options on this list, but it also has a ton of great reviews and comes with a money-back guarantee.
Best part? It has a fresh aroma, making you feel like you just got out of the salon.
If you're looking for something that is going to give your dark hair some serious volume, this one will do the trick.
Moroccanoil Dry Shampoo Dark Tones
This is the dry shampoo you'll want to use if you have dark hair and are looking for something that's going to give your hair some serious body.
It has a beautiful, Moroccanoil scent which is always good if you don't like the smell of typical dry shampoos. We think this one smells like vanilla bean mixed with white peach.
Highly recommended by both professional stylists and customers, this one is sure to leave you feeling beautiful. And don't worry if you have oily scalp – Moroccanoil dry shampoos are known for drying up excess oil in no time.
Acure Dry Shampoo – Brunette to Dark Hair
This dry shampoo feels weightless when you spray it on, yet keeps the hair moisturized thanks to its powdered hyaluronic acid content.
It contains vitamin E which will keep your hair healthy and strong while making it easier to manage at the same time.
It's also known for being completely invisible which is good if you don't want white residue.
If your budget is tight, this one is pretty affordable as well. Just $9 for a decent-sized bottle.
Beauty By Earth Dry Shampoo For Dark Hair 
Worried about tinted dry shampoo formulas that make limp hair even limper? Maybe you should try something organic.
This dry shampoo formula contains key ingredients like mineral clay – an excellent alternative to the aluminum dioxide typically in dry shampoos. This one is free of aluminum, sulfates, and peroxides.
It's also known as one of the best dry shampoos for dark hair on the market- it's extremely affordable at only $10!
And customers seem to agree that it works just as well as any other dry shampoo out there for absorbing excess oils and keeping hair feeling fresh – even on day 3.
Dove Dry Shampoo Hair Treatment for Oily Hair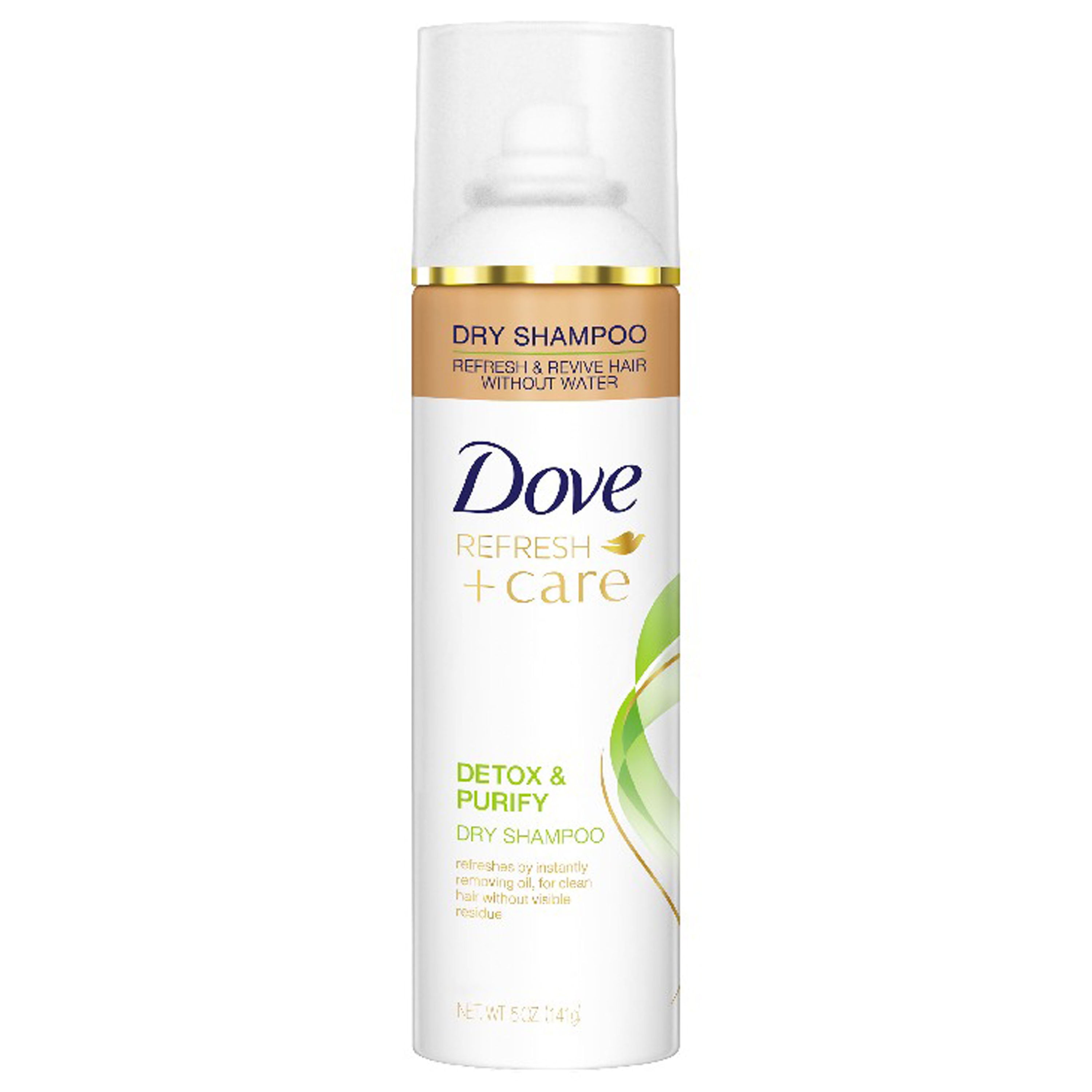 This dry shampoo is designed to offer an instant cleanse for your dark hair without the need to take a shower after using it.
It's great if you're trying to save time and want something quick but effective. Just a few spritzes is all you need!
Dove's motto is also quite catchy: "For days when washing is not part of the plan but beautiful hair is."
OGX Refresh Revitalize Extra Strength Dry Shampoo
If you're looking for a dry shampoo for dark hair, you can't go wrong with OGX. Their dry shampoos are not only known for being powerful, but also invisible.
It's also good if you want to add volume and body to your hair.
But, what we love the most about this dry shampoo is that it doesn't leave a white residue after use- something crucial for brunettes.
Not bad for $9!
amika Perk Up Dry Shampoo (for dry hair)
One of our favorite dry shampoos on this list, this one is known for giving any kind of hair- whether it's oily or dry- a beautiful, matte finish that will make your locks look and feel cleaner than ever.
It's chock full of volumizing ingredients like rice starch and tapioca starch to give you an added boost when you need it most.
Not only that, but this dry shampoo smells a little bit like baby powder.
Not only will the brown coloring mask any white residue left over after use, but this dry shampoo also works amazingly well on even the darkest locks.
But be warned: amika products are not cheap. $24 for this one!
SexyHair Healthy Laundry Day 3-Day Style Saver Dry Shampoo
This SexyHair product is a good bet if you have a lot of hair and want something that will double as a volumizing powder.
But why do we love this dry shampoo most of all? It works amazingly on color-treated hair.
If you're looking to save time, money, and keep your dark strands from turning gray, this is the one for you.
Living Proof Perfect hair Day Dry Shampoo
If you want a brand you can trust, you'll want to go with Living Proof- it's one of the more popular brands out there for a reason.
Their dry shampoo is known for having the same ingredients as many high-end salon products.
Plus, it smells amazing and leaves your hair feeling clean without all of that pesky stickiness.
A little on the pricier side at $22, but worth it if you want something that is guaranteed to work.
Klorane Dry Shampoo with Oat Milk
Who doesn't love oat milk? – and is perfect for getting rid of any unsightly residue left behind by sweat, buildup, or other hair products.
This dry shampoo from Klorane also includes soothing rosemary extract which will help keep your scalp healthy and smelling fresh all day long.
Pricey at $20, but worth it.
TIGI Bed Head Dirty Secret Dry Shampoo
Do you have a dirty secret? We all do… it's TIGI Bed Head Dirty Secret Dry Shampoo.
If you're in a pinch and need something that adds volume or absorb excess oil in seconds, this one is definitely for you.
Thanks to the 1-2 punch of argan oil and rice powder, this is one of the most powerful dry shampoo formulas that won't leave a white powder residue on your scalp.
As for the price? $16, about the middle of the road!
FoxyBae Dirty Gal Dry Shampoo (for excess oil)
If you're a dirty girl (and by this, we mean you have oily hair), this one's for you.
With a name like Dirty Gal, you know there's one thing this product is good at: making you feel clean again.
This is one of the best out there when it comes to addressing greasiness, but it does have a bit of an overbearing scent so be warned. However, it's an excellent choice for fine hair since it contains rice starch – a naturally light ingredient that protects hair and won't clog the pores on your scalp.
Redken Invisible Dry Shampoo 
The last product on our list here is by Redken, a giant in the hair care industry. And their dry shampoo is one of the best out there for brunettes.
Not only will it provide a clean, matte finish to make your hair look and feel cleaner than ever, but it also contains Brazilian ginseng root extract which is known for giving your strands an extra boost in volume.
It also has rice powder for absorbing excess oil along with witch hazel to help blast bacteria.
And no, you won't leave any white residue behind- perfect for dark hair!
$25 is a little on the expensive side, but it's worth a try if you're looking to stand out.
Final Thoughts
When it comes to picking the right dry shampoo for dark hair, you have to take several factors into consideration.
Will it hinder hair growth?
Does the formula nourish hair?
Is it dark hair friendly?
Will it leave behind any white powder?
All these questions and more need to be answered before you pick the right dry shampoo for your dark tones.
We hope this article was helpful for you. If you end up choosing something from this list, let us know in a comment!