There is nothing worse than spending hours on your hair only to find out that the lovely hairstyle you were going for turned into a giant matted mess.
Detangling curly hair is no easy task. Neither is detangling straight hair. However, curly haired ladies know that this task can be downright impossible at times!
Not only are our tresses prone to tangling more than their straight-haired counterparts, but the curl pattern itself makes it much harder to manage when there are knots.
I've compiled the 25 best detanglers for curly hair to get those knots and tangles out fast – saving you time and frustration!
What is a hair detangler?
A hair detangler is a leave-in conditioner or sprays used to make combing out your hair an easier task. Most of these products work by coating the hair in different oils, creams, or butters to reduce friction from brushing and tangling.
Many of them also have moisturizing properties, which not only help detangle curly hair, but also give it a healthier appearance.
You'll also notice that many of the detanglers on this list have glycerin in their ingredients – which is a humectant known to keep moisture in your hair!
(Read our article on how to detangle matted hair if you need a quick refresher.)
What are the benefits of using a detangler for curly hair?
Hair detanglers for curly hair work by reducing the amount of friction produced from brushing through wet or dry hair. The less pulling and tugging on your tresses, the healthier your hair will be – especially if you're prone to split ends!
Using a hair detangler as part of your everyday routine can also prevent frizz and keep your waves, curls, and coils looking sleek. Detanglers are especially helpful if you have curly hair that has a mind of its own – just spray it into your tresses after showering for an instant curl-enhancing boost.
When should I use a detangler?
You can use these products every single day to improve the life of your hair. However, most women use them after showering or washing their hair.
Using a hair detangler is also an important part of the styling process to make sure that you're able to brush out any knots without damaging your precious strands. For this reason, most women will apply it at least once each day for healthy, smooth hair.
Do I use a detangler on wet or dry hair?
When it comes to using a detangler on dry or wet hair, experience says to go with the latter.
Detanglers create a coating on your strands that gives them a slippery texture, making it easier for you to brush the knots out of your curls.
However, people with curly hair know that the moment they step out of the shower their tresses are already starting to tangle up again! If you're in a rush or find that your curly hair is getting knotty before it's time to rinse out the conditioner, go ahead and use some detangler on your locks before styling.
What are the best ingredients for a detangler?
There are many ingredients that you can find in these products. As mentioned earlier, you'll often see apple cider vinegar, baking soda, and other ingredients which keep curly hair hydrated between washes.
Other great ingredients include almond oil or jojoba oil , which improve the overall shine of your curls without breaking the bank. You can also find some detanglers that include honey and coconut oil – which both help to keep your wavy hair soft and healthy.
Using a regular brush on these types of tresses can
Discover The Best Detangler For Curly Hair – 25 Choices To Try Now!
Here are 25 of the best detanglers for curly hair on the market that you should be trying today!
Not Your Mother's Knotty To Nice Conditioner
First things first, if you have a mother she likely has something to say about this name. However, what your mom doesn't know is that this conditioner is the holy grail of detanglers for curly hair.
This is because it's designed to work on all kinds of different textures, whether you have thick and unruly curls or fine and delicate waves. Not Your Mother's uses a blend of wheat proteins to strengthen your hair, in addition to silk amino acids to improve its overall texture.
SoCozy, Detangler Spray Leave-In Conditioner
This is a hair detangler and leave-in conditioner all in one, making it perfect to use after showering. It's also made with natural ingredients like botanical oils so your hair won't feel weighed down by product build-up.
Not only will you smell amazing after using this product, but it will untangle knots and help you comb through your locks like a dream.
It's also completely vegan and doesn't contain any alcohol, parabens, or phthalates to improve the overall health of your hair.
TotLogic Kids Detangler Spray and Leave-In Conditioner
Brushing through tangles can be dangerous for people with thick or coiled locks.
If you have a kid with knotted or tangled hair, this detangler from TotLogic is a great choice. The spray contains all-natural ingredients like aloe and olive oil to keep your youngster's hair healthy while also keeping the frizz under control.
This will make it easier for your child to brush through their thick curls without making them look greasy or dirty. It's also great to use to brush through damp hair so you can get ready quickly in the morning!
Carol's Daughter Goddess Strength Ultra Shield Detangler Treatment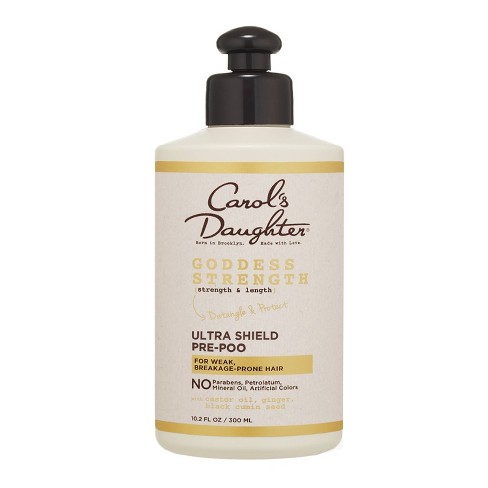 If you want smooth and frizz-free curls without having to spend hundreds of dollars, this detangler from Carol's Daughter is the perfect pick. Made with all-natural ingredients like shea butter and antioxidant vitamin E, this product works to strengthen your hair while also restoring moisture to dry, brittle strands.
Some people complain that it can give them greasy or oily hair after use – but if you only apply it to only the sections of extremely knotted hair, you shouldn't run into that problem.
Just be sure to use it on damp hair strands so you can get the brush through easily.
SheaMoisture Kids Extra Moisturizing Detangler
Don't let frizz get in your way of looking your best! This detangler from SheaMoisture is perfect for people with frizzy hair who don't want to fuss with their mop in the morning.
This detangler is also free of parabens, sulfates, phthalates, and petrochemicals to make sure your tresses are as healthy as they can be. SheaMoisture uses all-natural ingredients like grapefruit seed extract and aloe vera leaf juice for an invigorating finish.
HONEST Company Sweet Orange Vanilla Conditioning Detangler
This detangler from Honest Company is free of artificial fragrances, parabens, and phthalates. This means it won't irritate your scalp or make your hair feel oily or gross after use.
EDITOR'S NOTE: Try one of these dry shampoos for oily hair for a quick boost between washes.
The formula also contains aloe vera gel to help nourish your locks while you untangle them, along with calendula extract to promote hair growth.
It's a great choice for people with sensitive skin who don't want to use products that could potentially cause an allergic reaction.
SheaMoisture Raw Shea Butter Deep Moisturizing Detangler
A detangler is just as important as a good shampoo and conditioner – it helps frizzy hair look its best even when you don't have time to wash it.
If you want a product that will make your locks look healthier and shinier without making them feel weighed down, this detangler from SheaMoisture is the perfect pick.
This formula also includes certified organic ingredients like murumuru butter to strengthen damaged hair while ensuring frizz stays under control.
My Black is Beautiful Moisture Luxe Detangling Spray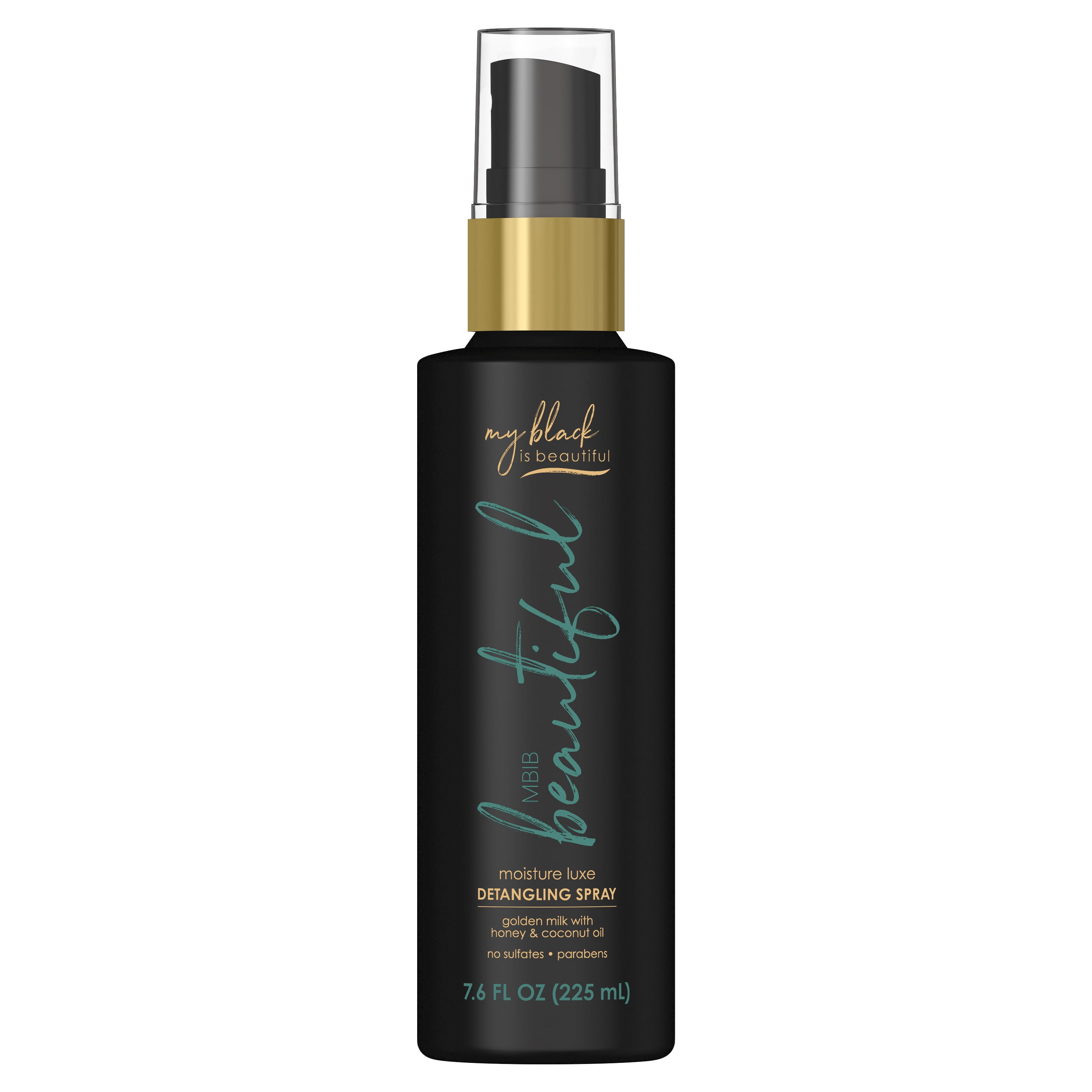 This leave-in hair moisturizer from My Black is Beautiful is a great choice for people with natural hair.
If you have thick, dry curls that tend to form knots and tangles quickly, a detangler spray will eliminate frizz while conditioning your locks. It also contains vitamin E so it can restore elasticity and prevent split ends over time.
This detangler spray is also free of sulfates and parabens, so it won't damage your hair or strip away natural shine. You can find this product on Amazon for $11.99 – a great deal for those who want to save time and money!
Cowboy Magic Detangler & Shine
This lightweight detangler from Cowboy Magic is perfect for people who have long, thin hair.
It can help you untangle knots without making your hair greasy or heavy – which is important if you have fine hair that has no volume. The formula also contains natural botanical extracts and vitamin E to nourish damaged hair while keeping it looking smooth and sleek.
Curl Junkie Curl Assurance Smoothing Detangler
If you want to get rid of frizz without stripping your hair of its natural oils, this is the detangler for you! This product from Curl Junkie contains organic ingredients like cocoa butter and green tea to help detangle knots while restoring elasticity to dry ends.
It's free of alcohol and sulfates, so you won't have to worry about any residue weighing your hair down or making it look greasy or dull.
Daily Dose Miracle Moisture Spray Leave-In Conditioner Detangler
If you're looking for a product that will revive damaged, dry strands without rendering them overly oily, this detangler is an excellent choice.
Daily Dose's leave-in conditioner will make your hair look thicker and healthier while adding bounce and volume to limp locks. The formula also includes nourishing hair oils to reduce frizz without stripping your tresses.
This detangler may be a little on the pricey side, but that's because it contains no parabens or sulfates and is made from natural ingredients.
Mane 'n Tail Extreme Detangler
This detangler from Mane 'n Tail won't make your hair greasy or oily. It will, however, get rid of knots and tangles while providing a bit of extra hydration to dry hair.
This product is also very affordable, which makes it a great choice for people who don't want to spend more than $10 on a bottle of detangler.
Maui Moisture Curl Quench Detangler + Coconut Oil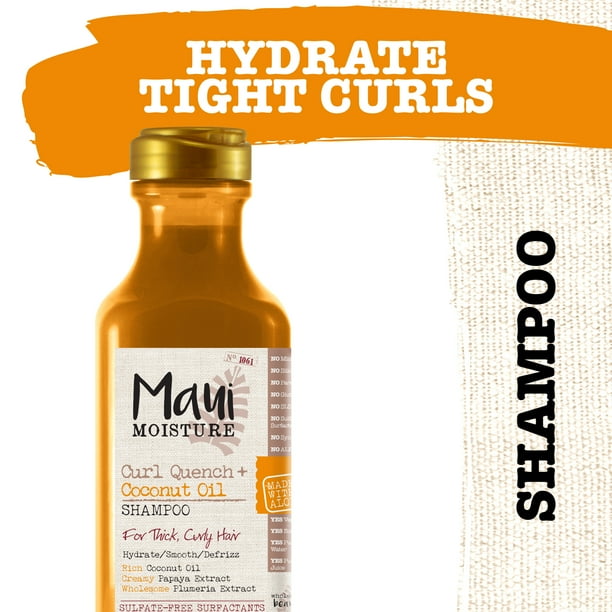 If you have curly hair, finding a detangler that doesn't make your locks look weighed down or greasy can be tough. This product from Maui Moisture solves that problem beautifully.
The formula contains coconut oil to nourish dry, brittle curls while reducing frizz and flyaways for a healthy shine. It also has shea butter to provide extra hydration, so your hair won't dry out throughout the day.
Before using this product, you should test it on a small section of hair to see how your tresses react. Certain ingredients may not be safe for all hair types – especially curly or processed locks.
Baby Bum Conditioning Detangler Spray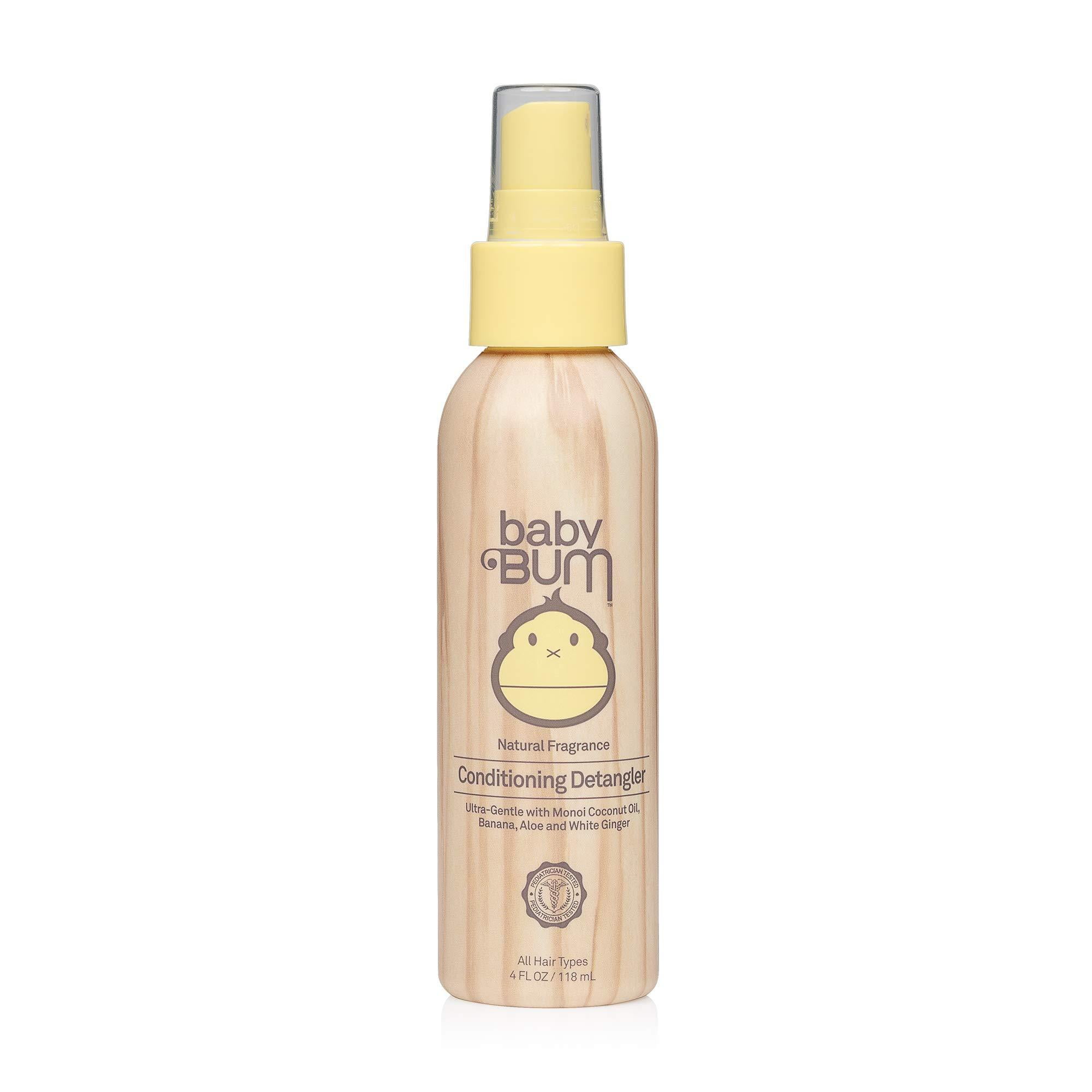 If you have a little one in diapers, this leave-in detangler may be your best bet for getting rid of tangles and knots.
It's made from all-natural ingredients like kukui nut oil, sunflower oil, and apricot kernel oil, so it won't damage sensitive skin or strip away natural oils when applied to a baby's hair.
You can also use this detangler on your locks if they tend to knot up or tangle quickly. It's gentle enough for people with all hair types, but it contains no alcohol, sulfates, or parabens – which makes it an ideal choice for fine hair.
Davines OI All in One Detangler Milk
This detangler is similar to the Daily Dose product in that it will leave your hair feeling silky and smooth without weighing it down or making it look greasy. It's also free of parabens, sulfates, and phthalates, so you won't have to worry about harsh chemicals seeping into your hair shaft.
This product from Davines can be used on all hair types, including those that tend to get oily quickly. It won't make your roots look flat and greasy, but it will provide a bit of extra hydration to dry ends.
Lane & Co. Conditioning Detangler Spray for Kids & Babies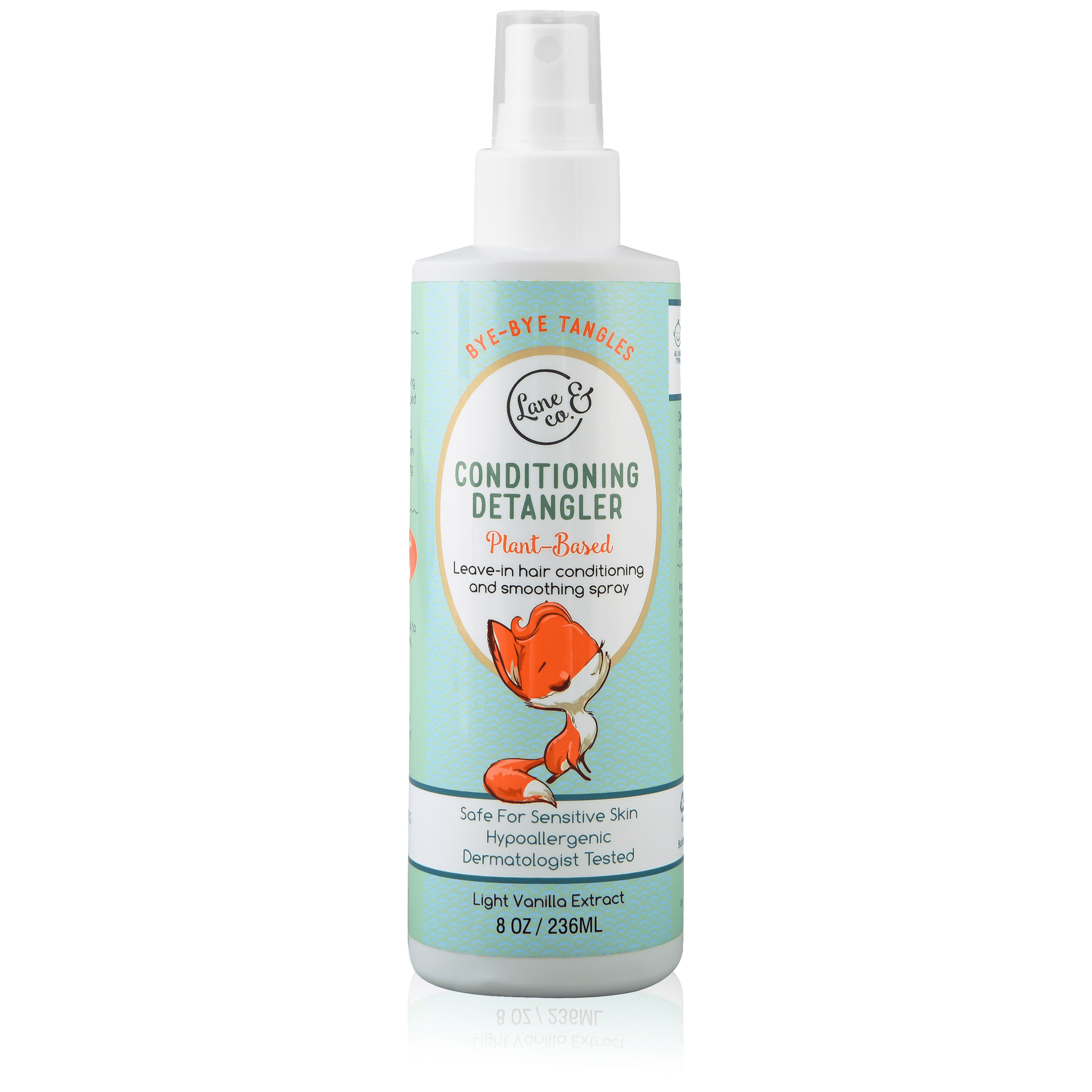 If you have a flaky scalp, this leave-in detangler will help you heal it while also leaving your hair feeling soft. It contains aloe vera gel, jojoba seed oil, and chamomile extract to soothe irritated patches of skin on the scalp.
The formula also contains several moisturizing ingredients, such as soy protein and shea butter, so it won't dry out your hair leave it limp and lifeless. It's also silicone-free, so it can be used on all hair types without causing buildup.
Aussie Kids Detangler, Finding Dory
If you have a chemically treated mane, using a detangler with sulfate-free formula is key. This one from Aussie has no sulfates, silicones, or parabens, so it won't strip the color off of processed locks.
Sweet almond oil and aloe vera are among the ingredients that will hydrate dry strands after a detangling session while protecting them against damage caused by heat appliances.
MIZANI 25 Miracle Milk Leave-In Conditioner
There are few things more annoying than tangles in the hair. This detangler gets the job done without weighing hair down or leaving it greasy because it contains polymers that will adhere to strands to make them easier to comb out.
Some of the ingredients in this formula include coconut oil, sunflower seed extract, and shea butter for a hydrating touch. When applied to clean hair, it will add a bit of shine while also working to protect your locks from future damage.
Cantu Coil Calm Detangler
This detangler is best used on thick or coarse hair. It contains aloe vera juice and argan oil to provide a healthy dose of hydration while smoothing out kinks and knots in your locks.
Olive oil is also an ingredient, so this detangler will add shine to coarse manes without making them look greasy. The product is silicone-free and free of sulfates, so it provides a gentle touch for chemically treated hair.
Paul Mitchell The Detangler
This product contains moisturizing ingredients like mango butter and coconut oil to make your locks feel softer and smoother after use. The detangler also includes shea butter and vitamin E for an extra dose of hydration.
What makes this product great is that it's silicone-free, so you don't have to worry about buildup forming over time. It also contains natural ingredients like chamomile extract and aloe vera for an extra touch of nourishment.
Pantene Detangling Hair Milk Treatment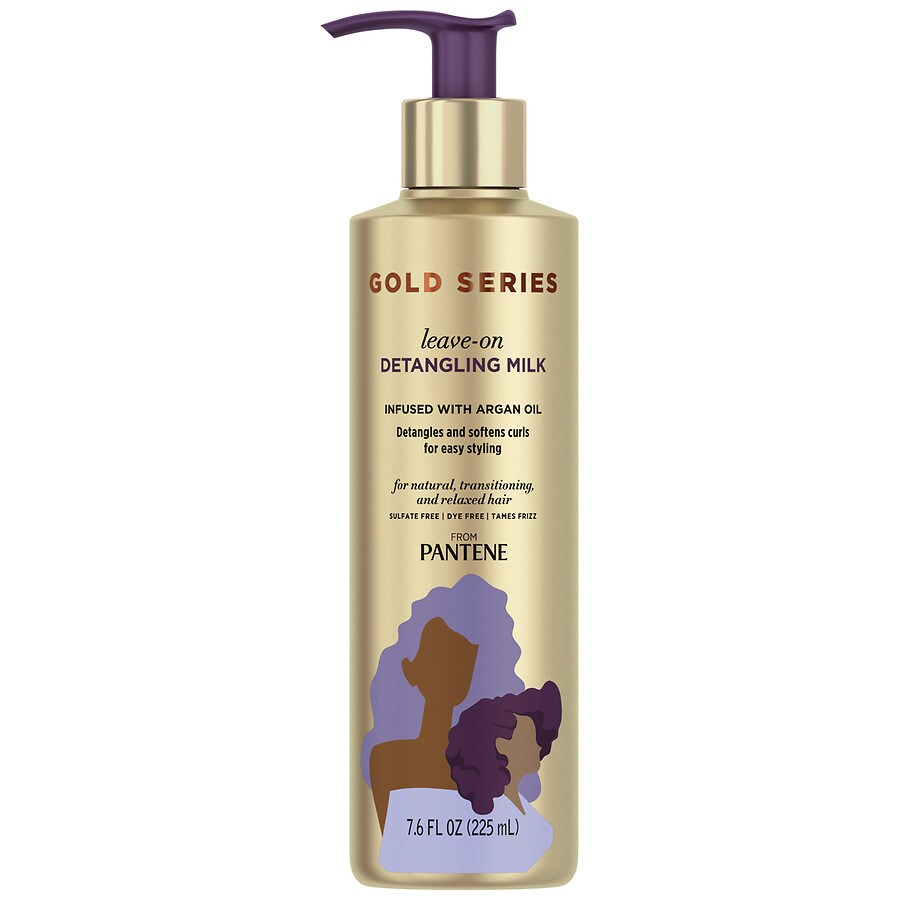 There are several other options available on the market today, but this product from Pantene is one of the best. It can be used on all types of hair, even those that tend to get frizzy or oily quickly.
What makes this formula unique is that it contains both coconut oil and silk protein for a smooth, moisturized feel. The detangler itself is silicone-free, but it does contain coconut milk to help seal in moisture.
EDITOR'S NOTE: Do you think silicone is bad for your hair? Read our article to learn the truth!
Marc Anthony Grow Long Biotin Detangler Spray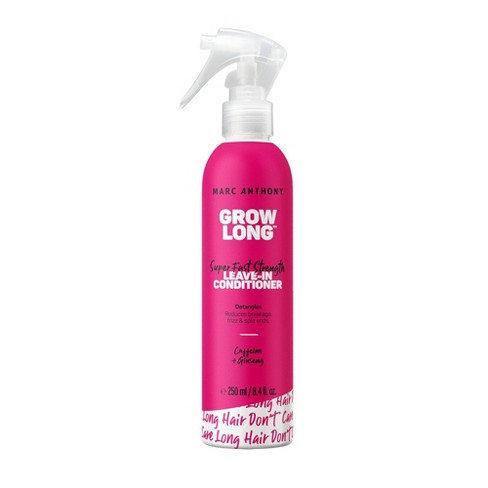 This product from Marc Anthony can be used by men and women of any age. It has a pleasant scent, so it won't leave your healthy hair smelling like chemicals. The detangler is free of sulfates and parabens, so it's safe for color-treated or chemically treated locks.
It's also paraben-free and tested by dermatologists, so it won't irritate sensitive scalps. The low pH level of this product is gentle enough for daily use without drying out or irritating your locks.
Cantu Care for Kids Conditioning Detangler
This detangler is meant for use by children, but it can be used by adults as well. It contains shea butter and mango seed butter to help repair hair breakage while also protecting your locks from future damage.
The detangler also features jojoba oil and aloe vera extract to prevent roughness or buildup from forming on your locks. It's designed to be pH-balanced so that it won't irritate sensitive scalps, even when used daily.
Tips for using a detangler
Comb gently
If you're using a detangler for the first time, take your time. Many detanglers contain silicone, which can help prevent knots and tangles from forming if used correctly. However, it will also cause buildup on your locks over time. The best way to avoid this is by using a wide-toothed comb or brush.
Gently brush locks
Brushing your hair gently is also important. Most detanglers will do the work for you instead of brushing through tangles, which can end up causing breakage or split ends if done too aggressively. To avoid this, start at the bottom and work your way up to prevent breaking or snagging on knots.
Use on wet hair
Many people assume that the more detangler they use, the better. However, this isn't always true. Using too much can weigh down your locks or cause a greasy buildup over time. When applying a detangler to hair in the shower, start with a small amount and add more if needed. You can also wait until your locks are dry to avoid the risk of buildup.
Final Thoughts
If you're looking for a cost-effective and simple way to brush the knots out of your hair, then you need to incorporate a detangler into your hair routine.
Detanglers are relatively inexpensive and will make your hair feel smoother even after just one use. If you have particularly dry, unmanageable locks, try using a detangler to restore your hair's natural moisture levels.
With a detangler, you'll never have to worry about split ends again. It's simple, quick and designed to work with all types of hair. Using a detangler for your locks is a smart move that will help improve the overall quality of your hair over time.
What do you think? Have you tried using a detangler before? Leave a comment below to share your thoughts with us.