With so many options to choose from, picking the best curling iron for fine hair can be a daunting task.
On the one hand, you want to pick a curling iron that will actually be able to curl your hair. But on the other hand, you don't want to pick one that is going to fry your hair.
Like Goldilocks, you need something that is juuuuust right.
We've done all the work for you, scouring the internet to bring you this list of the 17 best curling irons for fine hair that we could find.
T3 Curl ID 1.25″ Digital Ceramic Curling Iron
First up on this list is the T3 – our #1 choice for the Overall Best curling iron on this list. It has fairly good reviews and comes in a range of sizes. It also includes some nice features like:
– 4 heat settings (ranging from 275°F – 455°F) – Both corded and cordless curling – Controlled curling experience with touch interface
– Heats up curling iron pretty fast (about 30 seconds)
– Curls your hair from root to tip without any snagging or pulling
Bottom Line: The best curling iron for fine hair. That is, if you're willing to shell out a lot of money for it.
HOT TOOLS Pro Signature Gold Curling Iron, 1-1/4 Inch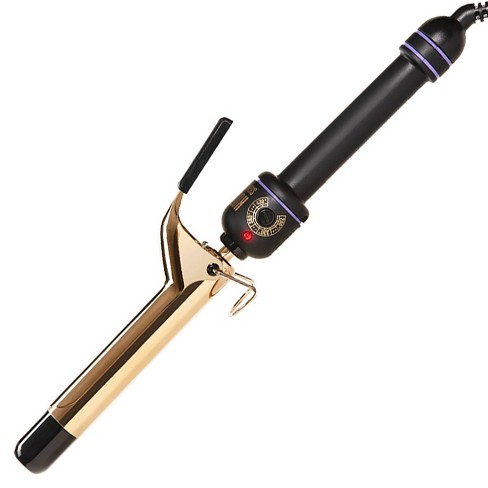 Everyone knows HOT TOOLS produces some of the best curling irons and curling wands, both highly recommended by hairstylists and users alike.
This tool has a tourmaline ceramic design which results in shiny, loose curls that are long-lasting. The adjustable heat settings go to 410°F so even stubbornly straight fine hair will hold the curl until you wash your hair.
Curling fine hair is a piece of cake with this tool. Its tapered ceramic barrel will make your bed head look fabulous, cementing its place in your routine as your go-to curling iron. And because of its diverse heat settings, your girlfriends with thick hair can use it too.
CHI Spin N Curl Ceramic Rotating Curler
The CHI curling iron is a curler that gives fine hair a shiny, bouncy curl. In addition to curling fine hair, it also holds the hair in place thanks to its rotating technology.
This is one of the best curling irons we've ever used – it is durable and easy to use for creating loose waves or tight curls. It can be used on all hair types. Plus its adjustable heat settings make it ideal for people looking to curl fine hair.
But Chi doesn't discriminate, and this is also a good curling iron for thick hair as well.
BaBylissPRO Nano Titanium Spring Curling Iron
This Babyliss curling iron from their Pro Nano Titanium line helps create loose waves or tight curls. It has 1-inch curling plates that allow you to curl the hair easily without having to worry about heat damage.
This tool is ideal for thin hair because it's not bulky, heats up fast, and its nanotechnology heats the hair from the inside out (avoiding damage to the hair shaft). But if you're worried, you can still use a heat protectant.
Because of its versatile 1-inch barrel, people with fine hair can create anything from beach waves to tight curls. It heats up in 60 seconds and features adjustable heat settings.
Alure Three Barrel Digital Curling Iron
This curling iron has a three-barrel design with 1.5-inch curling plates that allow you to effortlessly create beachy waves. It also features a digital LCD screen that displays the curling wand's temperature (200° – 410° F).
The curler is ideal for fine hair because of its three barrels, which allow you to curl bigger sections of hair at once, minimizing overall exposure to the heat. I'm not saying skip the heat protectant, but the added heat distribution should definitely help.
This tool heats up in 30 seconds and has a digital display that tells you when it's ready to use (it also has an automatic shut-off feature). This curler is super easy to clean because it's 100% ceramic coated.
Conair Double Ceramic 1-Inch Curling Iron
This is probably the most affordable curling iron for fine hair. It has a 1-inch curling barrel that heats up in 30 seconds and includes a protective glove to avoid getting burned. It is easy to use, long-lasting and delivers salon quality results.
The Conair Double Ceramic Curling Iron automatically shuts itself off after one hour which is great if you're the type to forget to turn yours off.
For $30, this is definitely one of the best curling irons you can buy if you're on a budget.
GHD Curve Iron – Soft Curl
One of our editors had this to say about the GHD Curve.
:
The curling iron that blew me away was GHD's Curve curling iron. But before I tell you why, let me give you a little background on my hair.
-My hair is fine and thin
-My hair is very difficult to curl/style – almost impossible
When curling my hair, I constantly have struggled with curling irons not curling my hair all the way around, curling it too much in one spot, curling it so they don't even stay curled until I leave the house, and curling it in a way that doesn't look natural.
That was until I got a GHD Curve curling iron. The GHD somehow manages to curl my hair all the way around perfectly even every time! And the curls stay in until I wash them out which is a huge plus as well.
Hoson 3/4 Inch Curling Iron
This curling iron has ceramic tourmaline technology to protect the hair from heat damage. It is designed with curving smooth plates to give your hair shine. It has plenty of heat settings so you can adjust the curling iron according to how fine or thick your hair is.
What we like best about this one is that it has curving plates so you can curl your hair easily. It also leaves the curls smooth so that there are no kinks. The curling iron itself is lightweight and heats up fast.
What we don't like about Hoson's curling irons is the price, but it's worth every penny if you are looking for a 3/4 inch barrel that actually works.
HOT TOOLS Professional 24K Gold Marcel Curling Wand
No list of amazing curling irons is complete without this traditional, famous 24K Gold plated curling wand. This Hot Tools Professional 24K Gold Marcel Curl Wand comes with a protective glove and a heat resistant curling stand, making it perfect for thin hair.
With adjustable heat settings, this curling wand is designed to be used for all hair types. Heat up time is about 60 seconds for maximum heat and control over styling results. This curling iron comes with a 1 year warranty.
Paul Mitchell Pro Tools Express Ion Unclipped 3-in-1
This curling iron is extremely versatile as it can be used as a curling wand or a traditional curling iron. It heats up quickly and has a good grip that will help you avoid slipping.
In general, Paul Mitchell products are very high quality and good for all hair types. And while this tool isn't specifically for thin or thick hair, from our experience they do make some of the best curling irons for fine hair that are on the market right now.
T3 Twirl Trio Interchangeable Barrel Professional Set
This set is a bit higher in price, but it's worth it because you can choose from three different temperature settings. The curling wand also has an adjustable shape to fit the curlers into your hair more easily and provides even heat distribution.
One reviewer said, "I have very fine hair that I curl every day to give it some volume. However, those hot tools never worked well for me because either they gave me weird kinks or didn't hold the curl at all…I finally bit the bullet and bought this curling iron set, which is expensive but worth every penny! I love that you can change the barrel to fit your hair type."
So if you're looking for a set of curling irons for fine hair (and not just one), then this might be the best choice for you.
Drybar The Mixologist Interchangeable Styling Iron Kit
The curling iron that gets celebrity fans like Emily Blunt, Jessica Alba, and Kerry Washington is the Drybar The Mixologist Interchangeable Styling Iron. This curling iron offers one of the widest curling wand sizes with its tapered barrel curler which gives you 3/4″ inch to 1.25″ curls.
The folks at Drybar definitely know their stuff. This kit is one of the most versatile curling irons for fine hair, simply because of all of the options you have. Not only that, but it's made with anodized tourmaline ceramic barrels which make your curls last for days while keeping your hair healthy and shiny.
This curling iron also has 24K gold on the curling wand to make sure that your hair glides perfectly into place while straightening, curling, or flipping it.
The Farrah Automatic Hair Curling Wand
This curling wand has plates made of ceramic plates which emit negative ions, keeping your hair healthy during curling. This curling iron heats up to 410 degrees F and comes with a heat-resistant glove so you can protect your hand from the curler's plate.
If you've never used an automatic hair curler before, curling your hair with this curler is simple. Just wrap your hair around the curler, press the button and wait for the curler to curl every section of your hair. This curler has a swivel cord so you can rotate it anywhere you'd like without worrying about tangles.
BIO IONIC Long Barrel Styler
This curling iron is a professional curling wand with ionic technology that creates shiny, bouncy curls. The curling iron can be used to curl, flip or wave your hair. In addition, the curling iron comes with a heat-resistant glove and a travel case for convenience.
BIO IONIC styling tools are usually a bit pricier than other curling irons, but this curling iron is an exception. The curling iron comes at a pretty reasonable cost, given its features and quality of performance.
SUTRA Professional Infrared Curling Iron 
If you've never heard of SUTRA, you're not alone. This is a curling iron that you'll probably never find at your local drugstore or beauty supply store, but it's worth looking into if you have fine hair.
The curling iron is heated up with infrared heat instead of using metal plates to clamp down onto your hair. The theory behind this is that curling your hair with infrared heat will reduce the amount of damage caused to your hair, while still getting a curl that lasts all day.
Drybar The Wrap Party Styling Wand
If you love the color yellow, then you will love this curling iron. It has a pretty bright yellow handle that makes curling your hair feel like a party!
The folks have Drybar have created a truly excellent curling wand, one that curls hair quickly and easily. And even if you are curling straight hair, your curls won't turn into waves (a common problem with curling irons).
The best part is that it even has a 'cool tip', which means that the end of the curling iron stays cool no matter how long you hold it on your hair. Cool-tip technology is becoming more common in the industry, so it's nice to see Drybar leading the way.
FoxyBae WANDERLUX 32mm Curling Wand 
If you're looking for a simple curler with a large barrel, this curling iron is perfect for you. It's affordable, easy to use and can save you a ton of time on curling your hair.
One reviewer wrote:
"I ABSOLUTELY LOVE the wand from FoxyBae! This curling wand takes literally 5 minutes to create light waves all over my head. So worth it!" – Brittany J
10 Tips for styling thin hair with a curling iron
If you have fine hair and want to curl it, here are some good guidelines you can follow:
Section out your hair before curling
Putting all of your hair around the curler will make the curls look messy – not a good idea for this delicate type of hair. Instead, work in small sections.
Use the iron in small sections
Since fine hair is thinner, curling your hair in thin strands will increase the chances of curling your hair evenly.
Be mindful about heat
All styling tools can get really hot quickly, so make sure you only apply the curler to the section of hair for a few seconds before curling.
Use a curling spray
Since curling can damage your hair, you should invest in a curling spray to hold the loose curl for at least an hour. If you have fine hair, spraying this on top of your existing style will help give it some volume and texture.
Don't use hot tools too often
Curling your hair will only damage it more, so curling it once or twice a week should be enough to hold your style until the next curling session.
Go for a curling wand with a skinny barrel
Since large barrels can cover too much hair and end up curling your hair unevenly, you should opt for a curling wand that is thin and has one spiral.
Invest in a thermal protector spray
Heat from curlers can damage fine strands of hair, so use a thermal protector spray to keep your strands strong and healthy.
Don't limit usage to curling
Sometimes curlers can be used in more ways than just curling! This is great for fine hair because when you create waves with the curler, it will add volume and texture which is what fine hair needs.
Invest in a curling iron with tourmaline plates
Tourmaline irons will help seal the cuticles of your hair, so using this type of curling iron will distribute the moisture throughout your fine strands, making it appear more voluminous and healthy.
Final Thoughts
When it comes to picking the best curling wand for fine hair, your options may seem limitless, but in reality they aren't.
Fine or thin hair requires more special treatment than other hair types – and that means you need to be more careful with what you use on your hair.
Using a curling iron that wasn't made specifically for fine hair can lead to heat damage, split ends, and fried hair.
So if you're looking for perfect loose curls or beachy waves, before you choose a curling iron, be sure that it's right for your hair.