If you're looking for the best blow dryer for curly hair, it's easy to become overwhelmed. With so many choices out there, how do you know which of them is going to be right for your gorgeous curls?
In this article, we're going to show you what makes each of the best hair dryers distinctive. We'll even give you some insight into which ones are best to grab if your budget is tight.
The best part? All of these blow dryers are guaranteed to transform your bed head curls into a lion's mane of gorgeousness.
Let's get started!
How we picked the best hair dryers for curly hair
Before we move into our top picks, you should know that there are five main features to consider when choosing the best hair dryer for curly hair. The best blow dryers will:
– Speed up drying time: who wouldn't love less time spent in front of the mirror?
– Preserve hair moisture: a good hair dryer won't just dry out your curls, but also protect them from heat damage
– Promote healthy hair growth: dryness causes brittle and frizzy locks, so the best hair dryers will help prevent this issue by adding moisture back into the hair shaft.
Ease of use
Price, value-for-money, and affordability
Now that you know what to watch out for, let's move into our best hair dryers for curly hair.
Are these hair dryers good for all hair types?
If you landed on this page, you probably don't have straight hair. But the tools we list on this page aren't only for curly and wavy hair – they're also excellent styling tools for all hair types.
Specifically, girls with thick hair are going to get a lot of use out of this list. We intentionally included the best hair dryers we could find.
That doesn't mean you won't get any use out of this list if you have fine hair. But thicker hair is harder to manage and requires more specialized tools.
So if you have a friend with straight hair who has a birthday coming up, an ionic hair dryer makes an excellent gift!
And while that's great for having healthier hair, a lot of these tools might be too expensive for your average hair enthusiast.
How to use hair dryers on curly hair
If you want curly hair that is soft, bouncy and looks amazing (no matter what the weather is outside), you will need to learn how to use a blow dryer.
Remember these tips:
– Use the right diffuser for curly hair – you want to pick one that is big enough to accommodate your hair type
– Use a lower heat setting – you don't need to blast your hair with high heat! A medium or low setting is more than enough to get the job done.
– If you're using a round brush, wrap the hair around it and dry from underneath, so the roots of your hair are lifted up and away from your head.
REVLON 1875W Lightweight + Compact Travel Hair Dryer
Revlon has been in the beauty industry for years. And after designing so many hair styling tools, they've learned a thing or two.
The reason we put this hair dryer at the top of the list is for one reason: it provides the best value for money.
You don't get much for $7 these days, but with Revlon you can get an adequate blow dryer that will keep your curls defined and bouncy, while preventing them from too much exposure to harmful heat.
HOT TOOLS Professional 1875W Turbo Ceramic Rainbow Hair Dryer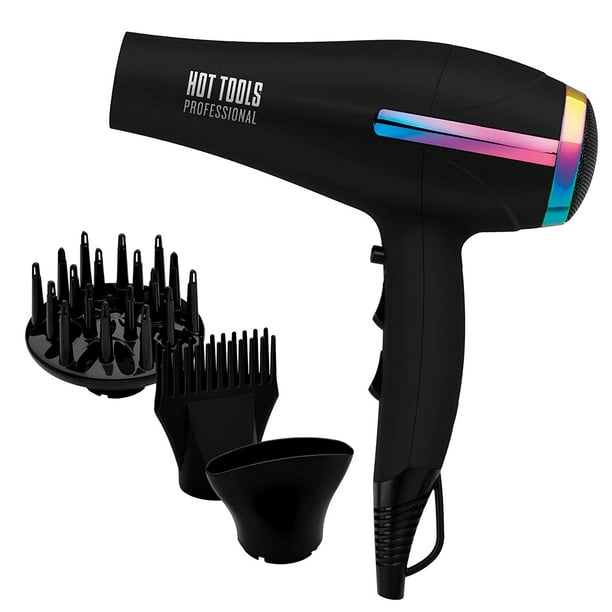 Hot tools is one of the top names when it comes to styling tools. You can always expect quality when you see this logo on your favorite hair dryer, curling iron, or other curly hair product.
If you like what you've seen so far but aren't sold on any of the other blow dryers for curly hair, consider the fact that this one has over 1000 positive reviews on Amazon with an average score of 4.4 stars out of 5. That should sell you!
We love this blow dryer because it offers excellent results and comes at a reasonable price. Plus, it's really cute and easy to handle, so what more could you ask for?
At $70, it's a minor investment in the longevity and health of your hair.
RUSK Engineering Speed Freak Professional 2000 Watt Dryer
If you're asking yourself "what's the best hair dryer for curly hair?", then the Rusk Engineering Speed Freak is an option worth considering.
One reason we like this blow dryer is because of its super-fast drying time. With 2000 watts, it rivals even professional salon-grade blow dryers!
Another reason to consider this hair dryer is its dual voltage option. That means you can take it with you when you travel without the risk of blowing a fuse or frying your hair's moisture levels.
At $135, it isn't exactly cheap – but with hair styling tools, you often get what you pay for.
Paul Mitchell Express Ion Dry+ Hair Dryer
Paul Mitchell is a great brand and their hair care products and styling tools are one of the best on the market.
We really like this particular blow dryer because it has ionic technology with negative ions, which balance out the positive charge in your hair. This eliminates frizz and gives the hair a healthy shine. That's good news for curly hair!
We all know that curly hair can be a bit of a hassle to manage, so you can't go wrong with an express ionic technology dryer that dries your frizzy mess out in no time.
Paul Mitchell doesn't make cheap hair products, so even though you're spending $135 on this powerful tool, you can bet you'll be getting your money's worth.
Drybar Buttercup Blow Dryer
The biggest difference between this hair dryer and the next one on our list is in price. At $200, it doesn't come cheap.
But if you've got curly hair that takes hours to style, or you're simply looking for one of the best hair dryers for curly hair on the market, then the Drybar Buttercup could be worth investing in.
Here's why: the wave heating technology is a miracle worker for curly hair. It cuts down drying time and boosts hydration levels, which means your curly locks will be healthy and shiny – and there won't be any frizz in sight!
So if curly hair is your biggest complaint (and you're willing to pay extra for it), give this hair dryer a try.
BaBylissPRO Nano Titanium Portofino Hair
If you're looking for a blow dryer that has it all, then the BaBylissPRO Nano Titanium Portofino should be near the top of your list.
For curly hair, this appliance includes tourmaline, ionic technology, and infrared heat that boosts shine levels while drying the hair quickly without frying it.
It's also lightweight and has a dual voltage option, which makes it perfect for travel.
On top of that, the cool shot button locks in whatever style you've created, while the warm setting allows you to restyle your hair without having to buy extra styling tools.
The only downside we could find is that the price tag sits at $140, but we think it's well worth it.
FHI HEAT Platform Nano Power Salon Pro 2000
Rounding out our list is the FHI HEAT Platform Nano Power Salon Pro 2000.
This blow dryer is a bit of a hidden gem, seeing as it's relatively unknown, but we think it deserves better!
The super powerful motor works at 2000 watts and the ionic technology adds shine while minimizing frizz.
One thing that stood out with this hair dryer is that it has a very long cord and the handle isn't bulky, so holding it for extended periods won't be a problem.
Rusk Engineering Super Freak Professional
Rusk is one of the leading providers of hair products and styling tools, so it's no surprise to see them coming in at number six on our list.
The Super Freak Professional 2000 has all the features curly-haired girls dream about – an adjustable temperature, ionic technology, tourmaline, and infrared heat.
Now for the price tag: $120 is steep, but you get what you pay for with this excellent blow dryer!
Paul Mitchell Neuro Grip Handle-Free Hair Dryer
Paul Mitchell seems to have a handle on curly hair, so we were pleased to see another one of their hair dryers take the number seven spot.
At $140, this dryer is pretty pricey. But if you have curly hair, then you'll be excited to hear that it has tourmaline and ionic technology to reduce frizz and add shine.
In fact, this ionic hair dryer has all the bells and whistles: adjustable heat settings, a cool shot button, and even negative ion technology.
The cool thing about the Neuro Grip is that it's ergonomically designed to fit your hand and ergonomics is all about comfort, so drying your hair will be a breeze!
SRI Salon Dry Pro – Blow Dryer with Infrared Light Technology
SRI Salon Dry Pro is another lesser-known curly hair solution that works like a charm.
The infrared heat technology speeds up drying time, to help you get out the door faster, while the ionic technology prevents frizz and boosts shine levels – plus there's no frizz with this dryer!
At $150 it's a bit pricey, but if you want to keep your hair cuticles happy, then it may be worth the investment.
Panasonic Nanoe Salon Hair Dryer with Oscillating QuickDry Nozzle
Number nine on our list is another pricey model that curly-haired girls say is totally worth the cash.
This dryer has the Nanotechnology, which infuses hair with moisture while also speeding up drying time. And its diffuser attachment will add body and volume to your already-wavy hair!
Plus there are four different speed settings and a cool shot button to lock in your curly style.
Lylux Cordless Hair Dryer, Low Heat Ionic Blow Dryer
Number ten on our list is the Lylux Cordless Hair Dryer.
This dryer is for sure the most unique-looking blow dryer on our list. And with a 110,000 RPM brushless motor, you can rest assured it will dry your hair faster than other tools without the risk of your hair getting caught in the brush.
We put this dryer at number ten because it's pricey ($180), but curly-haired girls say the investment is worth it.
Dyson Supersonic Hair Dryer, Iron/Fuchsia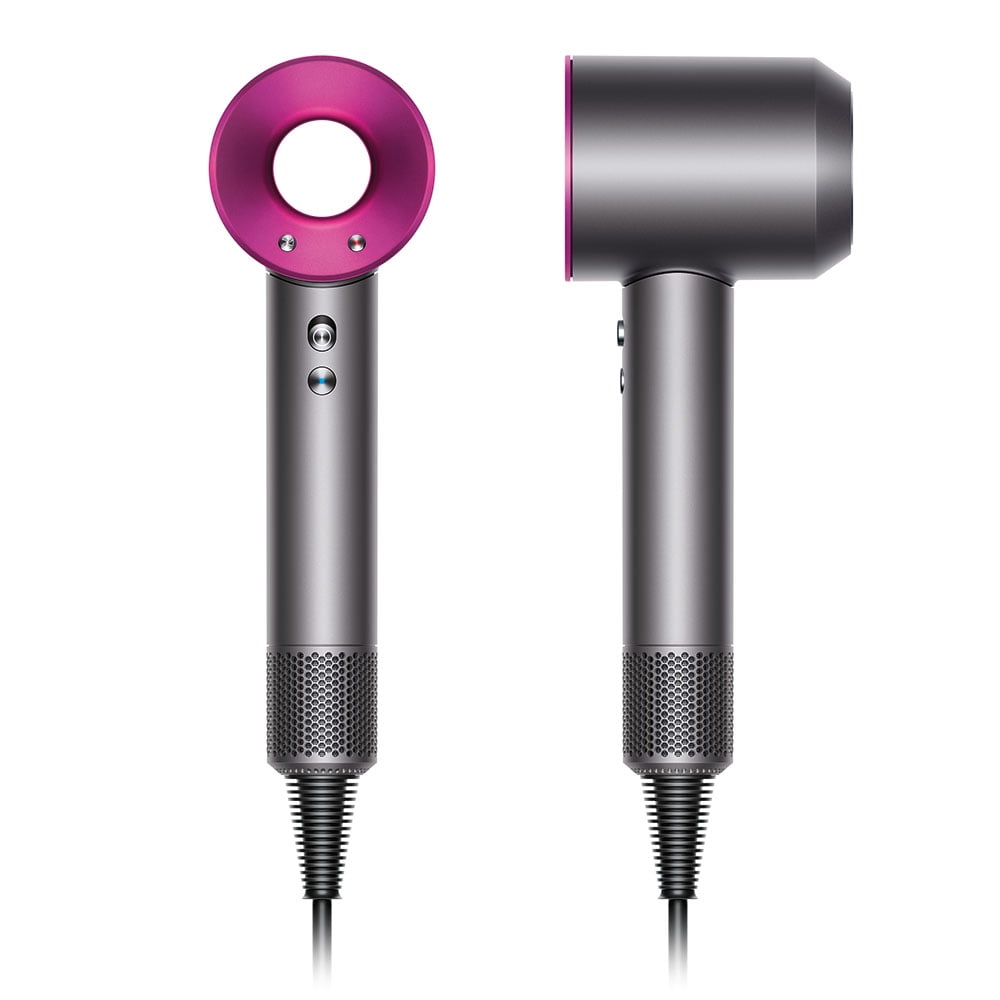 Number eleven on our list is the well-known Dyson Supersonic Hair Dryer.
This dryer has a patented technology called 'AC drive,' which delivers more power than ever before at 4,000 watts (no other blow dryer on this list reaches above 2,500 watts). Plus, it's lightweight and has a heat control mode to keep curly hair safe!
At an eye-popping $599, this blow dryer is pricey, but curly-haired girls say it's like getting an extra day between washes!
Panasonic EH-NA9A-RP hair dryer
Number twelve on our list is the Panasonic EH-NA9A-RP hair dryer.
This unique product is produced in Japan and looks more like a futuristic laser gun than an actual blow dryer. Based on the reviews on Amazon, this product is quite popular because of how it reduces drying time, its lightweight feel, and how it leaves hair feeling soft.
And of course it comes with a diffuser attachment to keep your natural curls voluminous and healthy.
And at $354, it's a steal (compared to the Dyson).
BIO IONIC Powerlight Pro Dryer
Number thirteen on our list is the BIO IONIC Powerlight Pro Dryer.
This dryer has an ionic generator, so curly-haired girls know it'll tame frizz and boost shine.
Its infrared heat accelerates drying time while their patented nanotechnology promotes shiny, soft, hydrated hair ($200).
Chignon Professional Leafless Hair Dryer
Number fourteen on our list is the Chignon Professional Leafless Hair Dryer.
Not only is this brushless blow dryer surprisingly light, but it operates on an inaudible wavelength. So now when you dry your curly locks, your ears won't feel like you are driving through a tunnel with the windows down!
Unfortunately, it does not have a diffuser attachment. But other than that, it's great.
It also features an air filter, which is a nice touch. Just be sure to clean it regularly to remove excess dust, dirt, and buildup. $230.
Parlux Alyon Matte Black Eco Friendly Hair Dryer
Number fifteen on our list is the Parlux Alyon Matte Black Eco-Friendly Hair Dryer.
This eco-friendly hair dryer has a powerful 3,200-watt motor, so curly-haired girls know it'll speed up drying time! ($260).
If you do decide to buy this product through Amazon, just know that you won't receive the warranty. You need to buy through the Paralux US site to get that. And at $260, that's probably a good idea!
ghd Helios 1875w Advanced Professional Hair Dryer
Number sixteen on our list is the ghd Helios 1875W Advanced Professional Hair Dryer.
Renowned stylist Kyle Hanagami uses this tool to style his curly-haired clients, and curly-haired girls give it the thumbs-up because it works to add moisture and shine.
It has an 1875 watt motor, which is pretty standard for a hair dryer in this price range ($249).
Its ionic generator reduces frizz and static, while its unique design keeps you from accidentally singeing your ends.
Harry Josh Pro Dryer 2000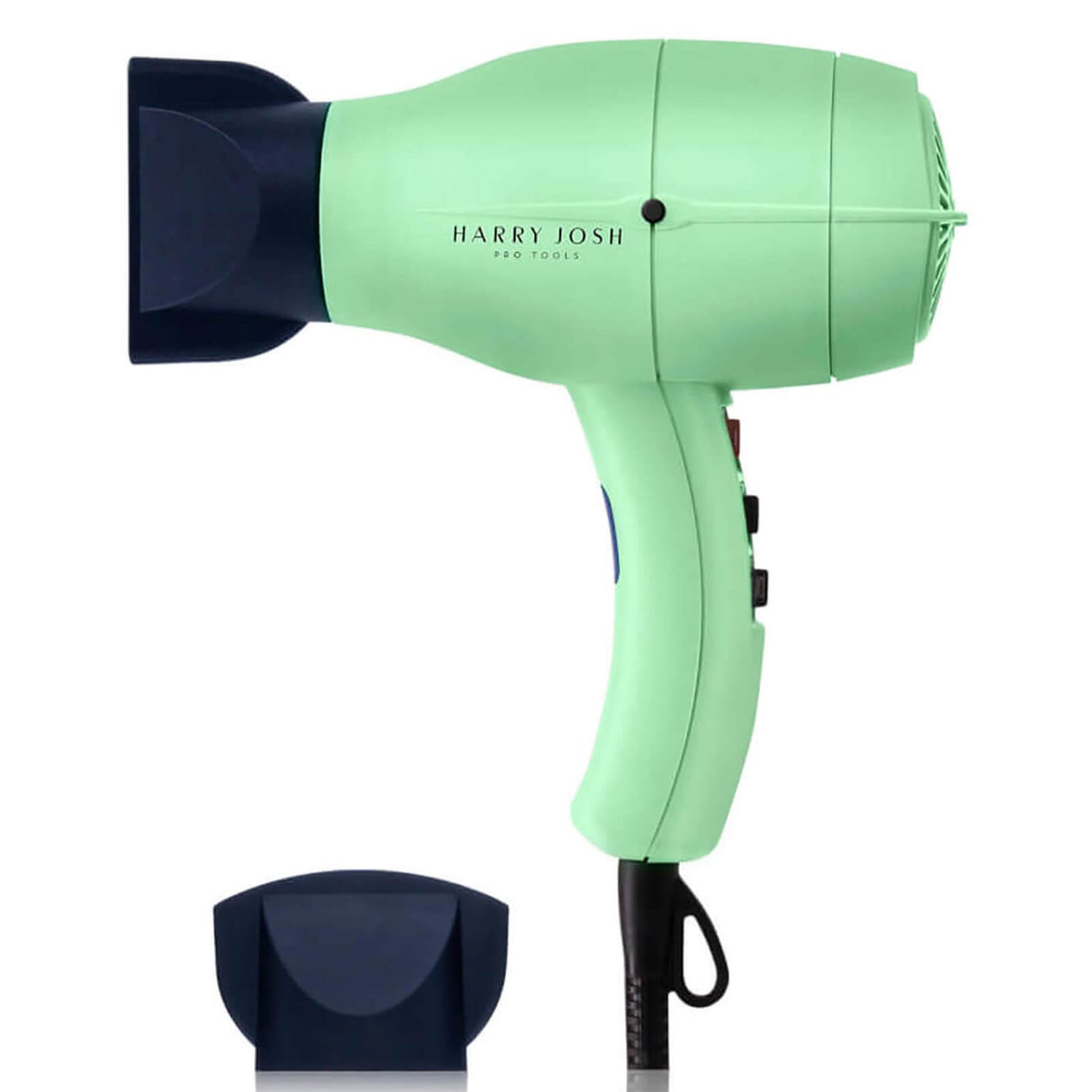 Number seventeen on our list is the Harry Josh Pro Dryer 2000.
This hair dryer has a massive 2,000 watts and was designed by a curly-haired hairdresser (get it?) Harry Josh.
The gold-plated nozzle keeps hair soft and shiny, while the five temperature settings work to protect curly hair from excess heat damage. At a whopping $288, this designer hair dryer doesn't just dry your hair, it looks great in your bathroom too.
BIO IONIC Goldpro Dryer
Number eighteen on our list is the BIO IONIC Goldpro Dryer.
Like a luxurious car, this hairdryer has a powerful yet quiet 3,300 watt motor and comes with a five-year warranty. At $249, this product is worth every penny (even if it breaks the bank in the process).
The finishing touch? A three-year warranty.
INFINITIPRO BY CONAIR SmoothWrap Hair Dryer
Number nineteen on our list is the INFINITIPRO BY CONAIR SmoothWrap Hair Dryer.
Curly-haired girls know that their hair can get pretty frizzy with a hair dryer, but this one reduces frizz while maintaining the hair's natural curl pattern.
Like many of the other hair dryers on this list, you have the ability to adjust the heat and airflow, so they can set it to a level that works best for their hair.
And at a mere $50, you may not want to pass up this excellent value-for-money hair styling tool.
Final Thoughts
While picking the best hair dryer for curly hair can be a difficult task, we hope that you now have an idea of where to start your research.
We've done some of the hard work for you, so now you can focus on something you care about more than researching blow dryers: turning your bed head curls into luscious locks!
We also hope that you have a better understanding of what to look for in a hair dryer and how to make a good buying decision. There are thousands of hair dryers out there, but our list is a good place to start your search.
Good luck, and let us know what you decide!
PS. Looking for a new flat iron? Be sure to check out our free Flat Iron Buyer's Guide For Beginners here!