Since humanity discovered that pure beeswax has cosmetic applications, we've been adding it to everything from hair care to body lotion in an attempt to get some of that buzz-worthy goodness.
Bees (and the by-products they create) are truly amazing. Thanks to them, we have honey, beeswax, royal jelly, and a host of other unique ingredients that can be used to improve our health.
When it's not being used to create dreadlocks, beeswax has many applications for people looking to improve the health of their natural hair.
In this article, we'll talk a bit about how to use beeswax for hair care and how you can best take advantage of this natural golden phenomenon.
What is beeswax used for in hair products?
While beeswax isn't a miracle cure-all, it certainly has its uses. This section is going to explain the many uses that beeswax has for hair.
Beeswax can be used to start dreadlocks
You can't talk about beeswax without talking about dreads.
When starting dreadlocks, you need to get the hair to "lock" in place. Beeswax is applied to the hair where it is left and used to stick the hair together. Over time, the hair grows together and locks into place.
Beeswax can also be used for a "twisted hair" look. Most common with those who have African hair, twisting hair and adding beeswax to it will give it a twisted look, though these are often not grown as long as dreadlocks are.
Beeswax can be used to style hair, too
If you're looking for a natural way to style your hair with natural ingredients, beeswax makes an excellent choice.
Simply mix some beeswax with a carrier oil, rub some into your hands, and run it through your hair.
We tend to prefer olive oil or coconut oil for these purposes, as they tend to have the best effect on skin and hair.
If using carrier oils isn't your thing, you can try to use a little beeswax just by itself, but you probably won't like the consistency. In this case, you can try a little shea butter or hyaluronic acid mixed with it instead.
What are the benefits of using pure beeswax for hair?
Beeswax has a variety of benefits beyond just starting dreadlocks.
Here are some things to keep in mind when deciding how to apply beeswax to your hair.
Yes, beeswax can help with hair growth
Step aside, castor oil – there's a new hair growth ingredient in town: beeswax.
A 2016 study noted that hair products which contained beeswax caused hair to grow faster over the course of 30 days.
Don't get too excited, though. There was no control group in this study, so we're not quite sure what "faster" means in this case. If there was no control group, then how could the beeswax group be faster (faster than what?)?
Still, it's cheap, natural, and likely harmless. Worth a try!
Beeswax works better than anything else to get rid of frizz
One of the best things about using beeswax for hair is that it is essentially waterproof.
This comes in handy when trying to manage frizz. Mix some beeswax with a few drops of some slightly warm olive oil, rub your hands together, and apply the mixture to your hair after styling it.
Applying beeswax in this way will help tame the frizz, while the oil provides moisture to the hair.
Which brings us to our next point…
Beeswax is great for making dry hair moisturized
Do you have dry hair? Beeswax to the rescue!
Over time, we tend to dry out our hair by using things like hair dye, hot styling tools, and styling products like gel and mousse.
All of these products cause damage to the hair and dry it out, making it more brittle and weak.
Using beeswax can help alleviate this problem. By adding just a touch of shea butter or a carrier oil, you can create a natural moisturizer with antibacterial properties.
Beeswax can help seal split ends!
"Wow, I really love split ends." – Nobody.
Well lucky for you, beeswax it great for that too.
One of the key nutrients in beeswax – vitamin A – is one of the building blocks of all cells in the body, including hair.
Most importantly, the vitamin A in beeswax helps skin glands in the scalp produce sebum, a natural oil. This can be a great tool if you have the itching and flaking associated with a dry scalp.
Beeswax can aid in healing certain skin conditions
Most people don't know this, but beeswax is one of the most commonly used antibacterial agents found in nature. This is one of the reasons why honey is such a popular choice in cosmetic products.
Assuming you remove any waxy buildup by shampooing daily, beeswax can be great for healing skin conditions found on the scalp.
You can use beeswax to style facial hair
It's likely that most of our readers are female and don't have enough facial hair to style, but we decided to add it to this list anyway.
Styling beards or short hair with beeswax can be a great choice, mainly because it doesn't leave a sticky residue like other products.
How can you integrate beeswax into your hair care routine?
"Okay," you plead, "we're sold! Just tell us how to use beeswax for our hair!"
If you're just starting out with beeswax, we recommend keeping it simple. There are three ways you should start using beeswax if you haven't started already:
Using it as a hair treatment
Styling your hair
Using beeswax for hair growth
Use beeswax to make a moisturizing shampoo
Once you dive into the world of making your own shampoo, it's hard to leave.
That's because, similar to cooking, there's nothing quite like the enjoyment you get from using something that you made yourself.
And while you probably aren't a bee that can make beeswax, you can make your own moisturizing shampoo with it.
The simplest way to do this is to just add a little beeswax to regular shampoo. To make sure you have the right texture, heat the beeswax up in the microwave first. Otherwise it may clump in your hair, defeating the purpose.
Make your own pomade with beeswax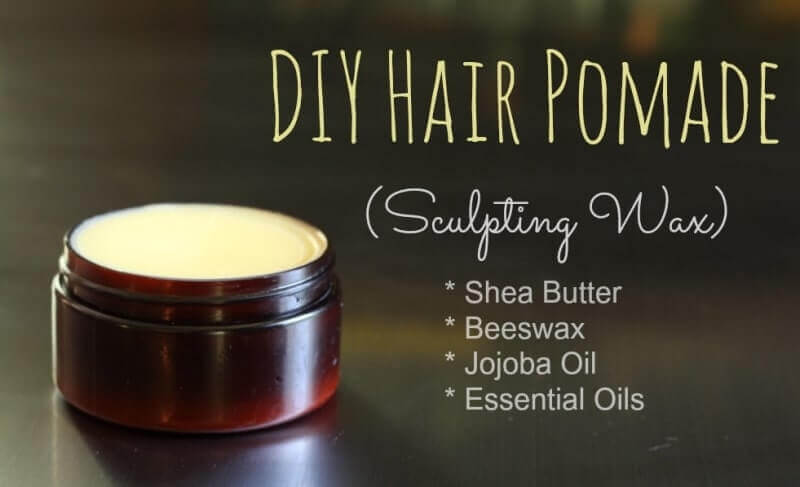 Using beeswax for hair styling is probably the most common way people use it.
To give this a shot, what you're going to need is 3 things:
Beeswax
An essential oil
Shea or cocoa butter
Once you've got all your ingredients together in a bowl, just heat them up in the microwave for a few seconds. The warmth will help them mix together.
Once they're mixed, let it cool back down to room temperature. We recommend coconut oil for this, since it is solid at room temperature.
If you don't like the smell of coconut oil, you can use something more mild like olive oil. And for a little extra hold, try adding some bentonite clay to the mix.
How do I remove beeswax from my hair?
We've already established the fact that beeswax is amazing for your hair.
But if you've never used something with its texture before, you may be wondering how to remove this natural wax out of your hair?
Our favorite method is to use a clarifying shampoo. There's not much that a clarifying shampoo can't get out of your hair.
If you want to use something that's a little more gentle, you can mix a little bit of warm olive oil into your hair to dissolve the beeswax.
Then you use a little dish soap to get the olive oil out. The soap will dry your hair and scalp, so be sure to rinse it out right away and follow it up with some conditioner.
What kind of beeswax products should I buy?
Great question, my little worker bees!
After rigorous testing, we've decided that Murray's Beeswax products are the gold standard in the industry.
Best pure beeswax for hair growth
In our opinion, nothing beats the real thing. If you're looking to grow your hair, make your own products, or use beeswax for anything else, then you're going to want to go with Murray's Beeswax.
Coming from Australia, this product is 100% pure and very affordable ($6!).
Best beeswax styling product
We're a fan of Carol's Daughter Mimosa Hair Honey Shine Pomade. Not only are the reviews great on Amazon, but this product is paraben, sulfate, silicone, and mineral oil-free!
This product also contains shea butter, cocoa butter, and rosemary! Not only does it sound delicious, but rosemary is known to increase blood flow to the scalp, giving it an added hair growth boost.
Best beeswax for locking hair and dreadlocks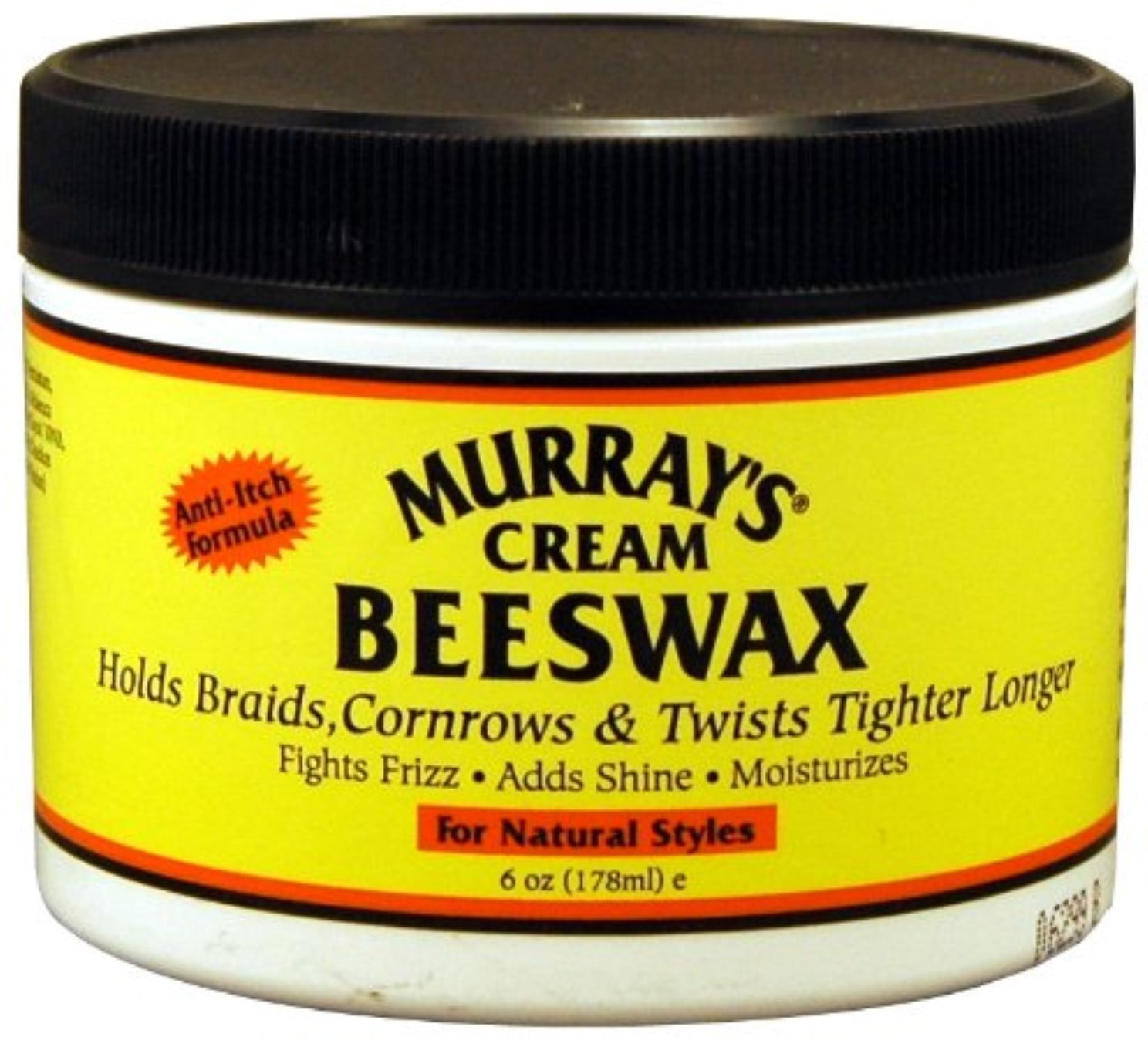 If you're planning on growing dreadlocks or locking your hair, then once again you're going to want to go with Murray's.
The brilliant blokes down under definitely know their market.
This styling cream boasts, "Holds braids, cornrows, and twists tighter longer."
Be warned though that this product contains many chemical additives. And while these are common to most hair-related products on the market, those of you looking to go the "all natural" route will want to pick the pure 100% beeswax instead.
Final Thoughts
Whether you're looking for a new hair wax, trying to increase your hair length, or just on the hunt for other ingredients to add to your hair care routine, beeswax is a great choice.
With the biggest benefits being increased hair growth and a better moisture profile, additional benefits to this miracle substance include sealing split ends, controlling frizz, and smelling like honey.
The bottom line? If you're serious about the health of your hair and love using natural stuff, you've got to make room for beeswax in your overflowing beauty cabinet.