Do you want fresh, vibrant, and healthy skin? Then you need to try Barefaced Skincare.
At least, that's what they say on their website. But is the hype surrounding this brand well-deserved? Or is it just another brand trying to capitalize on the insecurities of women about the imperfections of their skin?
We took a deep dive into the history, identity, and top-selling products of this brand and have all the answers you're looking for.
What is Barefaced skincare?
Barefaced is a British skincare company that was founded in 2010 by entrepreneur Jordan Harper. The company claims to be inspired by "the wisdom of nature" and uses only natural ingredients in its products.
They are a skincare brand dedicated to simplifying skincare with cruelty free products, preventative solutions, and making skincare routines into everyday practices.
They also assert that their products are suitable for all skin types, including sensitive skin, and are free from harsh chemicals and artificial fragrances.
What makes Barefaced products different?
When Jordan Harper started this brand, she had a vision: use only the finest natural ingredients to create cruelty free products that would be suitable for all skin types.
Barefaced Skincare products are made with natural ingredients that are designed to nourish and improve the health of your skin. The company also claims that its products are free from harmful chemicals and artificial fragrances.
In addition, Barefaced Skincare is a cruelty-free brand, meaning that they do not test their products on animals.
The list
The top nine best-selling products from Barefaced Skincare, according to their website, are:
Toning Pads
Okay, so you've probably tried skincare pads before. But have you tried Barefaced Toning Pads? Probably not.
What sets these pads apart from the others is simple: just check out this list of key ingredients:
Glycolic Acid
Lactic Acid
Salicylic Acid
Mandelic Acid
Succinic Acid
Chamomile
Green Tea
Aloe
Have you ever seen skincare pads with so many active ingredients? Other products are lucky to have one or two, three TOPS. But that is some serious exfoliating action right there!
Tinted Protection SPF 50+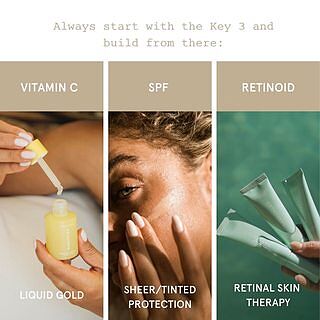 This is a new product from Barefaced Skincare, and it's already one of their best-sellers.
The Tinted Protection SPF 50+ is a mineral sunscreen that provides both UVA and UVB protection. It is also water-resistant for up to 80 minutes.
But what sets this sunscreen apart from the others is its tinted formula, turning it into a beauty balm with SPF. This makes it ideal for those who want to protect their skin from the sun but don't want to look like they're wearing sunscreen.
The Tinted Protection SPF 50+ is available in two shades: light and dark.
Hydrating Lotion
The Hydrating Lotion is a lightweight, oil-free moisturizer that is designed to hydrate and refresh the skin. It is also said to be suitable for all skin types, including sensitive skin.
The key ingredients in this lotion are:
Niacinamide
Ceramides
Caffeine
Resveratrol
Peptides
One of the key benefits of using Hydrating Lotion is that it improves the elasticity and texture of the skin. Not only that but the caffeine helps to "wake up" your face by stimulating blood flow – always a good thing!
Glow Peel Pads
Glow Peel Pads are another best-selling product from Barefaced Skincare. These exfoliating pads are said to improve the appearance of fine lines, wrinkles, and uneven skin texture.
If you want to see better results from your skincare products, you need to increase the penetration of those products. One way to do this is by using these peel pads.
Because they exfoliate and open your pores, it primes your skin for better absorption of other products you use (like a dermaroller) – making it a great choice to use before intensive moisturizers like night creams, or targeted products like facial oils/serums.
Liquid Gold
If you're serious about having vibrant skin, then you need to include a vitamin C serum in your skincare routine. And Liquid Gold from Barefaced Skincare is one of the best on the market.
This potent serum contains 20% vitamin C, as well as other skin-loving ingredients like Kakadu plum and turmeric.
We especially like the turmeric in this product – it's a natural anti-inflammatory that can help to reduce the redness and irritation associated with acne.
Overachiever
This is one of our favorite products from Barefaced Skincare. The Overachiever is a multipurpose product that can be used as a cleanser, scrub, mask, and even a makeup remover.
As if that wasn't enough, it's also said to improve the appearance of fine lines and wrinkles.
The key ingredients in this product are:
Resveratrol
Bakuchiol
Azelaic Acid
Green Tea
Caffeine
Hyaluronic Acid
Peptides
Overachiever is an accurate description of this product, based on their ingredients list. Have you ever seen any skincare product so packed with powerful substances? We haven't. And we do this for a living!
RetinAL Skin Therapy
Retinoids are an important part of any anti-aging skincare routine. And RetinAL Skin Therapy from Barefaced Skincare is one of the best on the market.
This potent retinoid cream contains 0.5% retinaldehyde – a powerful form of vitamin A that is said to be as effective as 0.5% retinol.
But what sets this cream apart from other retinoids is its delivery system. The retinaldehyde is delivered in a patented slow-release system, which means that it is slowly released into the skin over 8 hours.
This helps to minimize the irritation and dryness often associated with retinoids.
Brightening Facial Wash
The Brightening Facial Wash is a gentle cleanser that is designed to brighten and even out the skin tone. It contains 2% salicylic acid, vitamins C and E, as well as glycolic acid.
The result? A bright, clean, and healthy-looking complexion.
Final Thoughts
If you're looking for the best-selling barefaced skincare products, then you need to check out the ones we've mentioned above. We're confident that you'll love them as much as we do!