If you've never heard of Bad Habit, you're missing out. One of the hottest and most innovative skincare brands out there, these guys know how to make perfect skin a reality for everyone.
And lucky for you, they've just released a brand new line of products specifically designed to help you break your bad skincare habits once and for all.
So if you're ready to ditch your drugstore brands of beauty products and start using the best the industry has to offer, keep reading.
What is Bad Habit skincare?
Bad Habit is a luxury skincare brand that focuses on results-driven, high-performance products. Their philosophy is simple: good ingredients + scientifically-proven formulas = perfect skin.
No matter what your skin type or concern, Bad Habit has a product that can help. From their bestselling Restorative Night Cream to their brand new All Calm Collection, they've got you covered.
How do Bad Habit skin care products work?
Each Bad Habit product is packed with scientifically-proven ingredients that work together to address your specific skin concerns.
Whether you're looking for a treatment for wrinkles, acne, or dryness, there's a Bad Habit product for you.
Who is Emma Chambers?
Emma Chambers is the founder and CEO of Bad Habit. A former model and skincare junkie, Emma started Bad Habit to help everyone achieve the perfect skin they deserve.
Our favorite Bad Habit skincare products
Here are our top 12 must-have Bad Habit skincare products for perfect skin:
Dope Dreams Cbd Calming Mist
If you're looking for a product to soothe and calm inflamed skin, look no further than the DOPE DREAMS CBD CALMING MIST.
This vegan, gluten-free mist is packed with CBD oil and other soothing ingredients that help reduce inflammation and redness.
Keep Calm Adaptogen Soothing Toner
For stressed out skin, nothing beats the KEEP CALM ADAPTOGEN SOOTHING TONER. This alcohol-free toner is infused with adaptogens and other calming ingredients that help to soothe and protect the skin barrier.
Repair Mode AHA/BHA Active Overnight Serum
Clogged pores are a huge problem for people with oily or acne-prone skin. They cause pimples, blackheads, and other skin-related issues.
If you're struggling with breakouts, the REPAIR MODE AHA/BHA ACTIVE OVERNIGHT SERUM is a game-changer. This potent serum uses a blend of AHAs and BHAs to help exfoliate the skin and unclog pores.
Good As New AHA/BHA Creamy Cleanser
If you're looking for a gentle but effective cleanser, the GOOD AS NEW AHA / BHA CREAMY CLEANSER is a great option. This creamy cleanser uses AHAs and BHAs to dissolve makeup and unclog pores, while also keeping the skin's pH balanced.
Major Intervention Mini Mask Trio
If you're looking for a quick and easy way to get perfect skin, the MAJOR INTERVENTION MINI MASK TRIO is a must-have. These three masks are designed to target all of your most common skincare concerns: wrinkles, dryness, and acne.
Get A Drink Hydrating Skincare Duo
Dry skin is a huge problem for a lot of people, and it can be tough to find a skincare routine that actually hydrates the skin.
The GET A DRINK HYDRATING SKINCARE DUO is a great solution. This duo includes a hydrating mist and serum that work together to provide long-lasting hydration.
Power Sleep Melatonin & Glycolic Night Cream
If you're looking for a heavy-duty night cream, the POWER SLEEP MELATONIN & GLYCOLIC NIGHT CREAM is a great option. This rich night cream is packed with nourishing ingredients that help to repair and restore the skin overnight.
Cleanse & Repeat Mini Cleansing Duo
If you're looking for a simple but effective cleansing routine, the CLEANSE & REPEAT MINI CLEANSING DUO is perfect. This duo includes a gentle cleanser and exfoliating scrub that work together to remove dirt, oil, and makeup.
The cleanser contains glycolic acid to help exfoliate the skin and wash away dead skin cells, while the exfoliating scrub contains bamboo extract to help soothe and protect the skin.
A.M. Ready Morning Skincare Essentials
If you're looking for a simple skin care routine that will help you wake up looking refreshed, the A.M. READY MORNING SKINCARE ESSENTIALS is perfect.
This two-piece set includes the MATCHA & MINT CLEANSER and the MULTIVITAMIN HYDRATING MOISTURIZER – all of which are designed to give you an energized and youthful look.
Daily Fix Elderberry & Vitamin E Lip Oil
If you're looking for a product to help keep your lips hydrated and soft, the DAILY FIX ELDERBERRY & VITAMIN E LIP OIL is a great option.
This nourishing facial oil is enriched with elderberry, neroli essential oils, and vitamin E to help moisturize and protect the lips. Not only does it work well on combination skin, but Bad Habit has really outdone themselves here when it comes to the fragrance.
Once you try it once, you'll never go back to anything else!
Wake Things Up Matcha & Mint Daily Cleanser Mini
Nothing can wreak havoc on your sensitive skin like a cleanser that is too harsh. But Bad Habit specializes in clean formulas that won't hamper your self care routine.
Speaking of which, the WAKE THINGS UP MATCHA & MINT MORNING CLEANSER MINI is perfect for anyone who wants to wake up feeling refreshed and invigorated. This mini cleanser contains matcha which is packed with antioxidants, while the mint extract helps stimulate blood flow and revitalize the thin skin on your lips.
Total Reboot AHA/BHA Enzyme Peel
Do you need a little "me time" sometimes? Bad Habit has you covered with this peel.
Not only will it help brighten your skin, but the TOTAL REBOOT AHA/BHA ENZYME PEEL contains powerful exfoliating acids that do a great job removing dead skin. This two-in-one product contains both AHAs and BHAs to help slough away dead skin cells and reveal a brighter, more radiant complexion.
Silent Mode Hydrating Hyaluronic Mask
If you're looking for a hydrating mask that will help to plump and smooth the skin, the Silent Mode Hydrating Hyaluronic Mask is a great option.
This mask contains hyaluronic acid which helps to attract and retain moisture, while the aloe vera extract helps to soothe and calm the skin.
Did you know that hyaluronic acid can hold up to 1000x its weight in water? That's why it's such a great ingredient for hydration!
Eyes Open Caffeine And Peptide Cream
If you're looking for a product that will help to brighten and tighten the skin around your eyes, the Eyes Open Caffeine And Peptide Cream will completely solve your problem.
This eye cream contains caffeine and peptides to help reduce puffiness and dark circles, while also smoothing out fine lines and wrinkles.
Reader Adaptogen Nourishing Hand Cream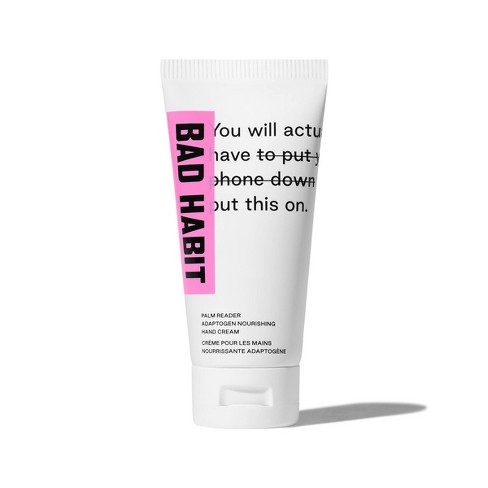 Putting adaptogens in a hand cream? What a time to be alive!
The Reader Adaptogen Nourishing Hand Cream is a great option for anyone looking for a hand cream that will help to soothe and protect the skin.
This hand cream contains ashwagandha and turmeric to help reduce inflammation, while the shea butter and jojoba oil help to moisturize and nourish the skin.
Dewd Hemp Nourishing Facial Oil
"Duuuudde…"
Or should we say, "Dewwwwwwd."
Get it? Dew, like a dewy glow on your face.
Fortunately for Bad Habit, their nourishing face oil is just as good as their clever marketing. For oil, this feels surprisingly light and refreshing!
Chill Out Adaptogen Hydrating Mist
If you're looking for a hydrating mist that will help to calm and soothe the skin, the Chill Out Adaptogen Hydrating Mist is perfect.
This mist contains ashwagandha and aloe vera to help reduce inflammation, while the cucumber extract helps to refresh and hydrate the skin.
Final Thoughts
There are a lot of different skincare products on the market, and it can be tough to know which ones are right for you. And if you have stressed out skin, this can make things even worse.
But why stress, when can achieve a dewy glow with Bad Habit skincare? From their cleansing balms to their mint daily cleanse, their products deliver what they promise.
And who knows, after a month of using these products, maybe you'll have fixed… ALL YOUR BAD HABITS!