One of the strongest brands in the hair straightener game, Babyliss has done it again.
Their BabylissPRO Nano Titanium Flat Iron is easily one of the best flat irons we've ever used. And we've used A LOT of them!
In this article, we're going to take a deep dive into the nitty gritty details of this $150 hair straightener – from its nano titanium technology to its ultra high heat settings.
So if you're looking for a great hair straightener with titanium plates to get your hair smooth, this could be the one for you. But before you rush out and buy one, make sure you read this article as there may be 1 or 2 dealbreakers in here depending on your hair type.
What's so special about the Babyliss Nano Titanium Flat Iron?
I'll just come right out and say it: this is a great hair straightener. It pulls smooth, it can straighten hair with the best of them, and as far as hair straighteners go, it feels pretty light and comfortable in our hands.
As a professional hair stylist, I look for a few things with a new styling tool. Number one, it has to have ionic technology. This is what helps seal the cuticle of the hair, giving it a beautiful shine without using any hair product.
Creating sleek styles with a styling tool is the bread and butter of any hair stylist. And while straighteners with ceramic plates have a special place in our heart, every once in a while a titanium flat iron comes along and makes us second guess our preference.
Does the Babyliss Nano have temperature settings?
It sure does. The temperature on this bad boy goes from 180 – 450. Pretty standard for flat irons these days.
For most hair types, we prefer to use flat irons on the highest setting. This allows us to only go over each piece once. For particularly stubborn curls that are hard to straighten, maybe twice.
The Babyliss Nano heats up very quickly as well. From what we were able to see, it reached full heat in under a minute, allowing us to get excellent straightening results that much faster with just a few passes.
Can you do curls with the Babyliss Nano Flat Iron?
You absolutely can!
The model we got our hands on was the 1.5 inch. As a general rule with flat irons, if you're interested in increasing styling flexibility, you're going to want to go with a 1.5 inch.
Yes, you can still do curls with a 2 inch flat iron, but this may be a bit more challenging for people who are subject to hand fatigue.
The increased weight of a 2 inch flat iron combined with the extra surface area make it a little harder to do curly hairstyles. But once you get the hang of it, you should be fine.
Bottom line: making straight hair go curly with this Babyliss flat iron was a piece of cake.
Is the Babyliss Nano a heavy flat iron?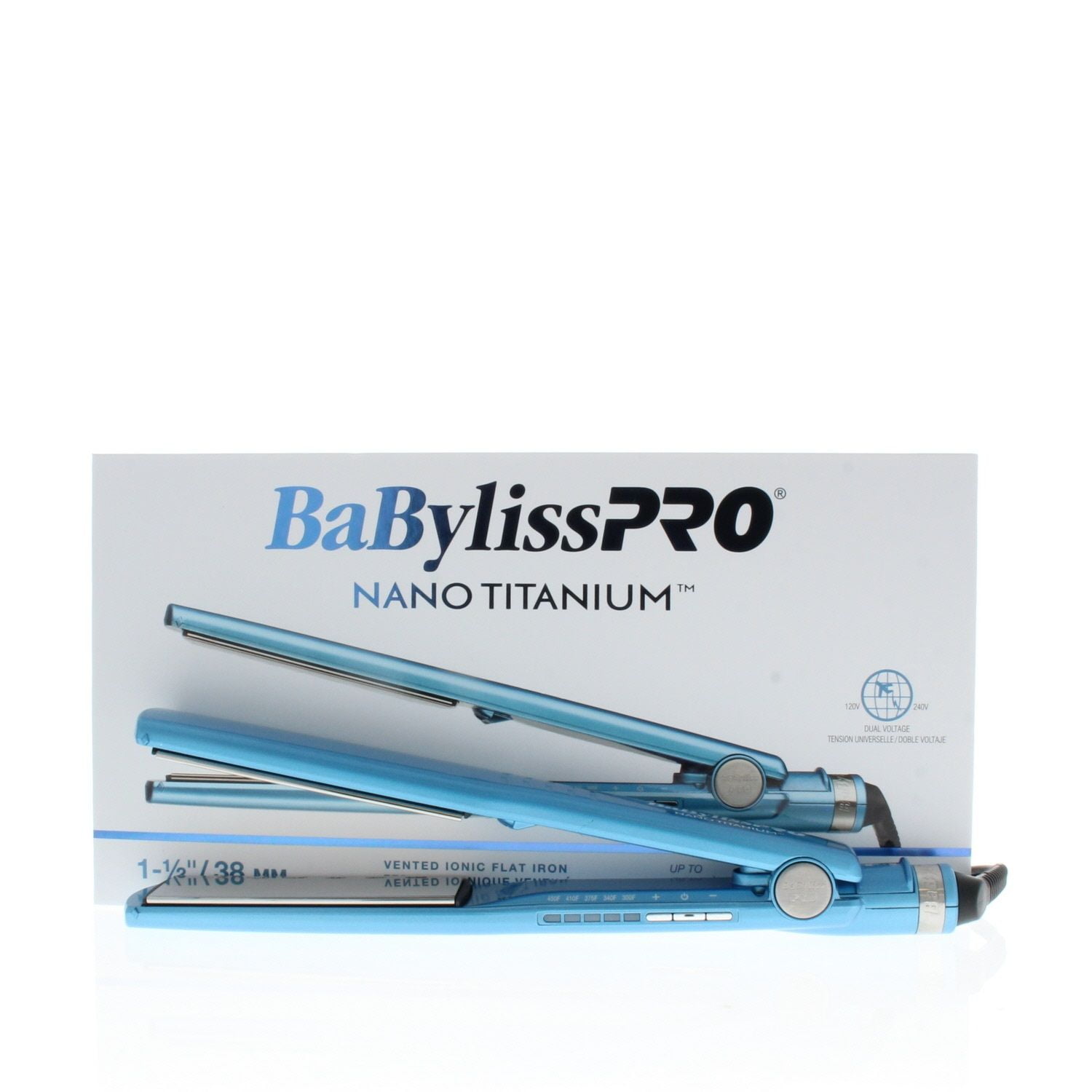 Not really, no.
In our experience, titanium flat irons overall are going to be lighter than ceramic ones.
In fact, that's one of the reasons that titanium plates are popular – titanium is a light, but hard, metal. Fun fact: this is why it's also popular in golf clubs.
This was especially noticeable after switching from our Dyson Corrale, which as we mentioned in our review, was one heavy mofo.
Switching to the BabylissPRO Nano definitely helps eliminate hand fatigue. Not that there's anything wrong with using a beefy flat iron, but we'll save our calorie-burning activities for the gym – NOT when we're getting ready.
Does the Babyliss Nano do a good job straightening hair?
This is one area where the Babyliss Nano shines (and it makes your hair shine, too).
If you want to get your hair smooth, shiny, and silky, then this straightener will do the job. You're probably going to want to use a tiny bit of heat protectant or a serum with it as well, especially if you have naturally curly hair.
As we've said many times before, we like to brush the hair out with a wide panel brush first. Then we take a little serum, spread it evenly through the hair, and then follow with the iron.
If curling hair is your priority, you can do that too. But we'll go over that in a different section.
Is the Babyliss Nano good for curly hair?
As we mentioned before, this flat iron uses negative ions. As you probably know, your hair has a positive charge. Flat irons that use negative ion technology add a negative charge to the hair, balancing out the charge.
This will keep the hair shiny and soft, plus helps to get rid of frizzy hair.
What does this have to do with curly hair? Well, you know as well as we do that trying to straighten hair that's naturally curly can leave it frizzy.
But don't worry – if you're looking to achieve one of the pin straight styles sported by celebs like Kylie Jenner, you could definitely do worse than this flat iron.
Do the plates on this flat iron get extremely hot?
Yes, they definitely do.
Now, you can always turn the heat down, if you want. But if you have thick hair, you're probably going to want to keep them turned all the way up.
And this is the one area where we found the BabylissPRO Nano lacking – or should we say giving more than we bargained for?
This sucker gets HOT!
And according to the latest reviews on Amazon, we're not the only ones who felt this way. One user left this as a review:
Do NOT purchase this item. The ceramic plate bowed and shot put hot pieces while I was standing nearby. Sparks and small flames were visible. It was so dangerous and scary. I am grateful I was standing far enough away not to be harmed and that my kids were not nearby.
Now one thing you have to understand about flat irons is that just like any other tool, there are going to be some defective ones that come out of the factory.
Plus, we don't know how long this person had their flat iron turned on. What likely happened is that they were using their straightener, forgot about it, and left it turned on for several hours.
Which brings us to our next point…
Does the BabylissPRO Nano have an automatic shutoff feature?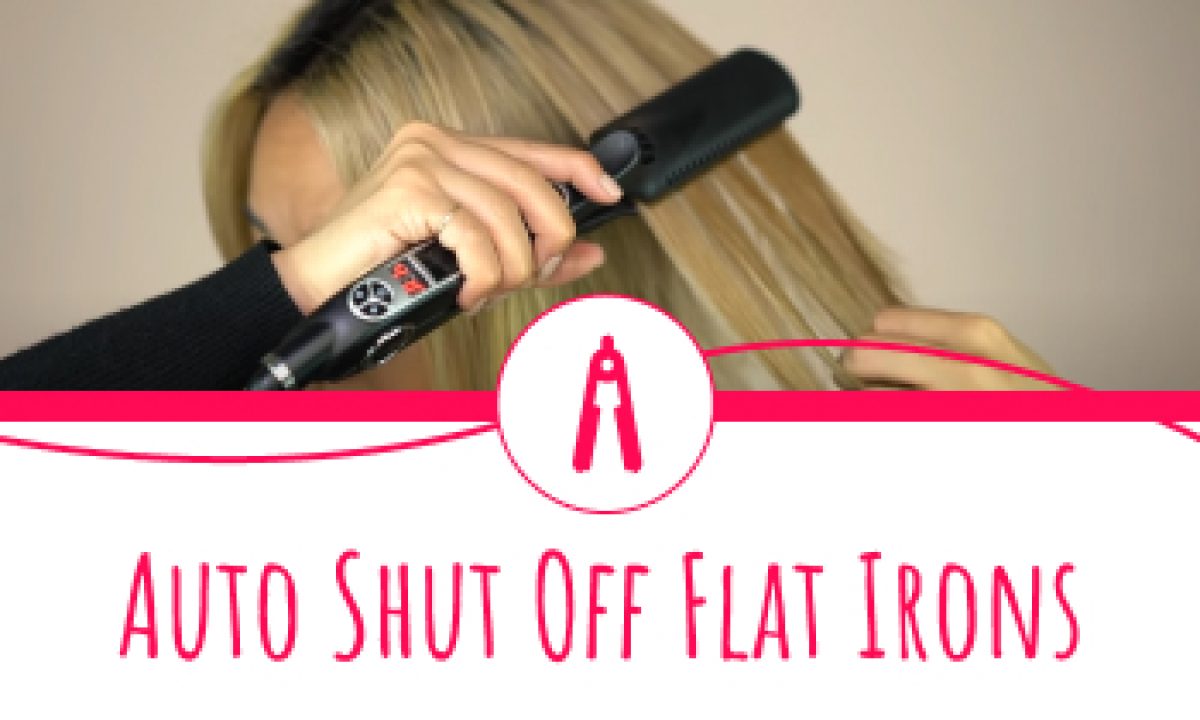 Sadly, no it doesn't.
This seems a bit strange for a $150 flat iron, as it's an important safety feature that is very attractive for many people.
Yes, it's important to be able to create loose curls at the drop of a hat, but what's even more important is not burning down your house.
However, if you're one of those organized people who always remembers to turn off their straightener, then it's all gravy.
Is this Babyliss straightener good for fine hair?
This is another area where we're not crazy about the BabylissPRO Nano.
As we see it, the major drawback of titanium plates is that they're more likely to burn your hair. This isn't much of a problem for thick hair, but if your hair is super thin then this might not be the best straightener for you.
We've found that fine hair is perfectly paired with a straightener that has ceramic plates. Specifically, tourmaline is our favorite for the way it gently glides along the hair shaft yet also "grips" the hair somewhat as well.
If you have fine hair, the Dyson Coralle is a great flat iron.
Is the BabylissPRO Nano good for thick hair?
Yes, it is pretty good. Again, like we said earlier in the article, our tester was the 1.5 inch as we thought the slim design would be a good compromise between speed and styling ability.
But if we were going to spend the money on one of these, we'd opt for the 2 inch – especially if our hair was extra thick.
The 1.5 inch worked great to curl hair and also straighten it, but you are sacrificing some ability to curl for the fact that it will take you less time to straighten your hair.
Does the BabylissPRO help get rid of frizz?
This is actually one area where this straightener shines (and makes your hair shiny, too).
Curly-haired girls know all about frizz. It's the bane of their existence.
Sure, their hair has body and their locks can attract attention from across the room, but what good is that when it looks like you just stuck your finger in a light socket?
Not much.
If you're looking to get rid of frizz, this straightener is definitely worth the money. Combined with a little bit of Moroccan Oil Serum, this is one of those tools that will make you look like you just stepped out of the salon.
Is the BabylissPRO good for mixed girls?
So look, here's the deal:
This is a great flat iron IF you know how to use it properly. Meaning you need to brush out the hair beforehand, lead with a comb, and use a serum.
The reason we're bringing this up in this section is that if you are mixed or have textured hair, then it's even more important that you use this iron like a professional.
When it comes to straightening ethnic hair, we know it can feel like a never-ending search to purchase the ultimate flat iron.
And while some people would look at you and ask, "WHY would you want to straighten your naturally curly hair?!" We know what you're going through.
That said, the BabylissPRO can be a great tool for straightening mixed hair IF you use a comb.
Is the BabylissPRO Nano Titanium worth $150?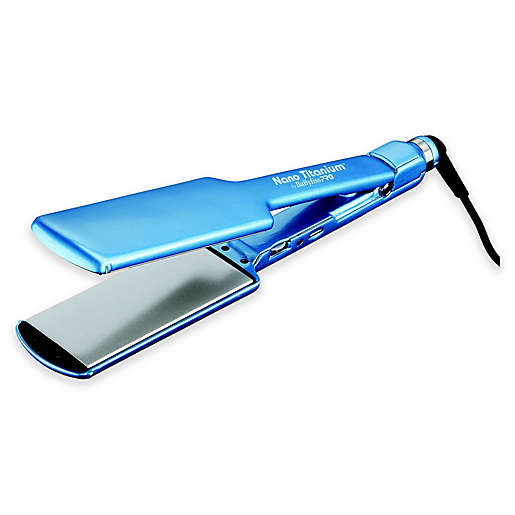 Here's an answer you won't like: it depends.
If you're going to purchase a new flat iron, there are a ton of options out there. And Babyliss is an excellent brand.
That said, with all of the other options out there, we don't think this is the best straightening iron you can grab for $150.
It's not a "bad" flat iron pre se. It does get your hair straight. And you can use it for curling hair too.
But when it comes to straightening your hair, because there are so many options out there, we believe it's important to choose wisely before you make a purchase.
If you ARE going to buy this tool, we recommend the 2 inch model as that will give you the most bang for your buck.
We're not crazy about the titanium plates (feels like they glide TOO smoothly) and some of the safety issues from the scary reviews on Amazon have us wondering if maybe Babyliss as a brand is starting to go the way of Chi.
Where can I purchase the BabylissPRO?
If you're going to ignore our advice and buy one of these anyway, we recommend you get one from your local salon or beauty supply shop.
We don't have anything against Amazon as a company, but we've noticed that the quality of goods sold there is sometimes less than what's sold in brick and mortar stores.
Another good thing about buying at a beauty supply shop is that you can look at some other straightening irons. And if you're dead set on a titanium one, then you have plenty of options.
Beauty supply stores are also more likely to have sales and deals, whereas Amazon does not.
Final Thoughts
We love Babyliss as a brand. But we don't love the BabylissPRO Nano Titanium.
It's flimsy design, lack of an automatic shut off feature, and tendency to get extremely hot all make us wonder if it isn't time for titanium straighteners to go the way of the dodo.
Thanks to the negative ion technology, it will get your hair smooth. But other than that we can't justify the $150 price tag when there are so many better options available at a similar price point.