If you're into hair products, then chances are you've heard of Amika.
Funky packaging, bold claims, and flat iron designs that make you proud to tell your friends what brand you use, Amika came onto the scene with confidence.
But eye-catching packaging and clever marketing do not a quality hair product make.
Fortunately for you, Amika hair products really do deliver solid results.
In this article, we're going to give you our top 5 favorite Amika hair products that we've ever used.
So if you're looking to take your hair game to the next level, read on!
The NormCore Amika Shampoo (Signature Edition)
At Amika, shampoo is taken seriously.
But before we go any further, let's just take a moment to appreciate the fearless branding of Amika's haircare line. These guys definitely have style!
According to their website, Amika has taken out all the harsh chemicals and substituted them with high quality natural ingredients.
Product enthusiasts will appreciate the clean ingredient list, boasting substances such as coconut acid (for that juicy lather and shine).
Not only that, but Amika's core haircare line is great for all hair types – even color-treated hair.
For those of you who don't like to use synthetic products, Amika's shampoo is free of sulfates, parabens, mineral oil, pthalates, and petroleum.
The downside? One liter of this magical shampoo will set you back $55!
That's a lot of money for a shampoo, but you know what they say: "If you want quality, you have to pay."
Looking for something cheaper? Check out our list of best drugstore shampoos here.
Perk Up Talc-Free Dry Shampoo
Don't have time to go through your entire hair care routine after a sweaty session at the gym? Amika's got you covered with their dry shampoo.
Dry shampoo is a great tool in your Fabulous Hair Toolbox, but ingredient-wise, it's one of the worst products you can use on your hair.
Not so for Amika's dry shampoo.
Don't believe us? Here is the ingredient callout list from their product page on Sephora:
Ingredient Callouts: Free of parabens, formaldehydes, formaldehyde-releasing agents, phthalates, mineral oil, retinyl palmitate, oxybenzone, coal tar, hydroquinone, sulfates SLS & SLES, triclocarban, triclosan, and contains less than one percent synthetic fragrance. It is also vegan, cruelty-free, and comes in recyclable packaging.
We're hard pressed to name another mainstream hair products brand that has such a high commitment to AVOIDING harsh chemicals in their products.
So if you want sleek strands without the chemical processing and don't have time to give it a quick wash, this dry shampoo could be the answer you're looking for.
Amika Wizard Detangling Primer
We know the struggle: you want to style your hair, but you're worried about what's really inside that stuff you're spraying on your head every day.
Imagine a line of styling products that are unlike any other: superior ingredients, lack of harsh chemicals, and super funky packaging.
That's what we find at Amika. And their detangling primer, dubbed "wizard," is no exception.
Doubling as a heat protectant spray, this detangler promises to get hair shiny and soft WITHOUT leaving any greasy residue.
Your hair's texture will be smooth and soft after using this primer, perfectly preparing it for a quick style with your new flat iron (an Amika one, perhaps?).
If you need a new heat protectant and the $25 price tag doesn't throw you off, definitely check this one out.
The Kure Bond Repair Smoothing Conditioner
Is your color-treated hair feeling dry and brittle lately?
Has your hair type gone from "curly" to "frizzy" thanks to your overpowered blow dryer?
If the answer is "yes" to those questions, you may want to add Amika's Kure Conditioner to your shopping bag.
This powerhouse conditioner contains sea buckthorn, a superfood containing the elusive Omega 7 fatty acid (found usually only in fish).
Sea buckthorn is a great source of vitamins C and A, both critical to maintaining a healthy head of hair.
This conditioner also has mango seed butter, giving it a light/fruity fragrance as it softens the texture of your precious locks.
By helping the hair suck in moisture, this conditioner will give your tresses added volume and style – all while staying paraben/sulfate/mineral oil/pthalate-free!
Need a leave-in conditioner for curly hair? View our master list here.
The Closer – Instant Repair Hair Cream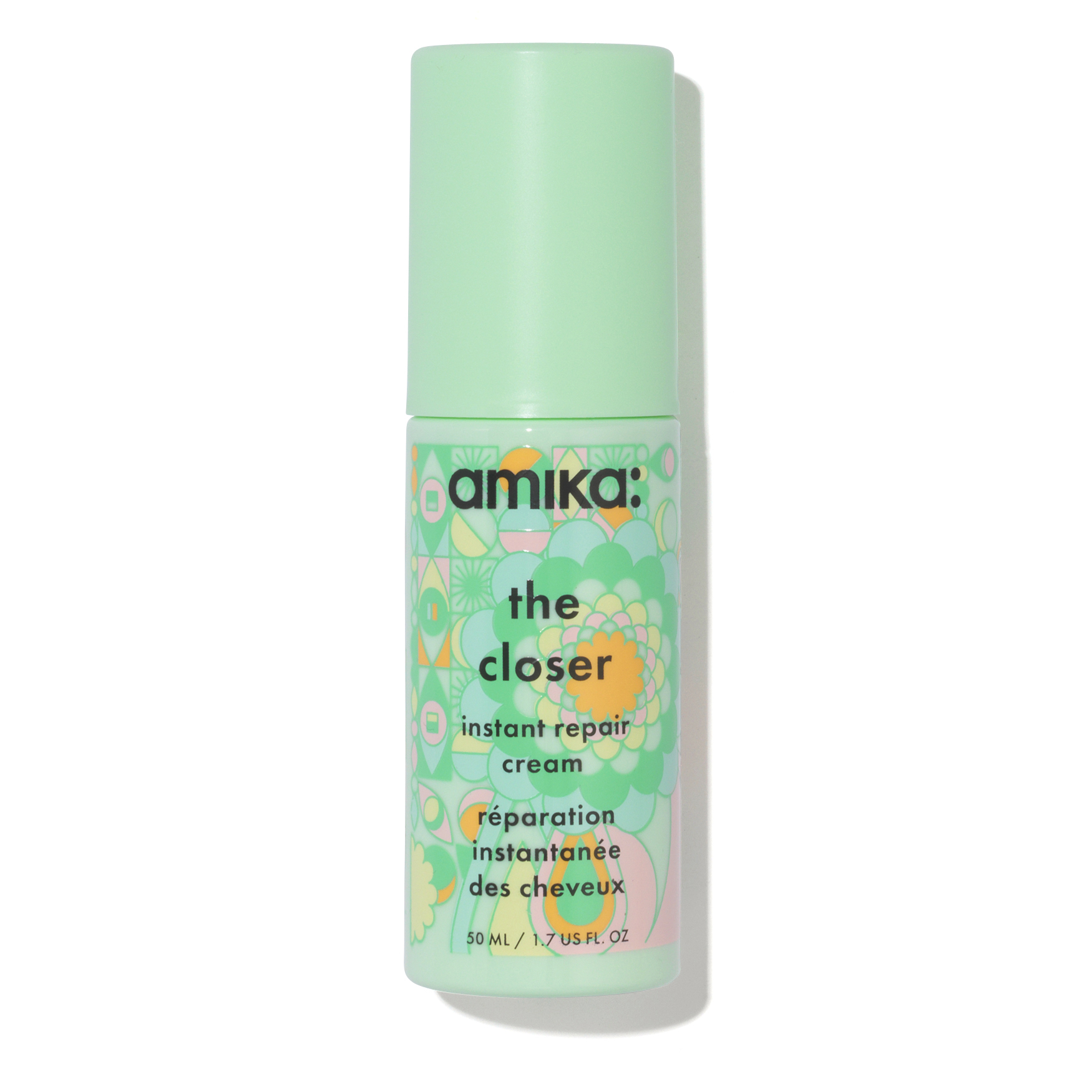 Imagine the scene: you're looking at your reflection in the mirror, your eyes gravitating naturally to all your split ends, lifeless hair, and the rough texture of your neglected locks.
If only there was some way to immediately repair the damage you'd done to it over the years.
Bring back the shine, the beauty.. save your hair before it's too late.
Enter: The Closer.
This lightweight styling cream is like conditioner on steroids, making it perfect for a quick shine and volume boost.
Simple hold the can several inches from your head, spray evenly, and wait for your hairstylist to accuse you of cheating on her.
Un.Done Volume And Matte Texture Spray
You always want to look hot. But sometimes, you don't want to look like you're trying to look hot. You just want it to be effortless.
That's where Amika's matte texture spray comes into the picture.
For the right hair type, this product is a great way to pack on the perfect amount of imperfect volume.
So if you're looking to maintain the messy bed-head look without neglecting your hair, you're bound to love this one.
SoulFood Nourishing Mask (The Key To Gorgeous Hair!)
Are you guilty of frying your hair with a flat iron? Spraying it to death with an unreasonable amount of hair spray?
Don't worry: Amika hair products are here to rescue you.
If you've already started with their shampoo, conditioner, and styling products, the last thing on the list for you to try is one of their hair masks.
Imagine the most amazing conditioner you've ever used. It's scientifically formulated to make your hair smooth, give it a nice shine, and makes it look like you just got you hair done at the salon.
In other words, it's one of the best conditioners you've ever used.
That's what this hair mask is like – only better.
One of the best selling Amika hair products of all time, the SoulFood Nourishing Mask is up there for a reason. Simply rub some into your hair (after rinsing it with shampoo), leave it in for 10 minutes, and rinse it out.
Power Hour Curl Refreshing Spray
You spent all that time curling your hair, but now they're starting to drop. And you can only use so much dry shampoo before it's time to give your hair a wash.
If only there was some product you could spray on your hair that would refresh the curls…
This unique Amika hair product claims to do just that. This lightweight spray blasts the hair with a unique formula designed refresh your curls, add shine, and lock in moisture until it's time to re-style your hair.
Bust Your Brass – Cool Blonde Repair Shampoo & Conditioner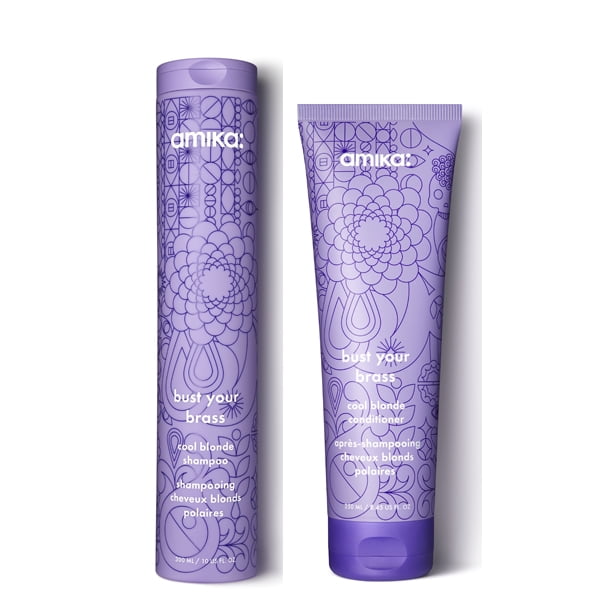 Rounding out this list from Amika is a unique purple shampoo and conditioner combo.
They not only take the brassiness out of hair, but like all Amika products, they'll do so while adding shine and locking in moisture.
When using purple shampoo, just be careful not to leave it on your hair for too long. You can accidentally dye your hair purple.
And make sure to only add them to wet hair, not dry hair! Adding purple shampoo to dry hair will help with absorption, but may leave your hair patchy in certain areas.
Final Thoughts
We love Amika hair products. Their funky design, unique branding, and high quality dependable results make them hard to ignore in the hair world.
Yes, they are a bit more expensive than other brands.
But when you buy Amika, you aren't just buying the result on your hair.
You're buying style, beauty, and fun.
Amika reminds us that haircare should be fun. It shouldn't be something stressful that causes you anguish.
It should be fun, flirty, and exciting. How can you put a price on that?