If you're anything like us, your skin is thanking your lucky stars that summer's here. The last thing it needs is a layer of prickly stubble every time you step outside. But there are so many traditional methods for hair removal…which one to choose?
It's true: the hair removal process has become more advanced over the years, leaving people with even more questions as to which one is right for them.
We've got the answer — and our list of alternatives to shaving and waxing is growing. Here are our 10 favorites.
1. Laser Hair Removal
The good news: you're a candidate if you have dark hair and light skin. The bad news: it's insanely expensive — as in, thousands of dollars for a full-leg treatment — and the hair that grows back isn't necessarily lighter or thinner than what you started with. Plus, the FDA reports that some customers have experienced permanent scarring or discoloration of the skin after laser hair removal treatments.
2. Threading
Yes, it's an ancient Middle Eastern technique — but that doesn't mean it can't be stylish! A thread is used to pluck out unwanted hair, and this method may give you longer lasting results than waxing. It takes some practice before you master pulling an entire eyebrow at once, so ask your cosmetologist if it's right for you.
3. Creams And Gels
Your best bet are products containing glycolic acid because they'll dissolve dead skin cells on the surface of the skin while dissolving some of that pesky hair. We like Nair's Smooth & Sensitive Hair Removal Cream .
4. Depilatory Creams
A depilatory cream is another chemical-based removal method that dissolves the hair — and all you have to do is wipe it off with a paper towel.
While most depilatory creams are safe, you always want to do a spot check on your skin before using one just to make sure you don't get an allergic reaction.
And you'll be doing this often if you want to stay smooth, since your hair will continue to grow back fairly quickly. If you have sensitive skin, try to look for a depilatory cream that uses mostly natural ingredients.
5. Epilation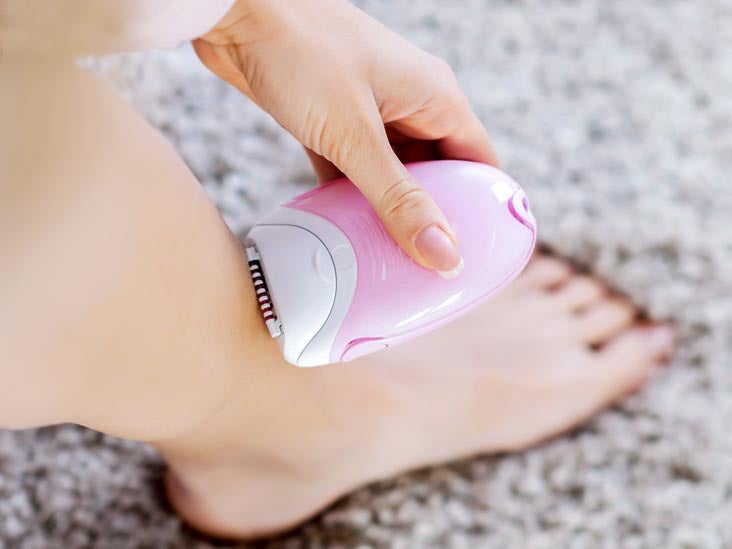 If you're looking for something different, an epilator might be the hair removal method you've been searching for. Epilators are handheld devices that have multiple tweezers attached to them. You can use them to remove hair from the root, so your skin stays smooth for weeks at a time. Epilators are a great alternative to waxing, and they're much more affordable than getting your brows threaded every few weeks.
There are two types of epilators: a dry epilator and a wet epilator. A dry epilator can be used without water, and a wet epilator provides the convenience of removing hair while in the bath or shower. Epilators are handheld devices that have multiple tweezers attached to them. You can use them to remove hair from the root, so your skin stays smooth for weeks at a time.
6. Sugaring
A mixture of sugar, lemon and water can be used as an alternative to waxing , but — like some other hair removal methods on our list — sugaring isn't good for those with sensitive skin or prone to allergies.
7. Laser/Electrolysis (For Darker Skin)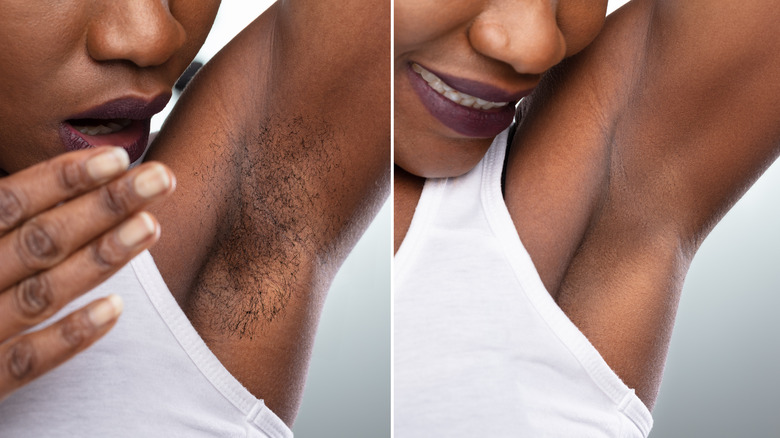 For ladies with darker skin tones, laser hair removal is a good option if you can afford to get your hair lasered off in multiple sessions. The light used during the treatment targets melanin (the pigment in hair and skin that gives it color), so lasers don't work well on skin and hair that don't have any melanin. Electrolysis works differently: a probe is inserted into each individual hair follicle to deliver heat, which kills the root of the hair so it won't grow back.
8. Tweezing And Plucking
If you're about to splurge on an expensive waxing appointment, you might want to wait for a few days and do your own waxing at home. Tweezers are great for removing small patches of hairs (perfect for the brows!), and lighters ones like these will make it easier on your fingers.
9. Don't Remove It At All
You heard us! We're talking about the No-Shave Club, a movement of women who are pledging to stop shaving their legs and armpits. If you can grow a full bush or a mustache, why not see what it's like? Even if your bush is more like the adorable fluff on a baby bunny, you can still rock it. But if you decide to do this, please make sure your partner is down with the hair — some dudes are not!
Tips For After-Care
Now that your hair is gone, there's a little extra work involved in keeping your skin happy and healthy — don't forget about moisturizer! It may look like being smooth will keep you from having bad skin days, but your skin can still be dry after hair is removed.
And, when you shave or wax, the blades are bringing dead skin cells to the surface of the skin faster than they normally would — which could result in breakouts. Since shaving cuts hair below the skin's surface , it may cause ingrown hairs when hair starts growing back.
After you remove hair, be gentle with your skin and keep it moisturized to avoid these issues. We like the Eucerin Everyday Protection lotion because of its broad spectrum SPF 30 , which can help prevent sun damage and hyperpigmentation (a.k.a dark spots).
Hair removal products we love
Finishing Touch Flawless Women's Painless Hair Remover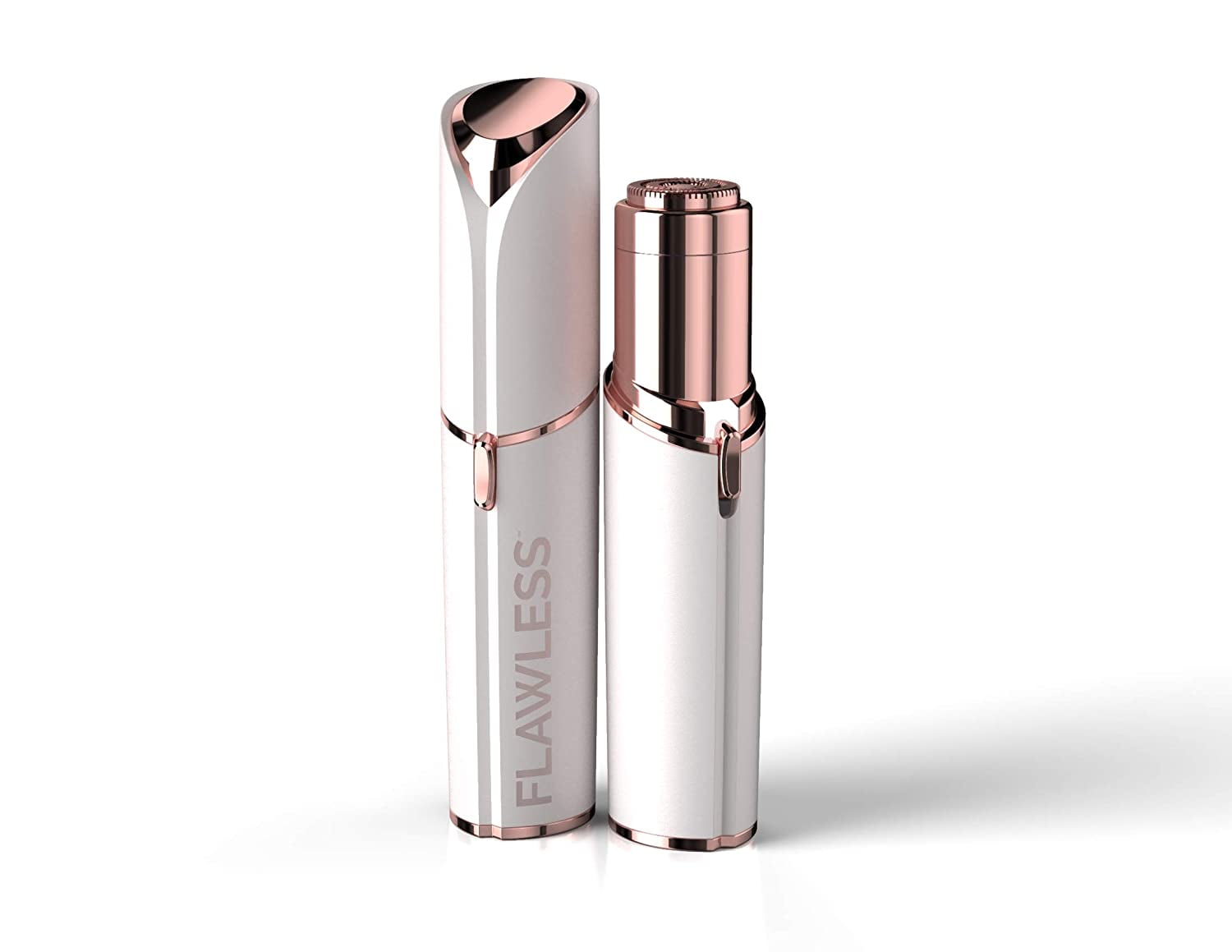 This product pulls the hair right out of the hair follicles – whether on your face, legs and other areas without any pain, and we're impressed that it never nicks the skin! Plus it's Waterproof and designed to run on one AA battery. It also comes with a free e-pamphlet that has tips on preventing ingrown hairs before you start using this device.
At-Home IPL Hair Removal
If you can't do laser hair removal, using this at-home device might be the next best thing. IPL stands for intense pulsed light – a method of body hair removal that is similar to using a laser.
Powered by two double-A batteries, this device promises permanent hair removal (over time) and is great for getting rid of hair on your legs. Plus it has a built-in light sensor that lets you know when to apply more gel (after every three seconds of use). There's also a low light setting for more sensitive areas, like the face.
If you have any concerns about your skin, it's best to consult a dermatologist before using these products. Also remember that electrolysis and laser hair removal are expensive — they require multiple sessions to be effective! They're definitely not short-term fixes for unwanted hair, but if you can't deal with it, they're great options.
Veet Sensitive Hair Remover Gel
This product gently removes hair from the root, so you can be smooth for up to twice as long as shaving! You can also use it on your face or bikini line.
When you use this product, make sure your skin is dry and clean, and apply a thick layer of gel on the area you want to remove hair from. Leave it on for five minutes, then use a washcloth to wipe off the gel and dead skin cells! We can vouch that it works great on legs — just be sure to follow the directions carefully so you don't get any chemical burns.
Braun Epilator Silk-épil 9 9-720
An epilator is a great alternative to waxing, and it can be much more affordable than getting your brows threaded every few weeks. This device has 21 precision tweezers , so you get to keep your eyebrows in their perfect shape.
We recommend this product if you want the option of having super-smooth skin all over your body. Plus you won't have to wait for your hair to grow out — simply roll it along the area you want to remove hair from, and it will grab all of the hairs in one go!
Finishing Touch Lumina Painless Hair Remover
This product is like an at-home waxing kit! It has a rechargeable battery, so you don't need to worry about replacing any batteries. Plus it comes with three different screens that let you get rid of body hair anywhere you want, including the bikini line and underarms.
To use this device, switch it on and wait for the light to turn green. Press it against your skin for about three seconds, then move along the area you're removing hair from. We think this is a great device if you want something portable that can remove body hair quickly!
R.E.M Spring Facial Hair Remover – The Original Hair Removal Spring
Instead of using a laser hair removal or IPL, you can also try this spring contraption that removes the hair from the root. This is great for people with sensitive skin who can't use harsh chemicals or lasers.
We love this product because it's extremely easy to use — just place it on your skin, twist and remove the hair. Since you don't have to use any chemicals or lotions, that means no redness!
But whichever method you choose to remove unwanted hair, just make sure you do it safely. We all want hairless skin – but just make sure you do it right!
Final Thoughts
Regardless of what method of hair removal you choose, just remember: there is no BEST method – there is only the best method FOR YOU.
We hope this has been helpful! If you have any questions, feel free to leave a comment below.