If you have your own skincare routine, then you must have heard of shea butter by now.
So many moisturizers on the market these days feature it, from body butters, to lotions, to face creams.
But is this natural ingredient really all it's cracked up to be?
You probably have questions:
What's the verdict on shea butter extract versus coconut oil?
Can I use shea butter on irritated skin?
Can shea butter soften scar tissue?
Does shea butter clog pores?
We answer all those questions and more in this article.
WARNING: Before using any shea butter products, make sure you don't have any topical shea butter allergies. Take a tiny little bit of the product you want to use and dab it on your wrist to make sure you don't have an allergic reaction. This goes for other cosmetics as well.
Where does shea butter come from?
Shea butter is a fat obtained from the fruit of the African shea tree, which is found in Africa and India. It started to gain popularity as a skincare ingredient decades ago thanks to its thick texture and high concentration of vitamins A, E and F – all essential nutrients for healthy skin.
Many brands claim to carry Western African shea butter. We'll go over those at the bottom of this article.
What is shea butter made of?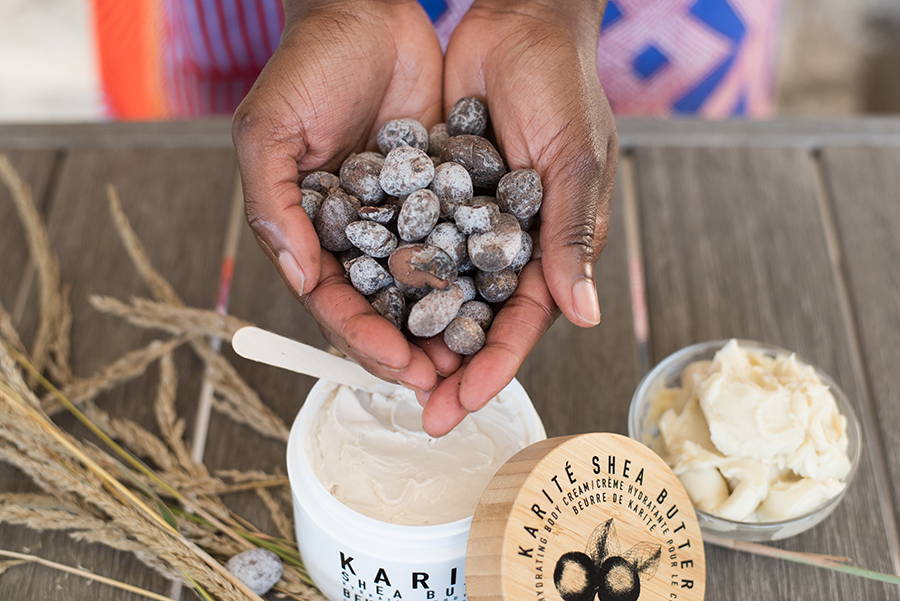 Shea butter is processed from the nut of the African shea tree. The fruit is covered with large, flat, green leaves creating a type of "basket" shape. Inside each pod are seeds that contain high amounts of oleic acid – a substance which produces vitamin A and has anti-inflammatory properties. In fact, the bark of the tree is often used as an anti-inflammatory for arthritis, and sometimes to reduce pain after child birth.
The seeds are collected from the fruit pods and then roasted until they're golden brown in color. At this point, they have a nutty aroma and taste slightly similar to roasted almonds. The next step involves grinding the roasted seeds into powder. Once the powder has been obtained, it is cooked again at a high temperature to remove any moisture left in the seeds. The melted mass that remains is then cooled and molded into solid shea butter bars.
11 Benefits Of Using Shea Butter For Your Skincare Routine
1. Shea Butter Treats Acne and Other Skin Conditions
For those of you with acne-prone skin who are worried that this will cause problems, rest easy. Several studies have been conducted on shea butter's ability to soothe acne symptoms, including dryness, itching and swelling.
It's also a great post-blackhead removal treatment. After you remove blackheads from your nose, try rubbing a little bit of shea butter on your open pores to give them some much needed moisture!
2. Shea Butter Can Help Treat Psoriasis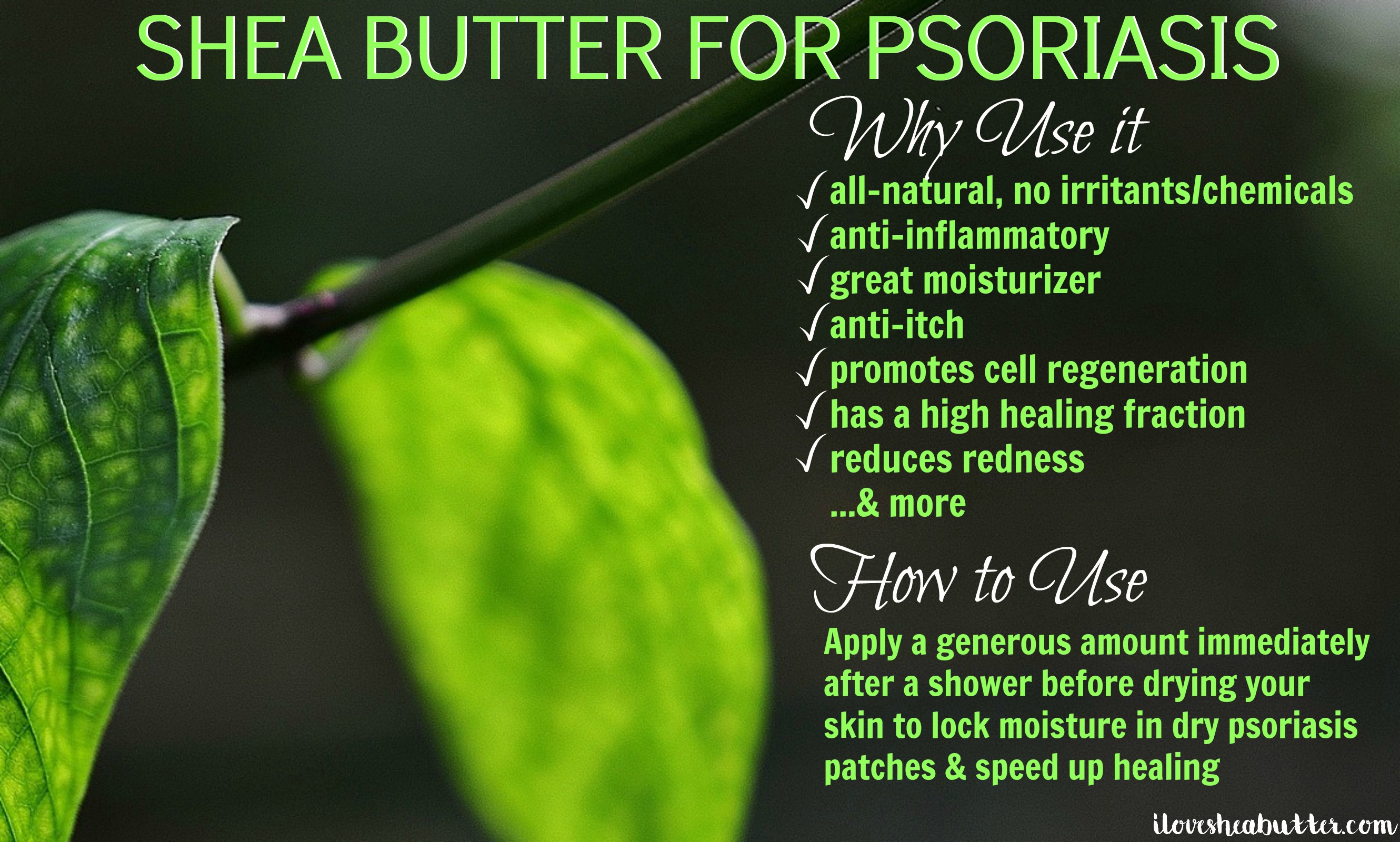 People who suffer from psoriasis have also benefited from shea butter's anti-inflammatory properties. In fact, this is another skin condition that causes itchy, scaly skin patches to appear all over the body – especially on the elbows, knees and face.
3. Shea Butter is Antioxidant-Rich
Shea butter contains vitamins A, E and F – all of which are antioxidants that protect the skin from free radicals. Free radicals are particles in the body that can damage cells. This damage can cause wrinkles to appear much earlier than they're supposed to because it prevents the proper development of collagen, which provides structure to the skin.
4. Shea Butter Keeps Skin Hydrated All Day Long
Shea butter is an emollient – a substance that helps your skin retain moisture by forming a protective layer on its surface. This protects the skin's natural oils, which help maintain softness and suppleness. As well as being the base for many moisturizers, shea butter can be applied directly to the skin without any fear of clogged pores.
5. Shea Butter is Especially Good for Dry Skin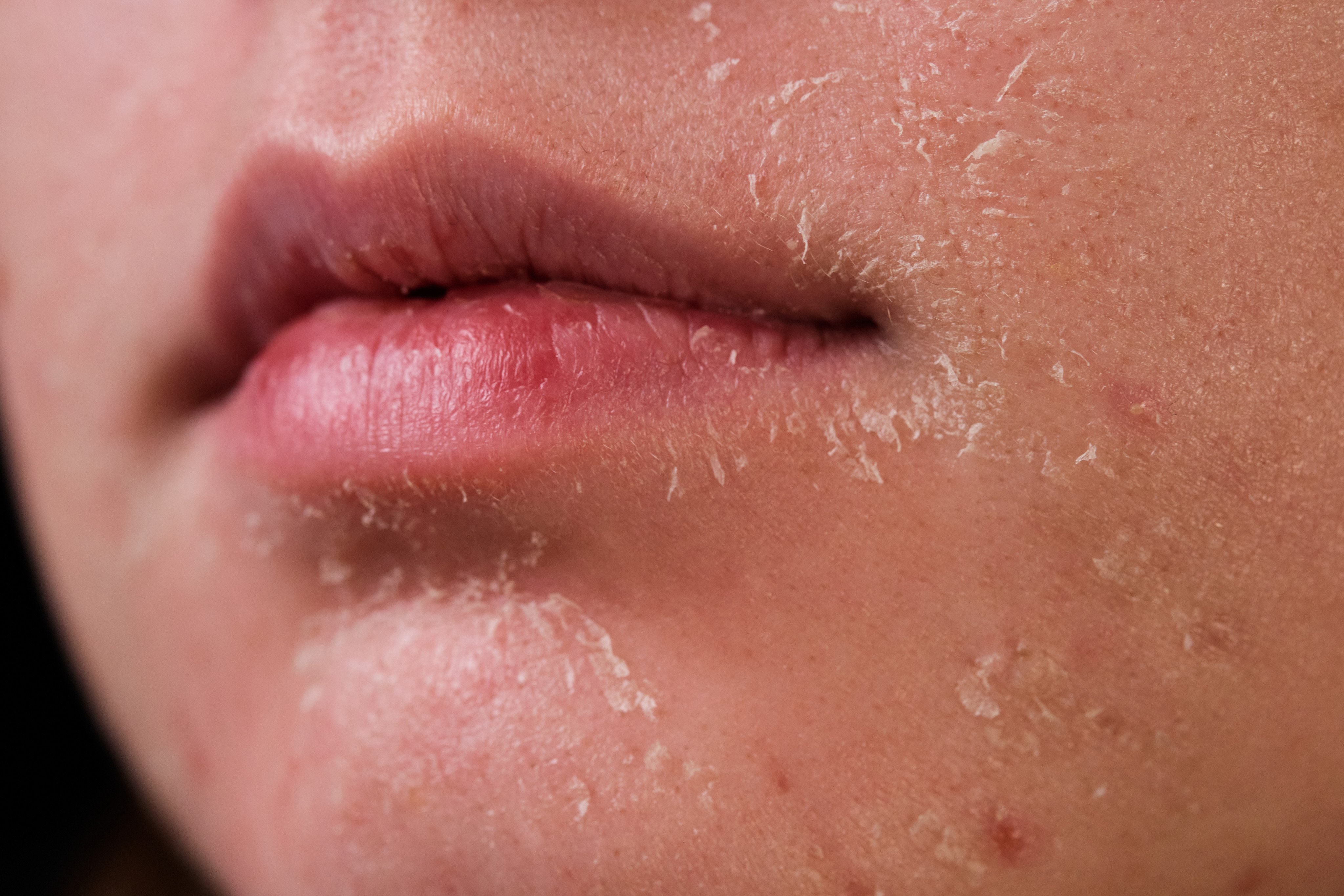 As we get older, our skin tends to dry out more easily and become thinner and less elastic than it did when we were younger. The age-related changes in our skin can ultimately cause a loss of firmness and fine lines to appear. This is where shea butter really helps by being so moisturizing. It also stimulates the production of collagen, which helps with sagging skin as well as wrinkles.
6. Shea Butter Can Help with Eczema
Studies have shown that eczema patients heal much quicker when using products containing shea butter. This is because it has anti-inflammatory properties that reduce swelling and itching, as well as antioxidants like vitamin A and E to make skin stronger and healthier.
7. Shea Butter Promotes Quick Skin Healing
Because of its anti-inflammatory properties, the body's inflammatory responses are greatly reduced when using products containing shea butter. Shea butter's healing properties are great for those who suffer from rashes, acne, psoriasis or anything that causes itching – as it can help prevent further damaging of the skin while it's healing.
8. Shea Butter Shields Against Ultraviolet Rays
The same properties that make shea butter a good moisturizer also help protect the skin from sun damage. When your skin is well-moisturized, it will trap a layer of air that acts as an extra barrier against the sun's harmful ultraviolet rays.
9. Shea Butter Promotes Collagen Production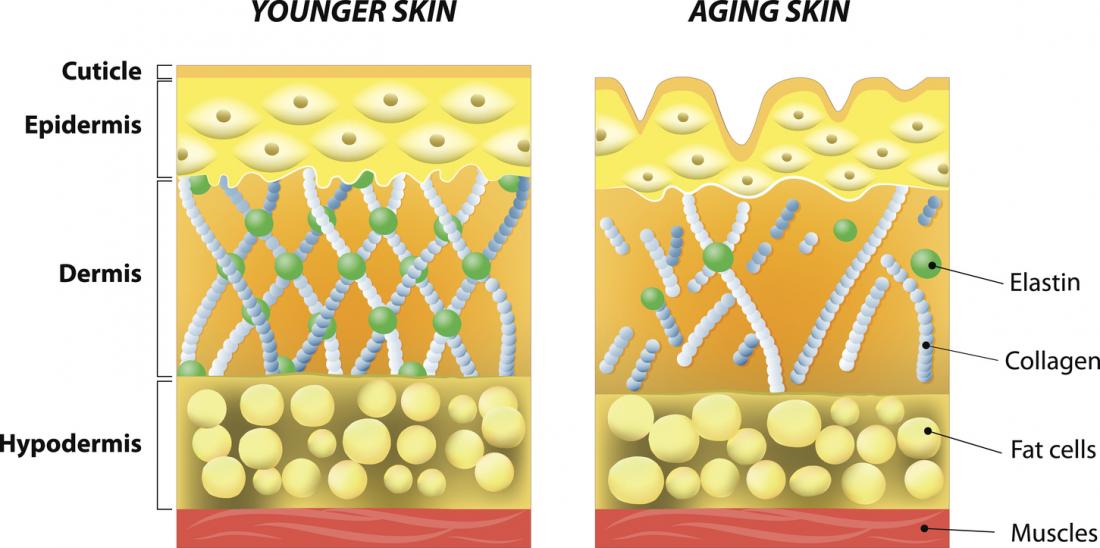 Shea butter contains vitamin A and E, both of which are important for the proper development of collagen. This is why it's so effective at reducing wrinkles and promoting healthy, glowing skin – because it helps make sure your body produces more of this important protein.
10. Shea Butter Prevents Stretch Marks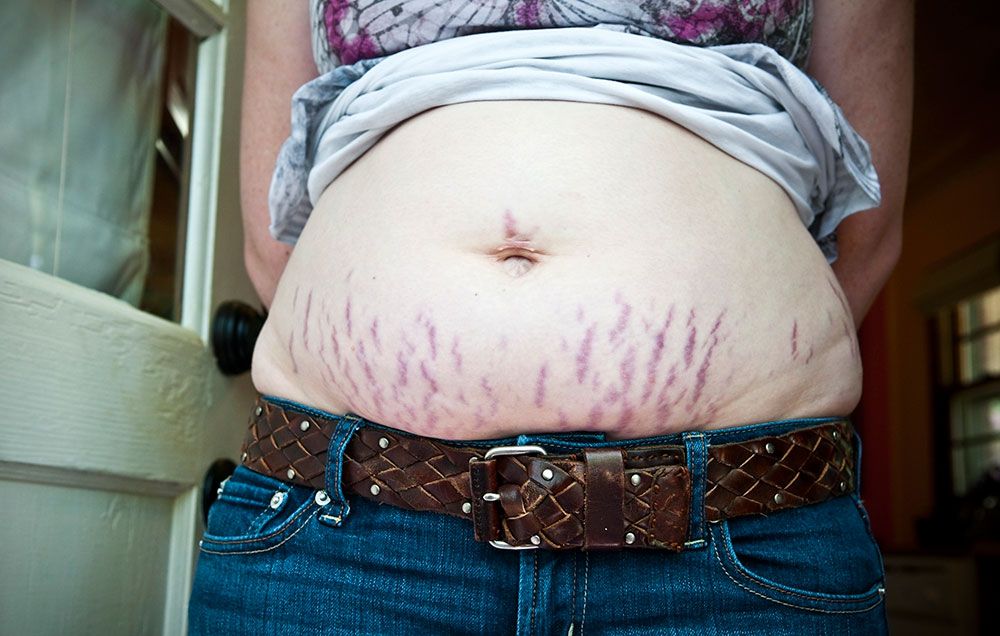 Stretch marks are caused by rapid growth – whether it's due to weight gain, puberty or pregnancy. Since shea butter helps your skin retain its elasticity, it's a great product to use if you're worried about these stretch marks appearing.
11. Shea Butter is Rich in Fatty Acids
Fatty acids are what make up the structure of the lipid bilayer – which forms our cell membranes. This means that shea butter has regenerative properties that can help make skin, hair and nails grow faster. It also means that it's great at nourishing our bodies from the outside in, which is why it works so well as a moisturizer for all three of these areas.
Is shea butter good for all skin types?
Absolutely! That's why it's become so popular with people who have sensitive skin. It has a very mild, pleasant fragrance that disappears pretty quickly after absorbing into the skin. Shea butter is especially effective at moisturizing dry or mature skin – but you can also use it to keep yourself looking younger if you have oily skin because of its ability to help reduce that excess oil.
As we get older, our skin tends to dry out more easily and become thinner and less elastic than it did when we were younger. The age-related changes in our skin can ultimately cause a loss of firmness and fine lines to appear. This is where shea butter really helps by being so moisturizing. It also stimulates the production of collagen, which helps with sagging skin as well as wrinkles.
How does raw shea butter affect your skin?
When it comes to skincare, the most important thing about shea butter is that it's RAW. This means that it hasn't been processed or refined in any way – which is why you'll want to make sure you're buying from a reputable source who processes their shea butter using low-heat and chemical-free techniques.
I think the best way to use it is by simply applying it right on your skin. This not only helps rehydrate your body but also gives you a natural glow that's unparalleled! It might be a bit greasy at first – especially if you've never used shea butter before and aren't used to having anything on your skin other than soap and water – but it absorbs pretty quickly and you'll be left with soft, smooth skin.
Can you use shea butter instead of lip balm?
Would it come as any surprise to you that shea butter works for chapped lips too?
Well surprise surprise: it CAN.
That's right, not only can it help to moisturize your chapped lips, but shea butter may also have anti-aging properties! That is especially helpful for areas of our body that only have a thin layer of skin covering them – like our lips, for example.
Is shea butter a natural SPF?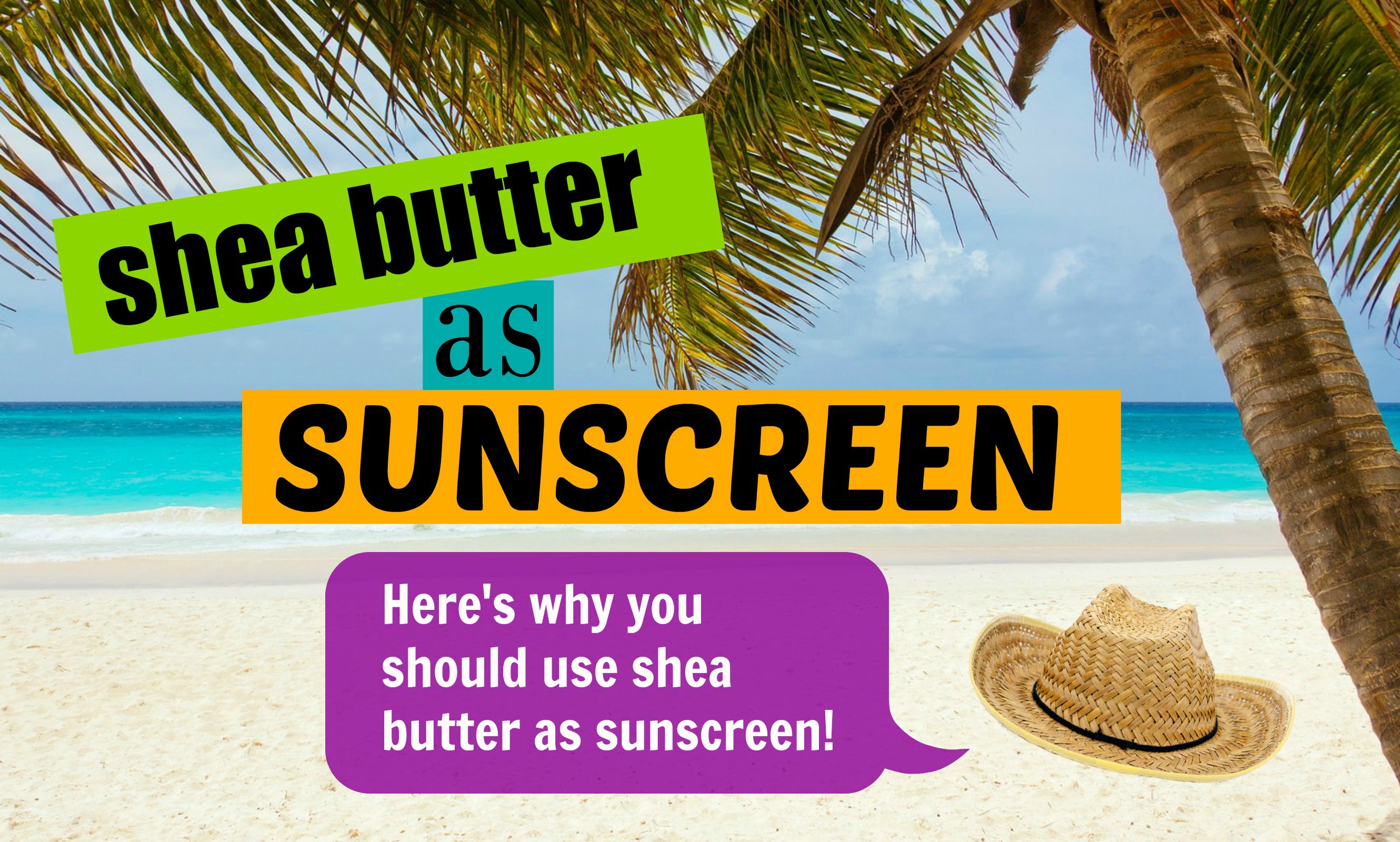 Is there anything shea butter CAN'T do?
In addition to everything else, it also acts as a natural SPF. According to Wikipedia, it has an SPF level of between 6-10. This is slightly higher than coconut oil, which has a natural SPF of 4.
Can you use unrefined shea butter?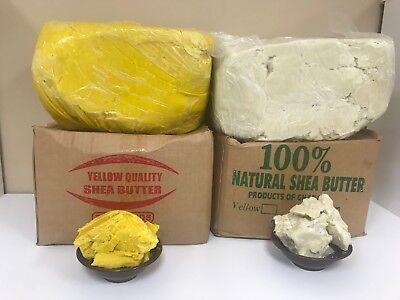 Absolutely! One of the main reasons you'll want to use raw, unrefined shea butter is to get all of its vitamins and minerals. It's also great for nourishing your skin since it contains lauric acid – which can help kill bacteria that causes acne.
However, most commercial products contain refined shea butter (unless otherwise stated). It would be nice if we could just use the raw stuff instead of refined or shea butter extract. But unfortunately that's not possible unless you have a bunch of shea nuts lying around in your backyard.
Why is shea butter good for your hair?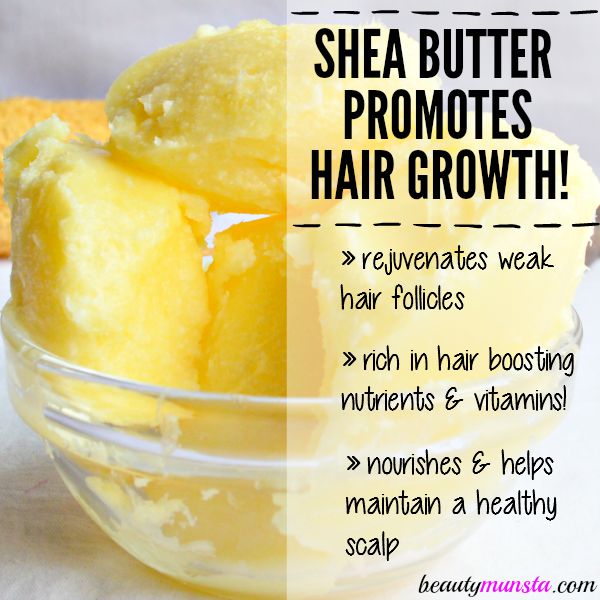 Shea butter is one of the only natural oils that can actually penetrate your hair cuticle, which means it can strengthen it at its core. If you have dry or damaged hair – especially if it's been color treated – then this makes shea butter a great way to keep your locks looking silky and shiny without having to use any harsh chemicals.
Does shea butter have anti-aging effects?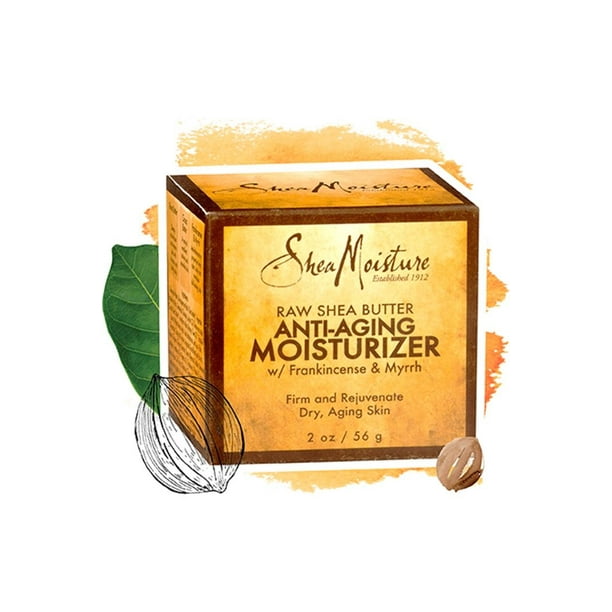 Yes it does! Shea butter is such a great moisturizer because of how nourishing it can be for all three areas. It contains fatty acids and nutrients that work to rejuvenate the skin and keep it looking soft, smooth and radiant – which means that you'll end up looking younger overall.
It also has natural anti-inflammatory properties, which means it can help take care of any pain you might be experiencing due to the sagging skin and wrinkles mentioned before.
Can shea butter help inflammatory skin conditions?
Yes, there have been lots of studies done that show how effective pure shea butter can be at preventing and soothing inflammatory skin conditions such as dermatitis & eczema. It's also been shown that shea butter makes the symptoms of psoriasis (a condition that causes skin irritation) less severe.
How does shea butter help protect the skin?
Shea butter is a great natural sunscreen, which means it's always helpful to have some on hand during the summertime. It works by sitting on top of your skin and blocking out harmful UV rays that can cause discoloration, premature aging and even cancer.
Tips for using shea butter
If using shea butter for the first time, you might want to consider starting out with a small amount so you can get used to how it feels. If you have sensitive skin, then you might want to just use it as a nighttime moisturizer instead of during the day.
Last but not least, keep in mind that there are so many uses for shea butter so there's no reason to be afraid of it. While you might want to avoid using it on your face or around your eyes, you can use it everywhere else without a problem!
Our favorite shea butter products
Now that you have been converted to the Shea Side, let's talk products.
Below is a list of 10 of our favorite shea butter beauty products with a brief description.
1) Nubian Heritage Raw Shea Butter – 5 oz.
This is one of the most popular shea butter brands available today, and with good reason. This extra-rich formula absorbs quickly on contact for deep moisture. Made from raw African shea butter with a blend of eight essential oils including coconut oil, mango seed butter, Brazilian cupuacu seed butter, and more, it moisturizes skin to help fade scars and dark spots.
2) L'Occitane Shea Butter Hand Cream – 3 oz
This classic formula by L'Occitane has been frequently featured in top 10 lists for good reason. The lightweight yet intense hand cream absorbs quickly thanks to its non-greasy formula, heals dry skin and neutralizes the effect of harmful environmental aggressors.
3) Shea Terra Organics – Raw Organic Shea Butter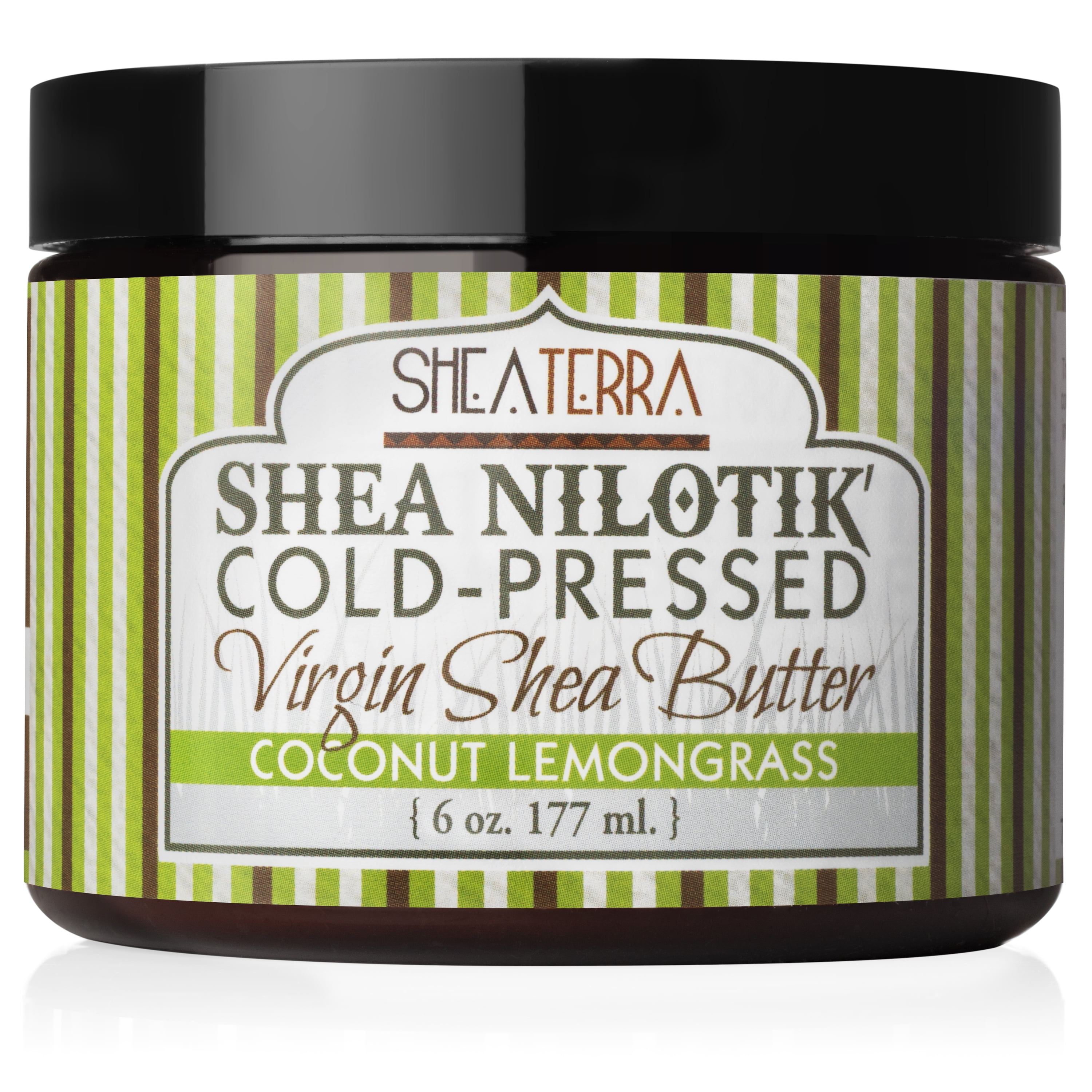 If you're looking for a product that will yield long lasting moisture then this is it! Shea Terra Organics Raw Organic Shea Butter is handcrafted by an African Shea butter artisan in Ghana, Africa. It has a great consistency that's not too thick or thin, making it perfect for massages and treatments alike.
4) Mary Tylor Naturals Raw Unrefined Shea Butter – 16 oz
This all-natural shea butter is perfect for moisturizing dry skin including your hair! Your hair will be left feeling soft and looking shinier than ever thanks to the raw unrefined shea butter inside. Can also be used on stretch marks, scars & even dark under eye circles.
5) Om Botanical Pure Raw Shea Butter – 2.3 oz
If you're concerned with animal welfare, then this is the product for you! This shea butter is sustainably made from non-certificated raw shea nuts that are grown on a women's co-operative in Uganda. It contains vitamin E and essential fatty acids to leave skin feeling hydrated, nourished and younger looking.
6) Shea Baby Diaper Cream With Organic Shea Butter & Olive Oil – 8 oz
This diaper cream by Mommy's Bliss works so well at preventing nappy rash, it has won awards including The Natural Baby Product Award of Excellence 2014 due to its all natural ingredients including organic shea butter and olive oil.
7) Mineral Fusion – Shea Butter Shave Cream – 5 oz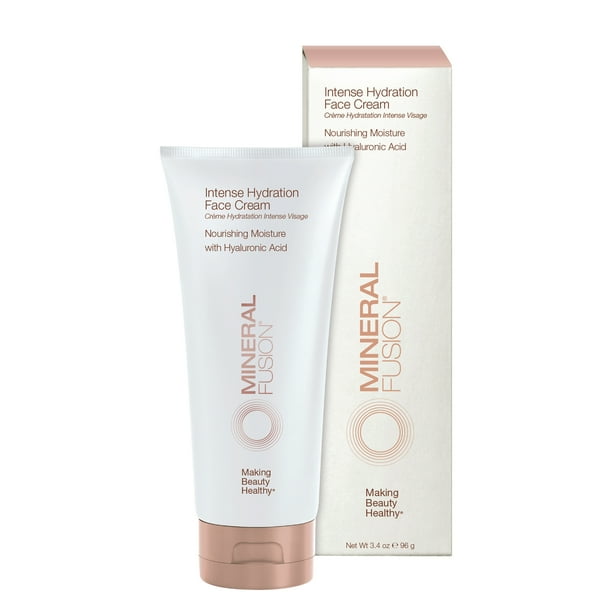 This shea butter shaving cream is extremely moisturizing and will leave your legs feeling silky smooth and smelling great! It contains organic shea butter, jojoba esters and other essential oils, and best of all it's 100% vegan.
8) Shea Moisture Organic Raw Shea Butter Restorative Conditioner – 8 oz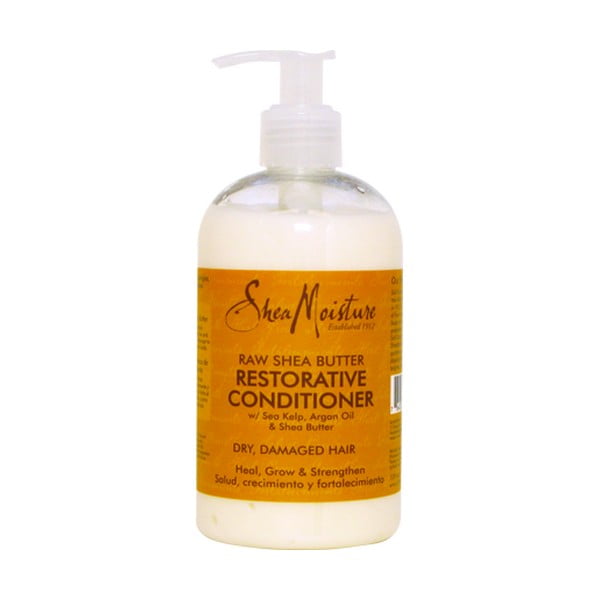 This raw, unrefined and certified organic shea butter conditioner contains African shea butter and other nourishing oils to help hydrate your hair. It's specially formulated for dry or damaged hair to give you stronger, shinier and more manageable locks.
9) Dr. Adorable DermaOrganic Shea Butter Whipped Body Creme – 16 oz
Dr. Adorable is a dermatologist recommended brand that takes organic shea butter and mixes in various other beneficial ingredients such as Vitamin E and aloe vera gel to form this fantastically moisturizing body cream. Perfect for use on dry including your hands!
10) SoapBox Argan Oil Conditioner With Shea Butter – 8 oz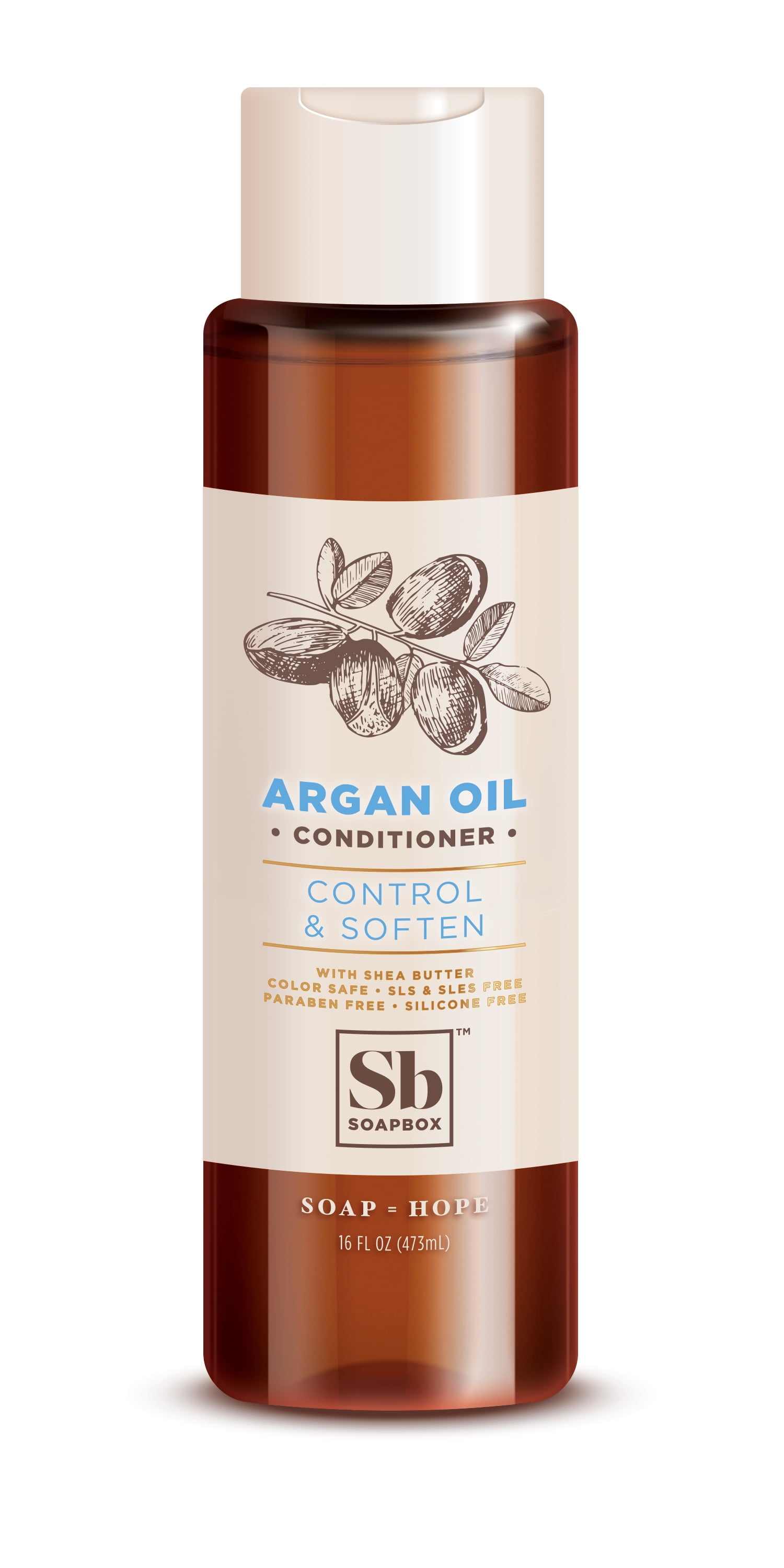 This soap is free of parabens, phthalates, SLS and other harmful ingredients! Instead it's made with great natural ingredients including organic shea butter to hydrate hair while the argan oil repairs damage. Plus it contains soothing aloe vera to help soothe the skin on your scalp.
Final Thoughts
If you read this entire article, then you're probably about to go buy a shea tree and put it in your backyard.
Hopefully, you're able to benefit from this wonderful natural ingredient. Because as you can see, the benefits of shea butter (even for sensitive skin) are numerous!
So enjoy planting all those shea trees. Let us know when your brand of shea butter moisturizer comes out! We'll be sure to feature it on our site.